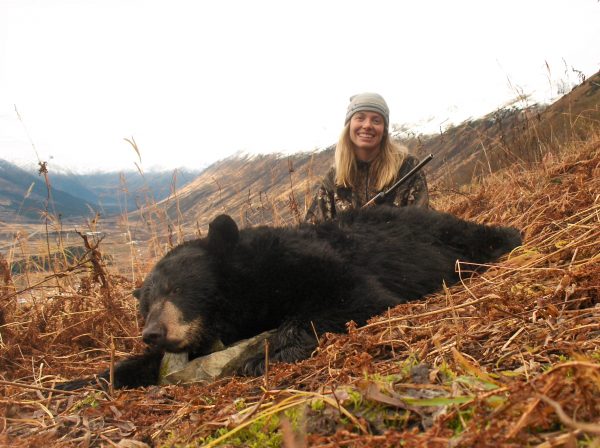 ---
---
After a couple weekends of glassing for black bears, we finally had a little luck on our side!
We spotted this beautiful bear at 8am and committed ourselves to make the stalk.
We first saw him once we reached the top of the hill at 290 yards, and then proceeded to make a side-hill sneak on him to 200 yards. He rolled about 800-1000 yards down the hill (towards the truck)
He was beautiful! We found him down an alder chute! Even after the fall his hide was immaculate! My first bear ever!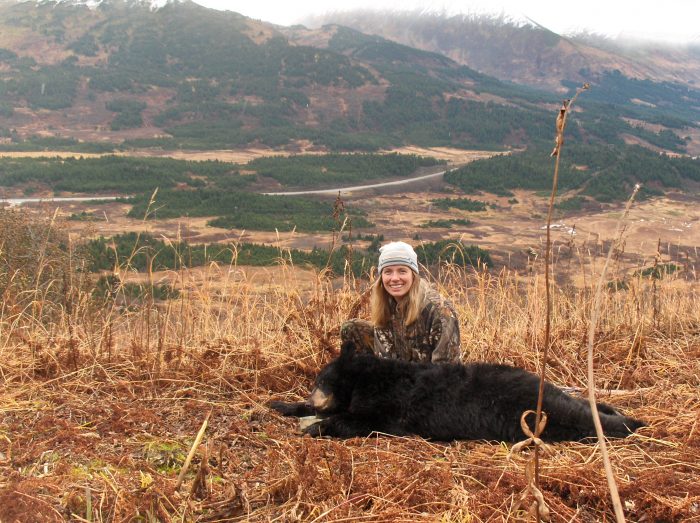 ---
RESURRECTION PASS CARIBOU HUNTING ADVENTURE
---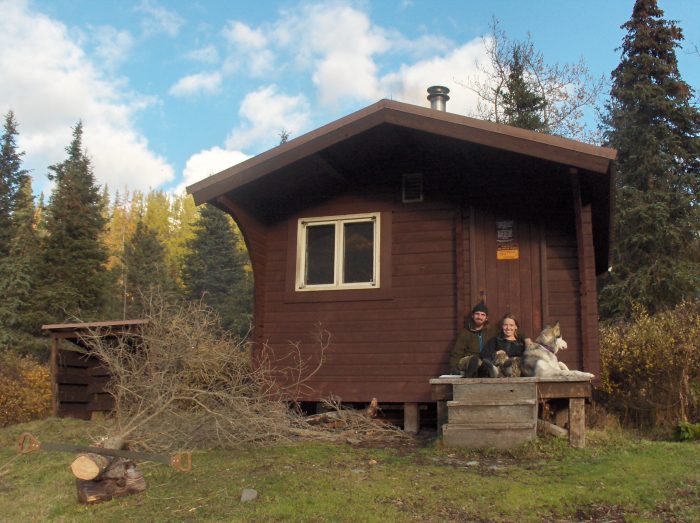 Hiked in 15 miles on Resurrection Trail to East Creek Cabin. Furthest we've ever hiked in a day with substantial weight. Soaked our feet in the river that evening. The cabin may be basic, but it felt like a castle after that hike.

View from front of cabin. We hiked over that mountain--much steeper and longer than it looks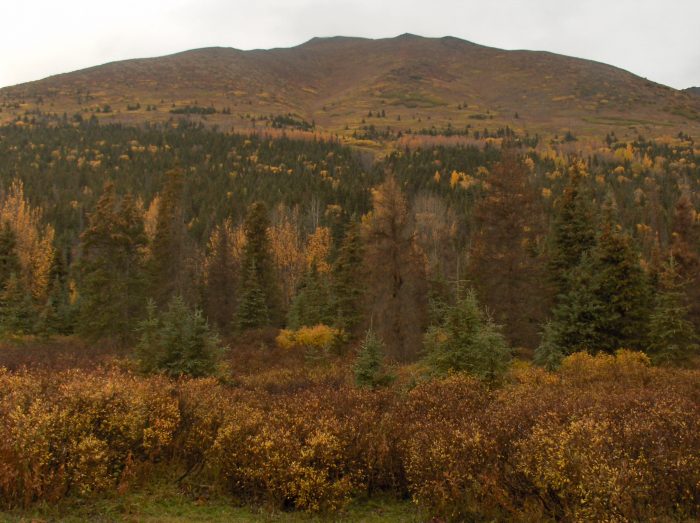 ---
First night spike camp tucked in against some bushes. Monster shed Aaron spotted on hike in. We saw numerous other sheds, but none as impressive. Nice to know what you are hunting for! Kodi lucked out and got to go on this hunt with us. We figured he would be a good pack dog.
---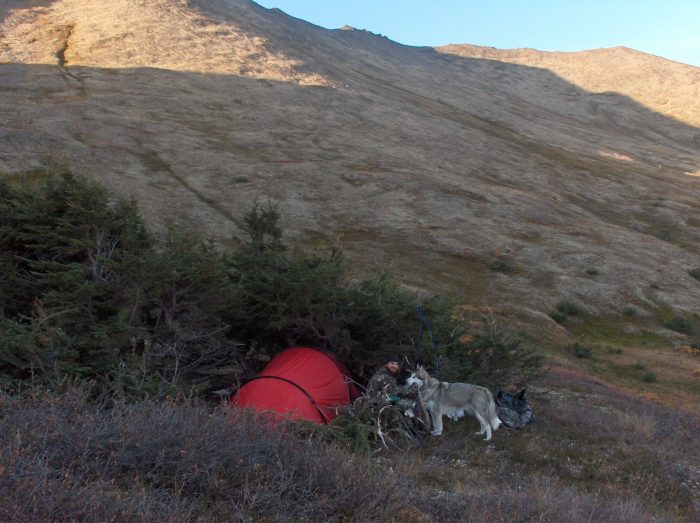 ---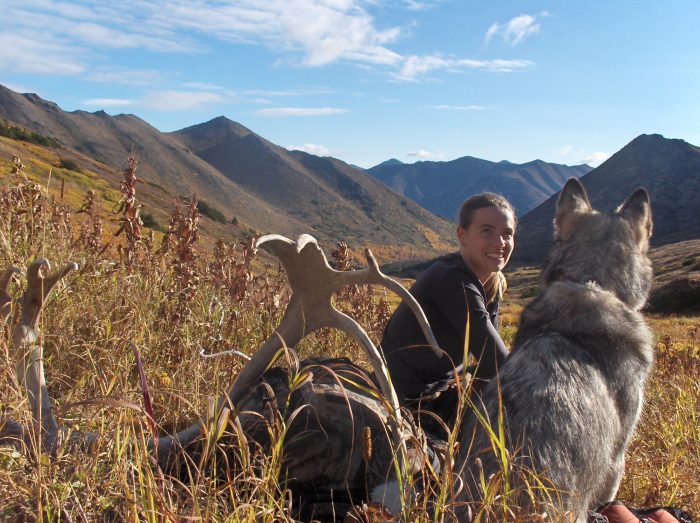 ---
Second night out spike camp. We LOVE our tent. It may stick out like a sore thumb, but at least we always can find it, and it deters other hunters venturing up the same valley. The three of us easily fit in the inner tent, and the vestibule is gigantic.
---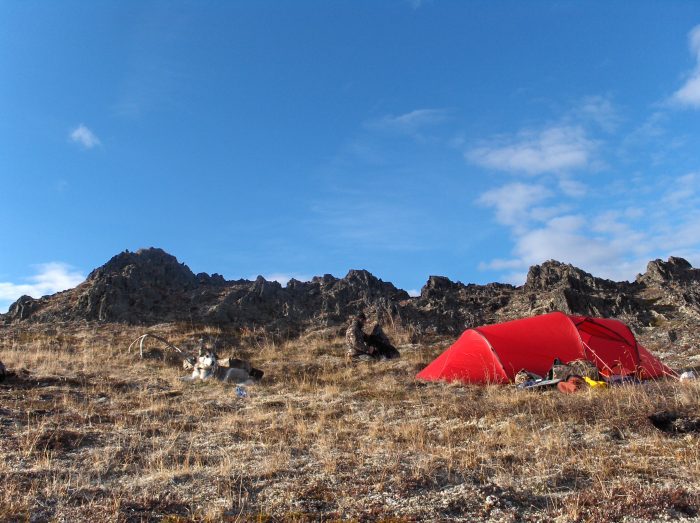 ---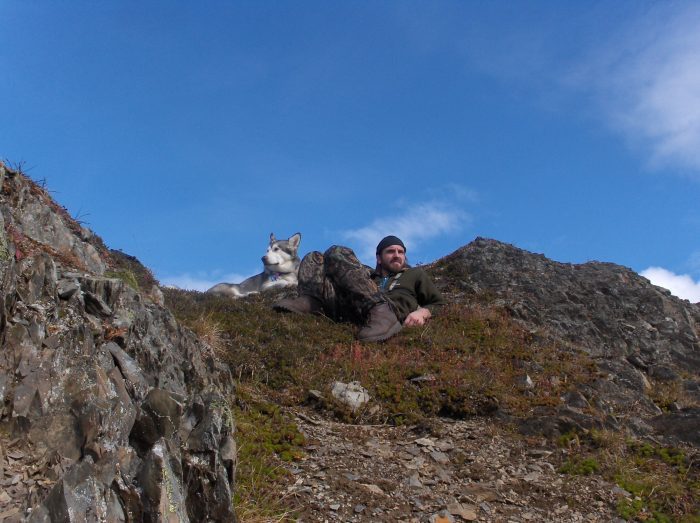 ---
Aaron and Kodi taking in the sun from a new glassing ridge. I managed to locate two cow caribou with my scope, but could hardly see them even on 60 power. Glassed for hours and saw no other animals for MILES. But we couldn't complain about the weather.
---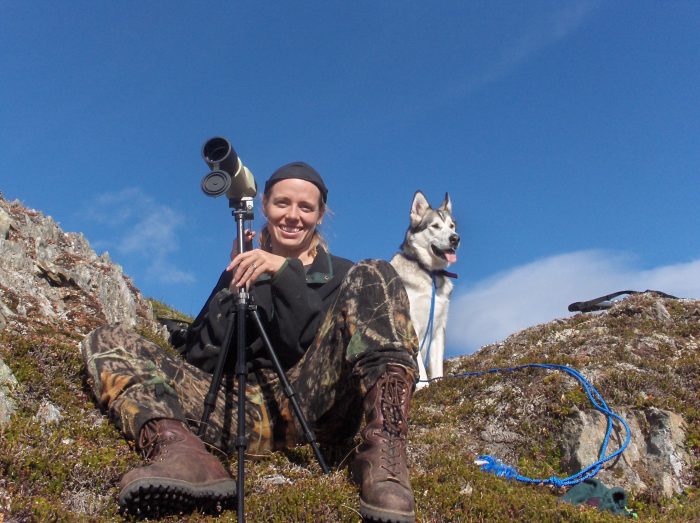 ---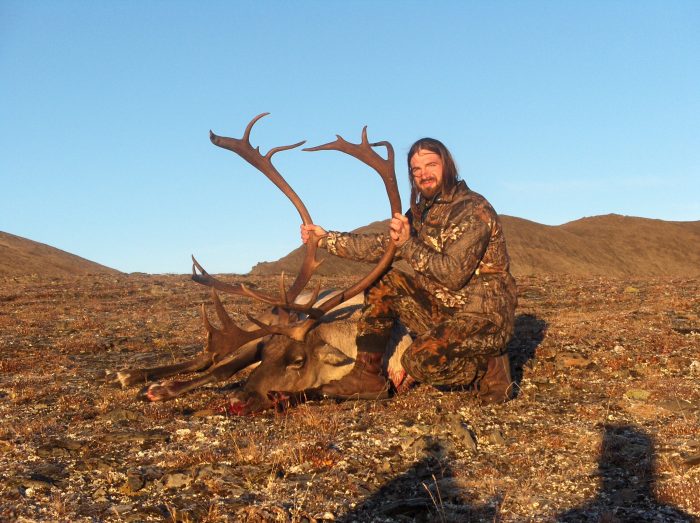 Third morning of hunt. Aaron gets out of the tent to glass the hills, while putting on his coat, notices 3 caribou over ridge. Jumps back in tent, scolding himself for not looking before getting out. The 3 are joined by 15 more. Ranged them at 400 yards from tent.
Aaron made a sneak to the rocks. Then the caribou started coming down the ridge toward the tent. I'm practically laying on Kodi, as he knows something is up. After a while of covering our heads with the sleeping bag, he calms down and I am able to look to see what is going on outside.
About five of the bulls are within 80 yards of Aaron, one is a relatively nice bull with good tops but looks like he isn't really a mature bull. There is a mature bull about 120 yards from Aaron with good bez and shovel, but weaker tops. After a moment of deciding if it was worth it he took the mature bull. The bull was only 200 yard from our tent and right on top of the ridge.
He ended up rough scoring 343. He has a large main beam, exceptionally long bez and shovel and decent back points. He holds his mass fairly well and has a chocolate brown color to his antlers.
---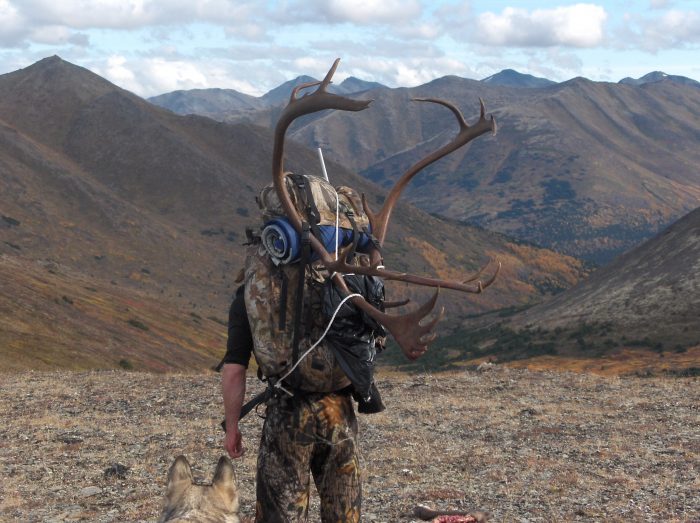 Getting ready for the pack out ~ about 4 to 5 miles to the trail. We decided to go down the valley rather than the way we'd come! The last 1.5 miles were alder thrashing like you wouldn't believe. I fell at least five times. The mud was thick! It was miserable! Every hundred yards felt like it was a mile. Then we had to cross the river! That is another story.
We always wanted a picture like this! Looks good but the weight was ridiculous!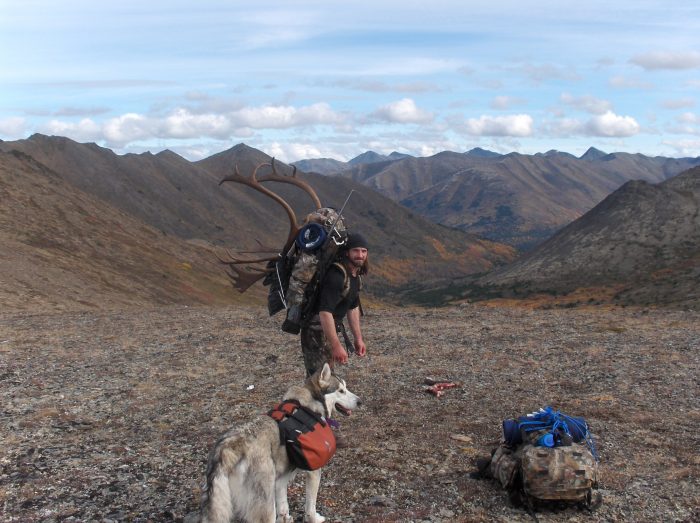 ---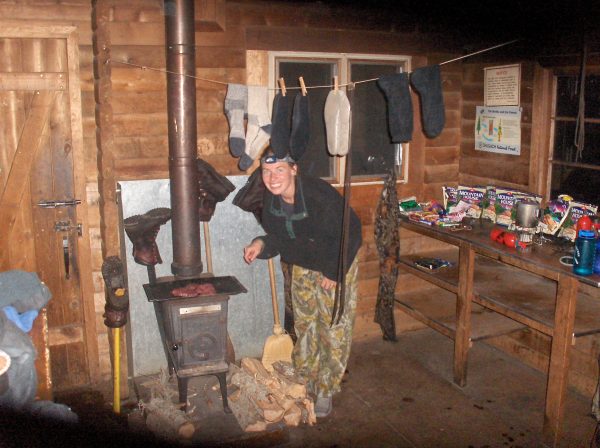 ---
Some how we made it back to the cabin. We hung our meat about 2 miles south on the trail and then walked north to the cabin. There were huge sow griz tracks on the trail with cub tracks. My pace was quicker, and the cabin was even more glorious! Barely reached it by dark. We were soaked from the river crossing!
Nothing finalizes a hunt like enjoying the meat in the field. We cooked ourselves up a caribou feast on the little stove! It was excellent! Kodi ate at least 2-3 lbs on meat + a Mountain House Meal. By morning our boots were a fair amount drier!
---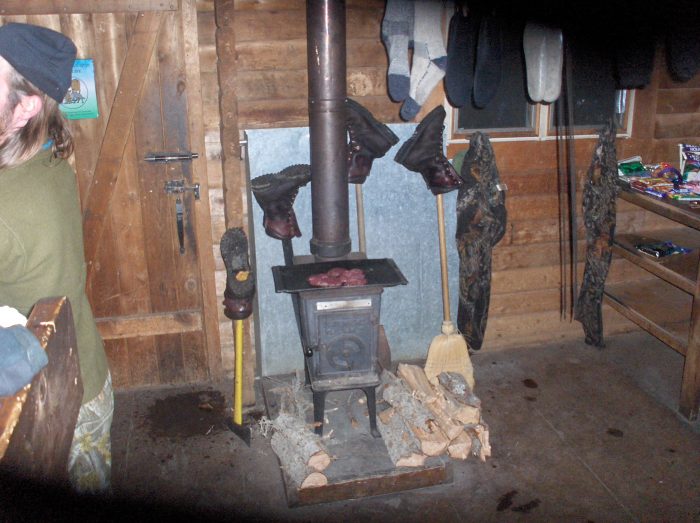 I will tell you that the hike out was the hardest thing I've ever done in my life...and I'm not exaggerating. Much Much harder than packing a moose 5 miles. On our very last three miles we were exhausted and had to hear, unfortunately, some awful bear bawling in the woods. Not something you want to hear when you are hallucinating anyway. I kicked it into marathon gear and we didn't get to take anymore breaks. I honestly felt like I couldn't go another step when we were about 3/4 mile from the truck. We set our packs down about a 1/4 mile from the truck and felt like we were walking on air. I was walking pigeon toed and bow legged and couldn't stand up straight. It was the strangest thing getting to the truck. I cried, for the reason that I honestly didn't think my body could make it out of there. I have never done anything so physically and mentally tough.
---
---
GIRDWOOD GOAT HUNT ADVENTURE
---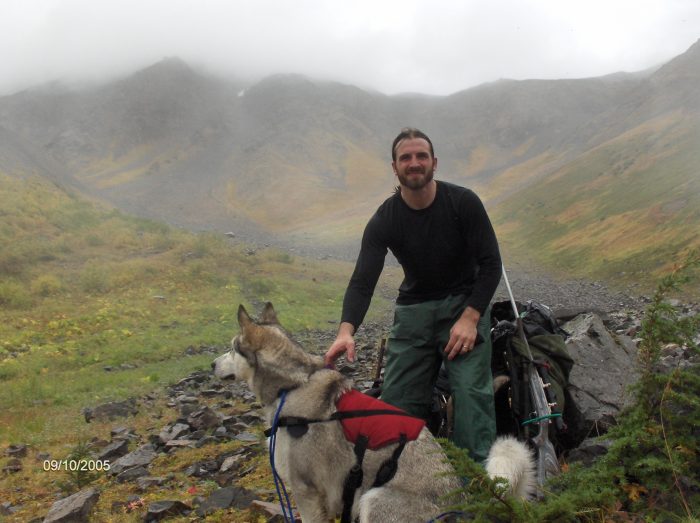 Heading out for an overnighter in new country for a goat. When we started we couldn't see the mountains because of the dense fog. We took the technical route from Crow Creek pass up. Thanks to the fog we didn't know what we were getting ourselves into. Saw a black bear about 400 feet behind Aaron in this pic.
---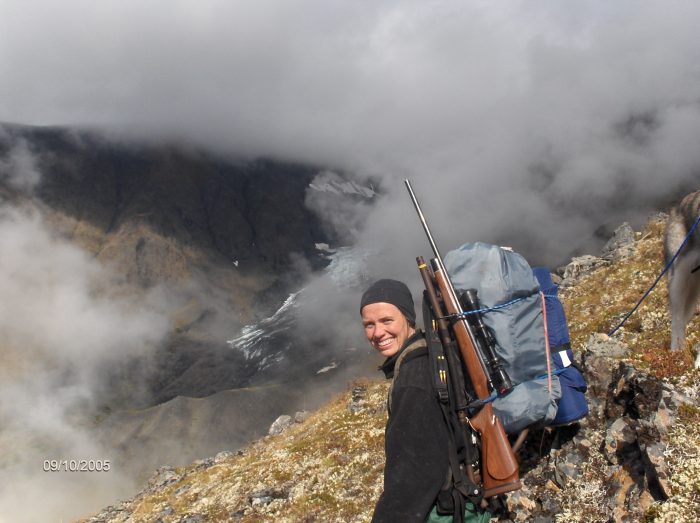 ---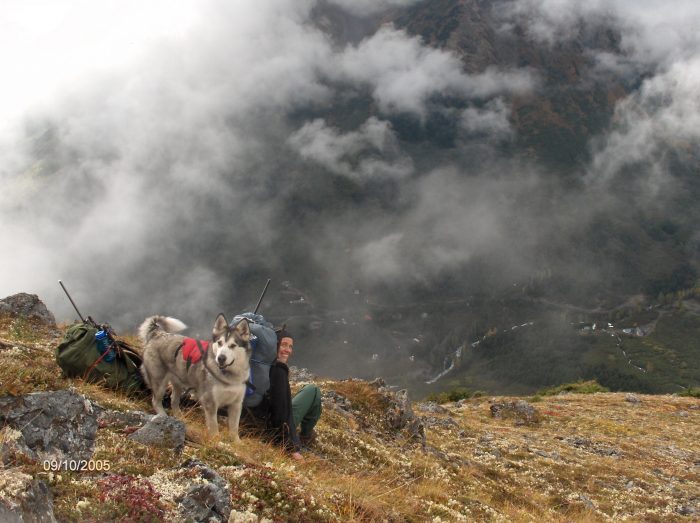 Gaining some elevation. The fog was way too thick to continue so we headed down hoping for a shot at the black bear. Once down to just above where the bear was, we spotted a nice billy way up in the rocks above us as the fog was clearing. Back up the hill, but this time we went straight for it, bypassing the technical route. Not smart.
---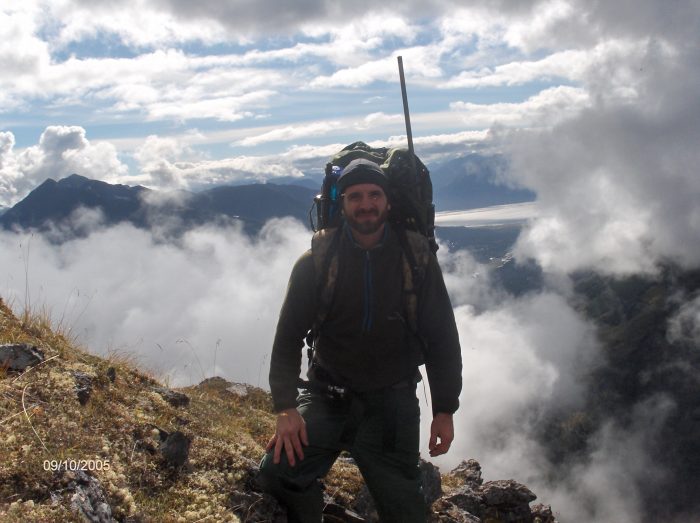 ---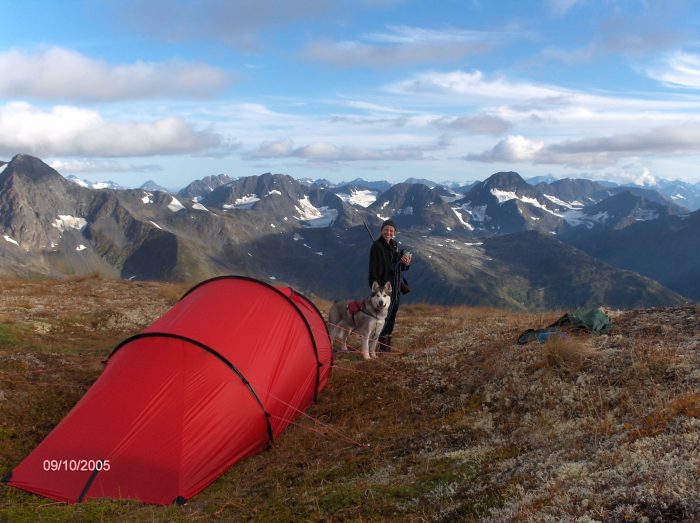 Set up camp at 4300 ft, and hiked up to the peak, elevation about 5000ft. No sign of the billy from the morning. Glassed down below toward Chief glacier and saw a small group of nannies and kids, and five black bears on the hillsides. It was pretty much impossible to get the goats from the route we took.
No goats, but the views were spectacular. What a fantastic backdrop for a successful hunt....too bad. Another goat hunter showed up after us and camped down below us. Not much room up on that bench to camp. We felt like we were on top of the world up there. These photos look down on Girdwood and the Turnagain Arm.
---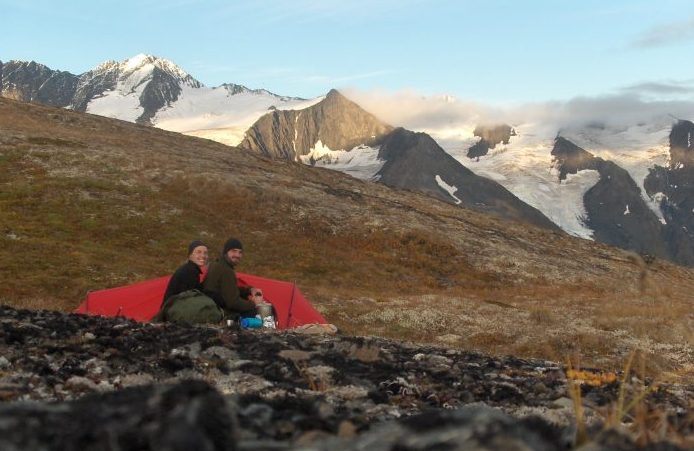 ---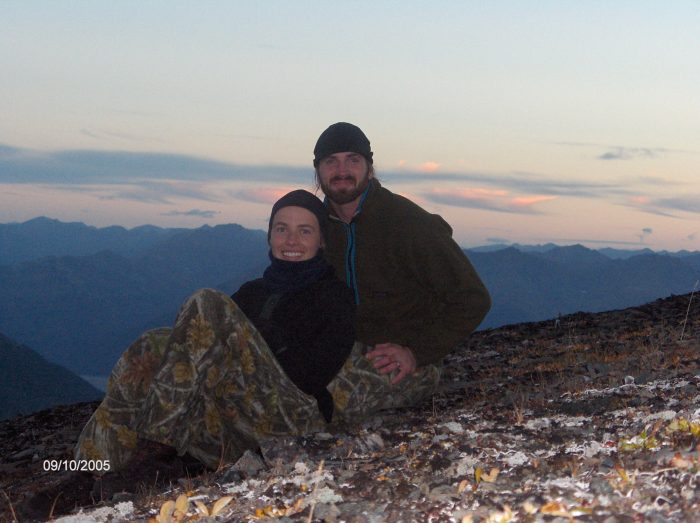 Aaron and I never ever get pictures together, but this trip we decided to try and set up for a picture. Just another example of the fun and adventure we share in Alaska.
---