LOG CABIN CABINETS AND PORCH
Well it doesn't feel like a cabin anymore. It feels a little more like a mansion in the woods. It is so cozy and nice now. Our kitchen comes together as Aaron puts the cabinets and cupboards in. We now have stairs to get into the cabin, rather than having to climb up onto the front porch, and the railing is done outside on the porch and on the loft deck. We sealed the entire cabin so now it is well protected from the elements! Lastly, our floor is silky smooth now that we sanded it down a couple times and applied a clear coat! We are ready for another winter!
---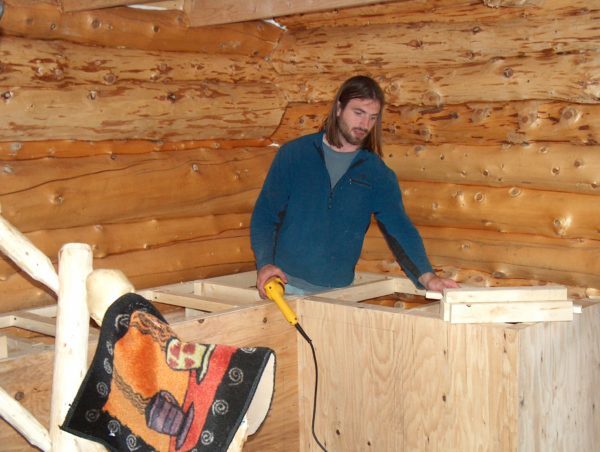 ---
JULY 2005
Lots of planning for Aaron with these cabinets, and he made quite a disaster in the progress. We plan to build the upper cupboards outside to minimize the mess we make.
---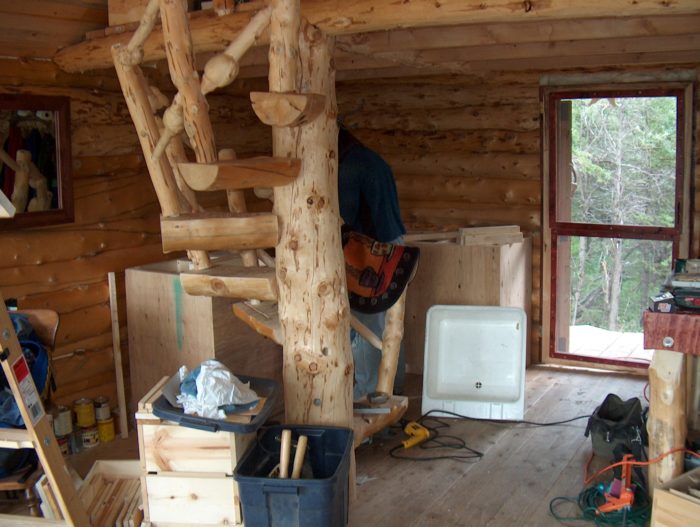 ---
---
My project was to build a miniature screen door for the loft...I built the whole thing without any help from Aaron. I was proud of myself because generally I just assist with projects.

We found this rock at a nearby creek and hauled them into the cabin for out countertop.
---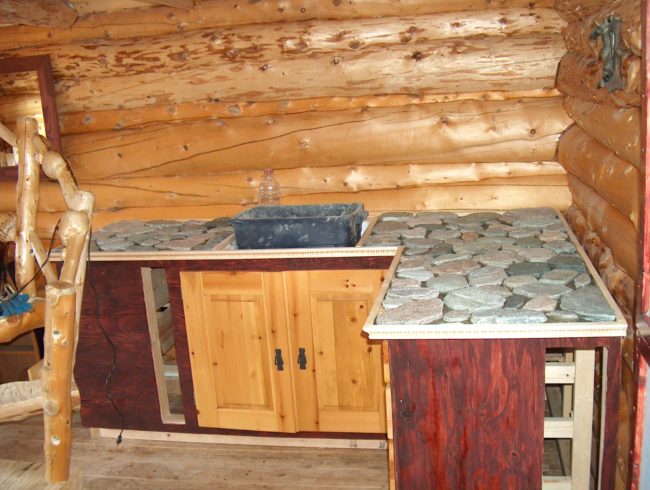 ---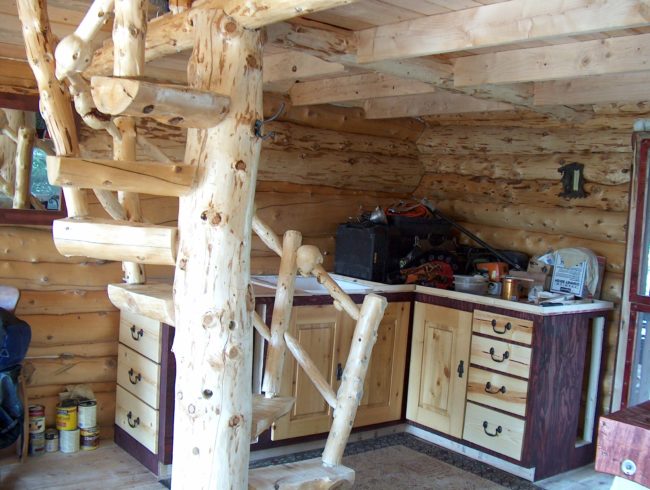 ---
It's coming along. Our cabinets are half done. It's so nice to have some storage space.

We stained the door frame in the loft and put a little peek-a-boo window in the door.
---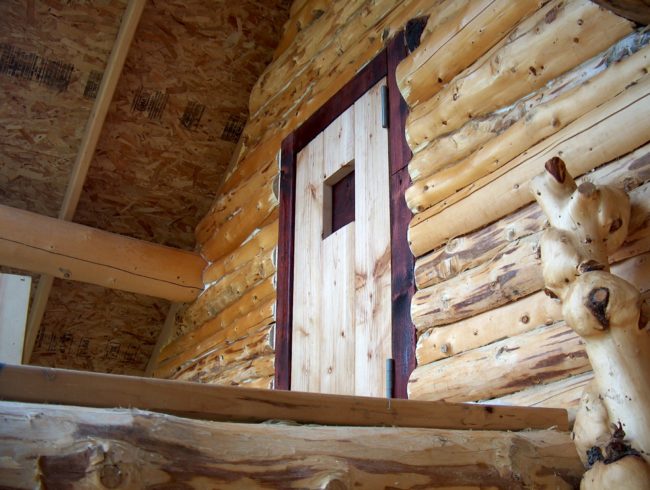 ---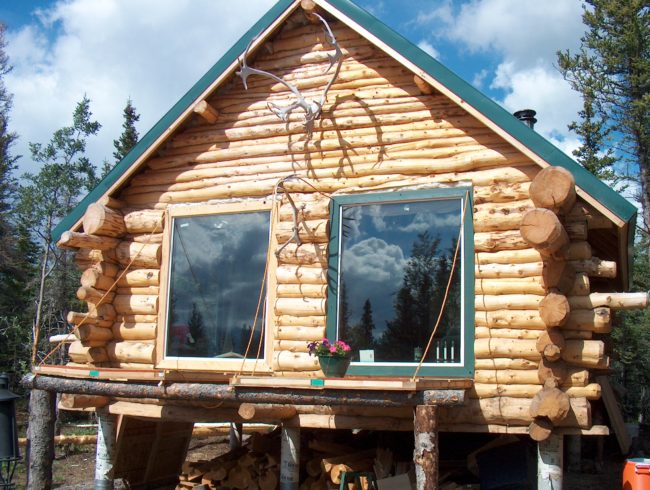 ---
Window trim coming along nicely with green pain. It's so much easier to work on this side with the window covers now.
An evening walk near a river with bear tracks.
---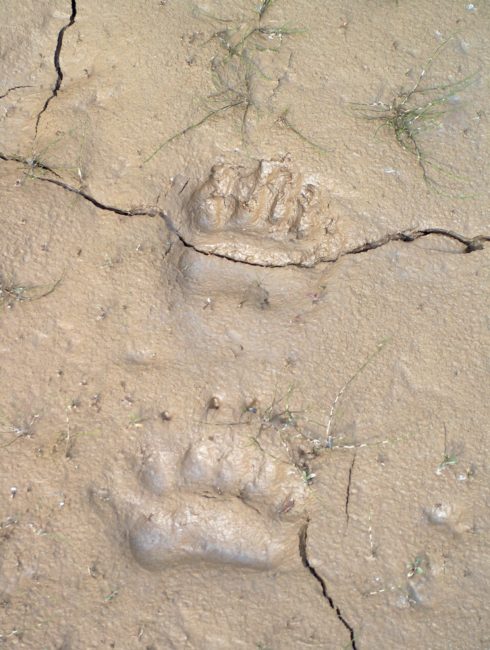 ---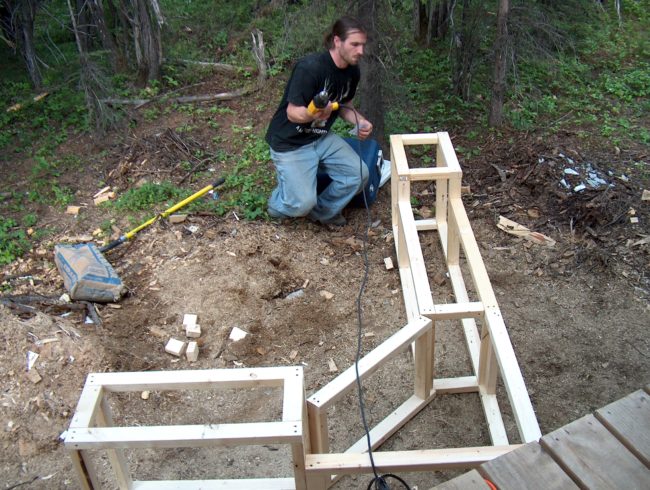 ---
This was super hilarious looking back on, but not so much at the time. Aaron built the upper cabinets outside to avoid making the mess inside. After lots of measuring, cutting, and putting together, we started to haul it into the cabin and realized that he build it backwards! He had to take it back out and do some moving around to make it right. We were happy when we could finally put it in place!
---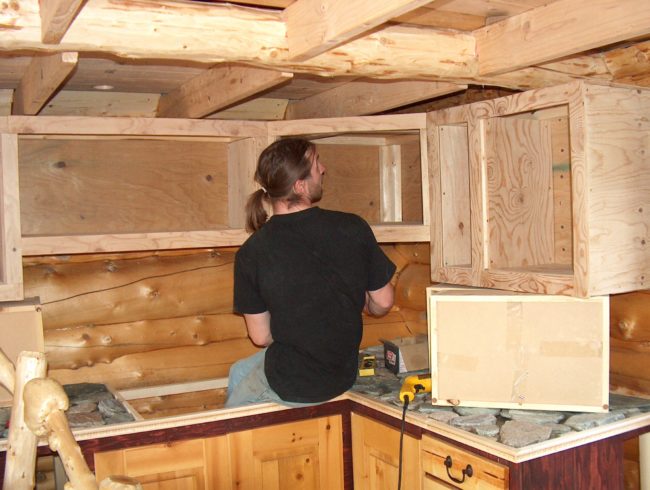 ---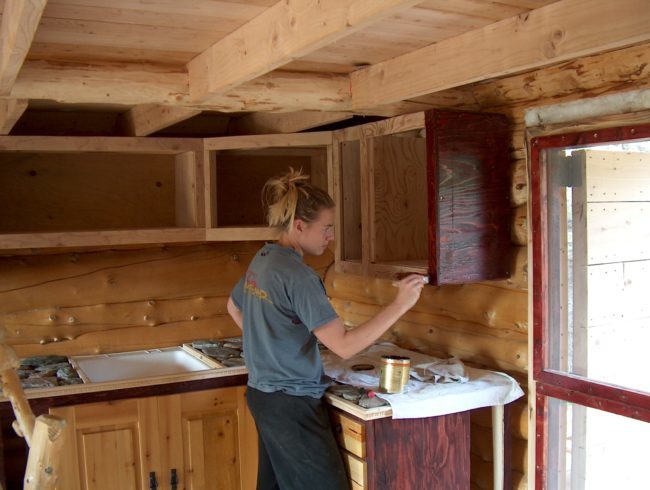 ---
Staining the cabinets inside...probably should have done it outside, but apparently we didn't think of that at the time.
It love how finished this little space looks! Slow and steady and we get things done.
---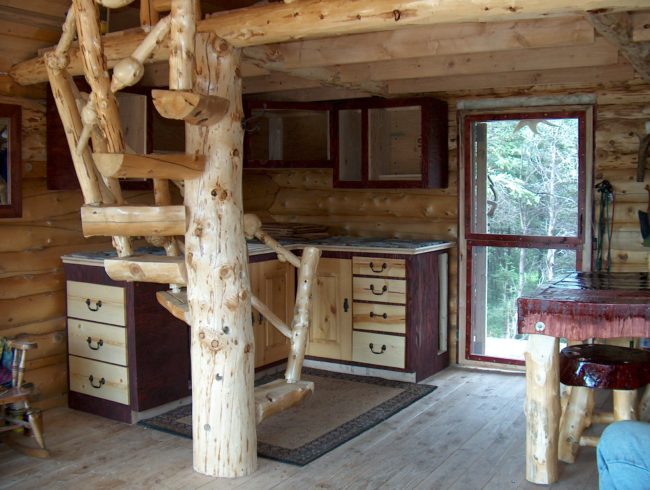 ---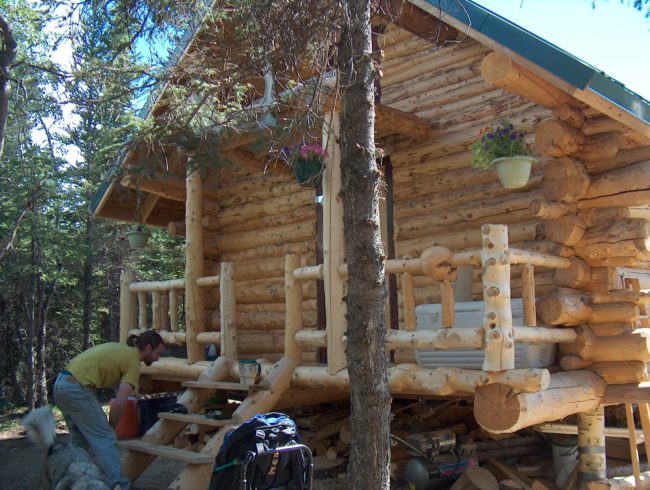 ---
Another weekend of work! We are working sealing the cabin and putting a finish on the logs and a finish on the floor. We don't always work! We have lots of coffee time with Kodi. He trusts us to help him up ladders, all 120 lbs of him.
---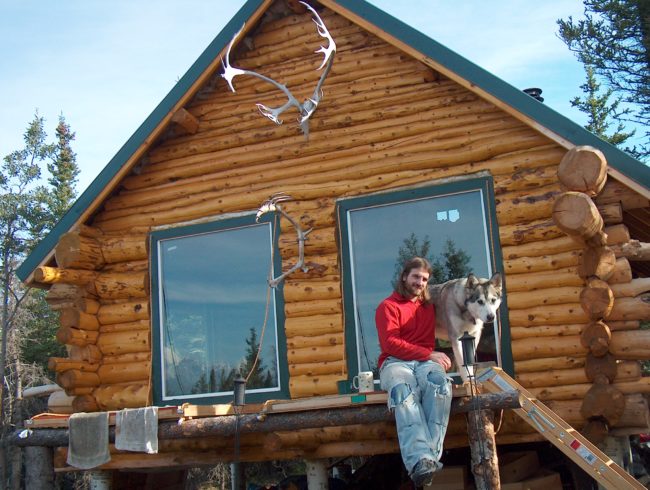 ---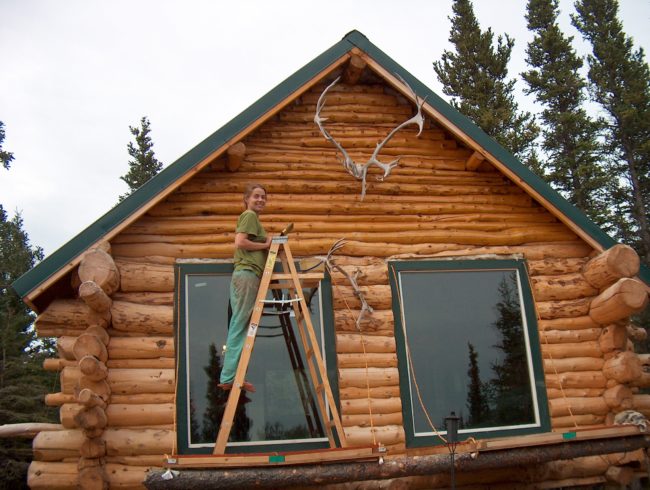 ---
We are using Woodguard, which is an oil based log sealant. We have been very pleased with it's performance. It makes the logs glow and it isn't like a paint coating. This should help with bugs and protecting the logs from the elements.
---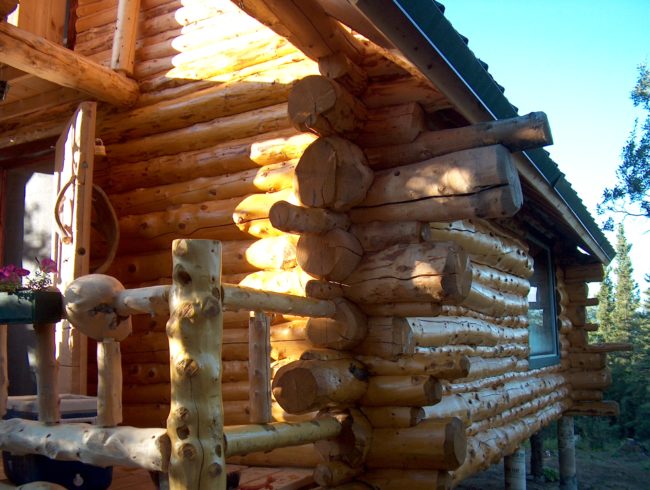 ---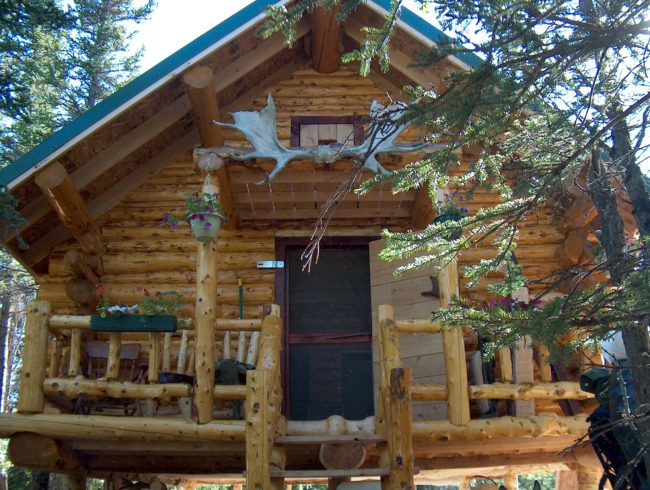 ---
While I seal the cabin, Aaron has been working on sanding out the floor. I'm thankful I'm in the fresh air!
---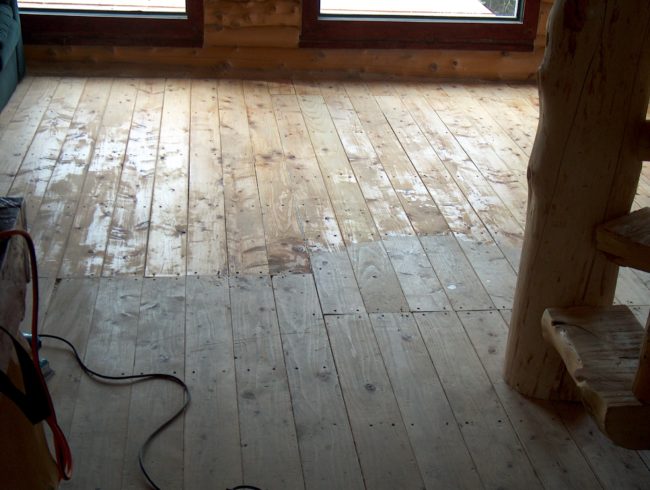 ---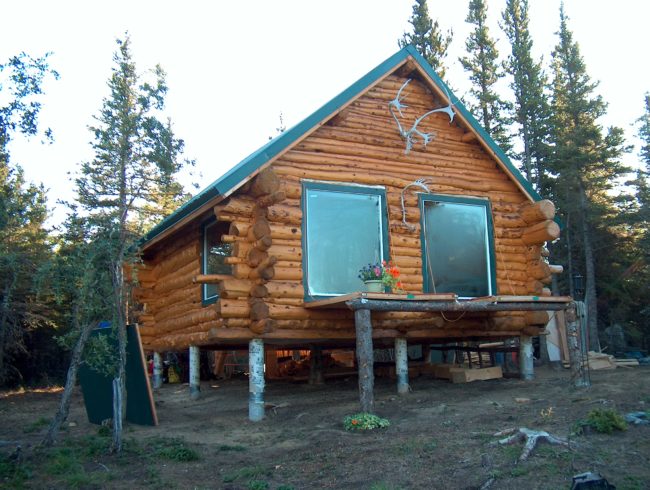 ---
All sealed! It's nice to know these logs are protected from the crazy weather. Our roof overhang is certainly minimal, but we have plans to fix that in the future. We just didn't have long enough logs to provide a giant overhang.
---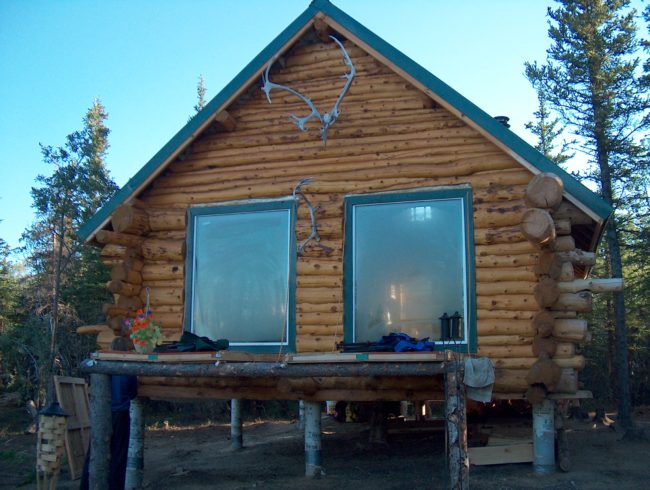 ---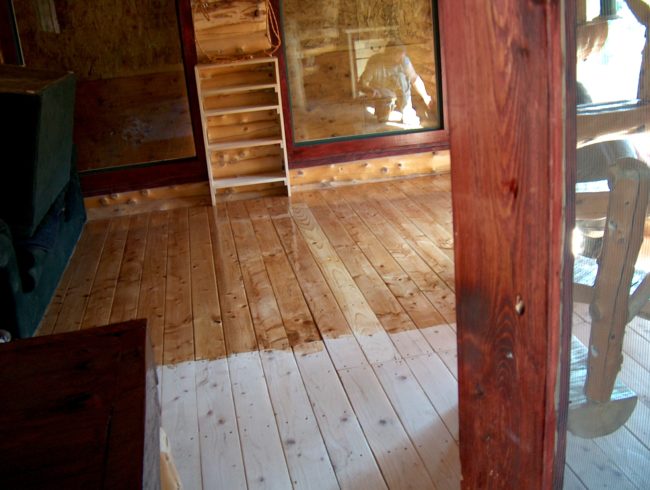 ---
The last project for the weekend was putting some polyurethane on the floor. We only could finish it in halves, so once this dries, we will move all the furniture to this side and seal the other side!
---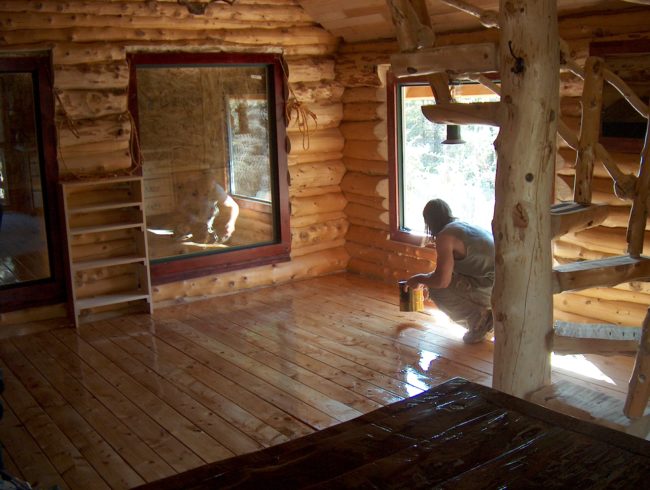 ---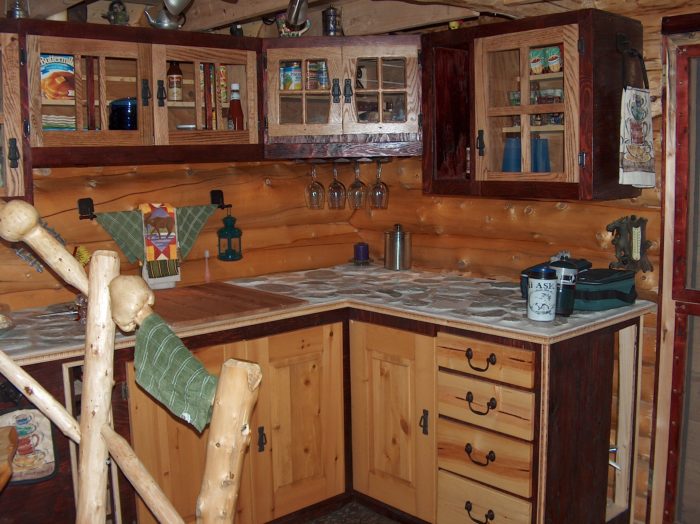 ---
We've worked so hard, and it's wonderful to see our hardwork pay off and to be able have family visit! Our kitchen is very functional! We have lots of storage space and the cutting board can be removed with a utility sink below that we can use to wash dishes with water we haul from the creek. It drains out a piece of PVC below the cabin.
---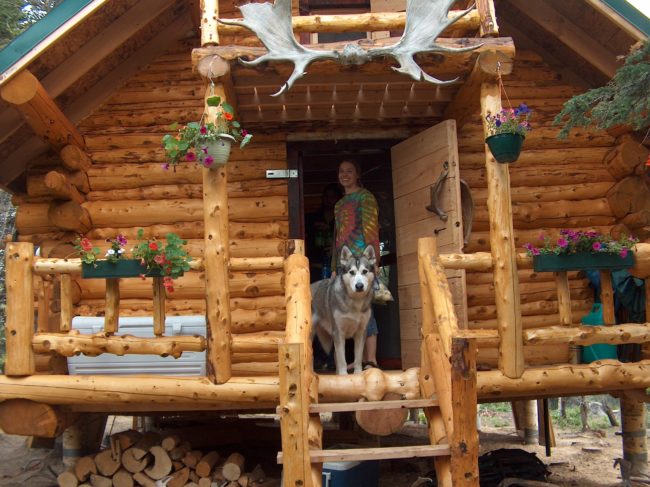 ---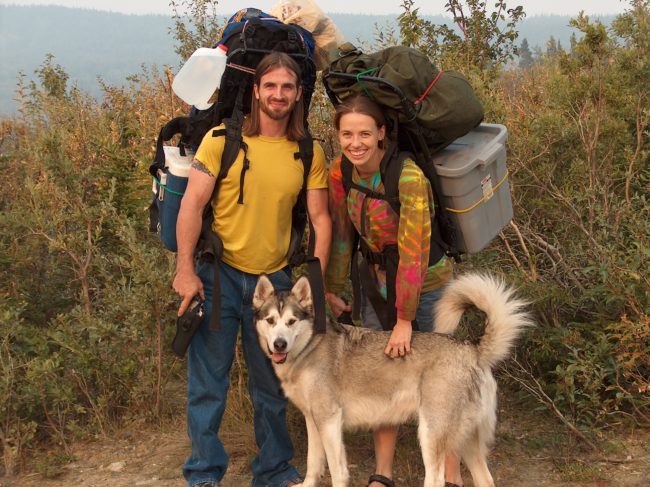 ---
My mom and dad came from Montana for a visit. They were very impressed with the cabin. I think they thought we were a little crazy when we told them our plans! They watched our build progress through pictures, but it was so much better to see it in person!
This is how we look on the hike into the cabin! We put it all on our back in any way we can!
---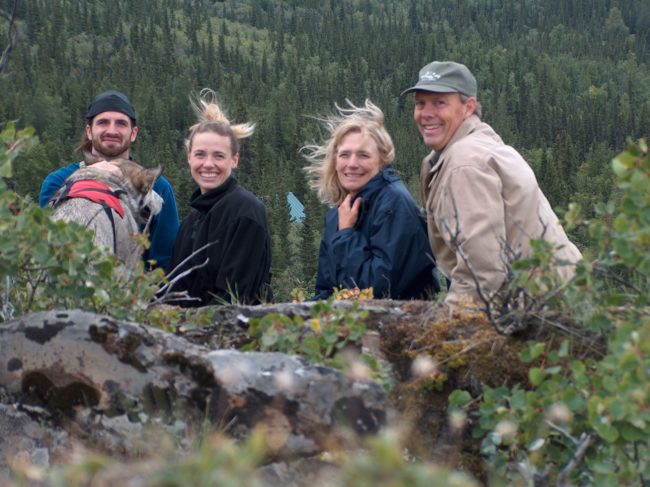 ---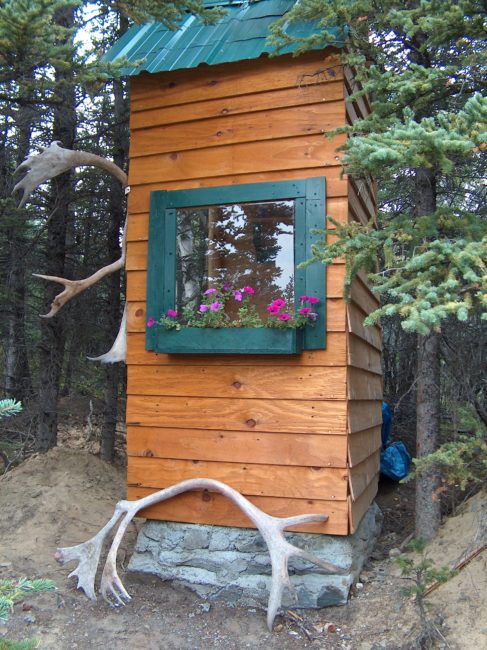 ---
Our outhouse is pretty stylish for Alaska! It's bare bones, but it's nice! I love the view! Sometimes a door would be nice though.
---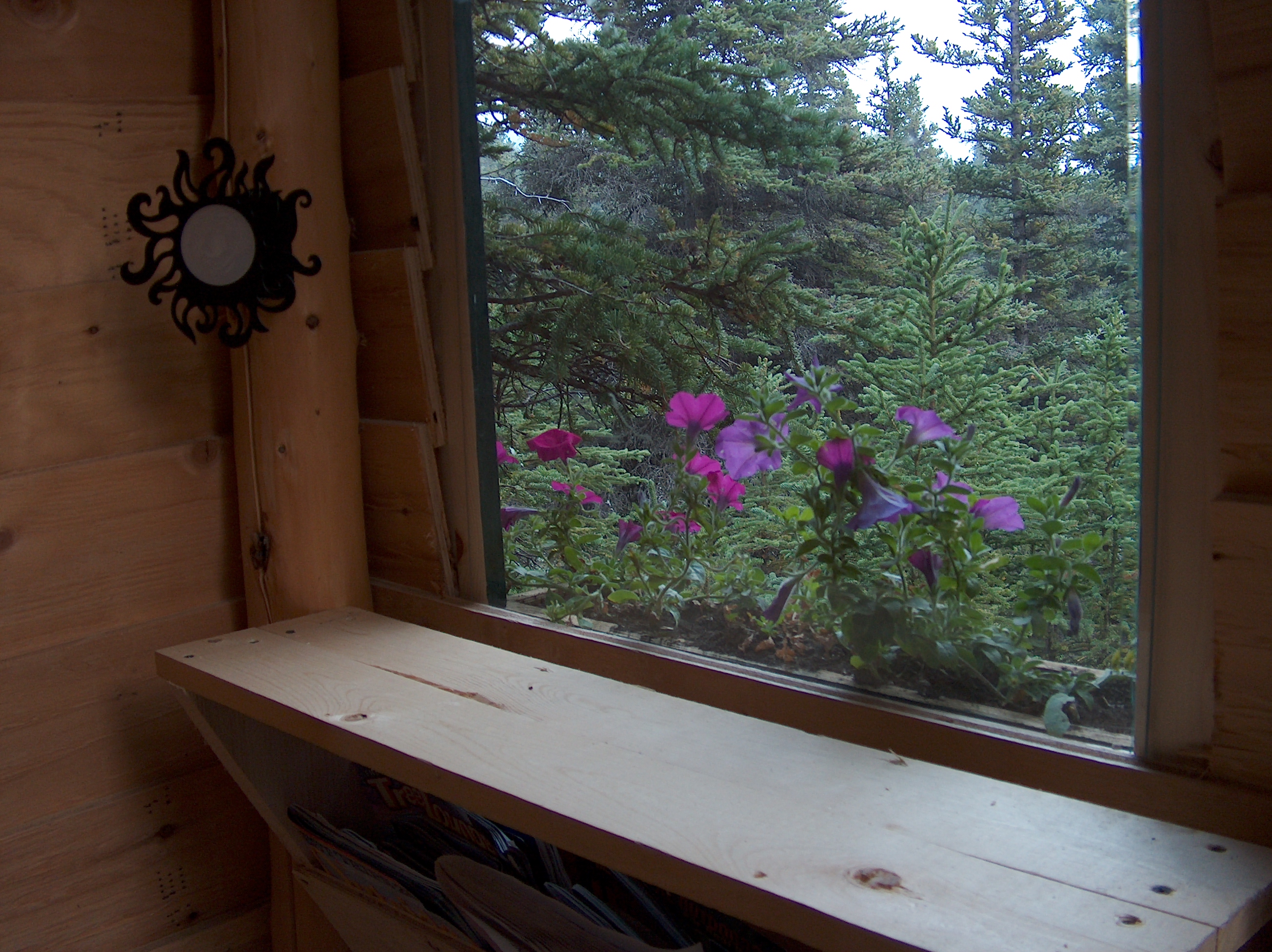 ---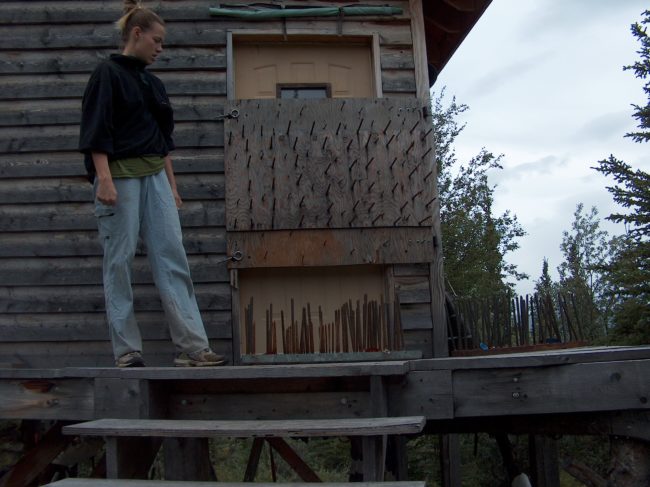 ---
We have bears in the area....This is a cabin in the area that is worthy of showing their bear protection system! This is a serious bear deterrent!
We are so proud of this little place! We have labored long and hard, but for this I'm thankful!
---