The walls are up, now we finish the loft, and the gables go up with the purlins and ridge pole. Then comes the art of putting a square roof on a un-square cabin. The rush is on to beat the snow!
---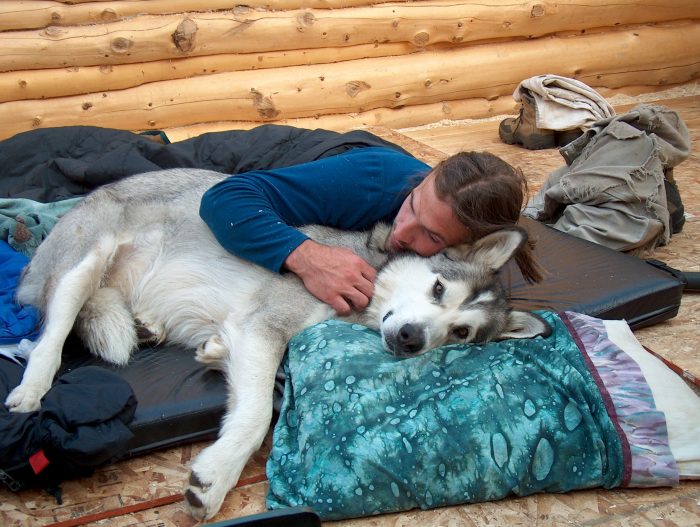 ---
To sleep with hard walls is a luxury these days! We often hear moose outside at night as they adjust to this new building in their woods.

The days are long and hard work and sleep is welcome at the end of a day. These guys are slow to rise!

Kodi loves the snuggles too!
---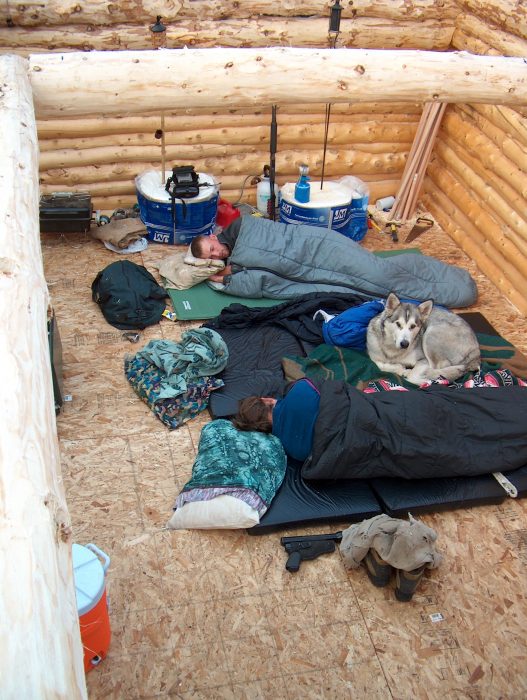 ---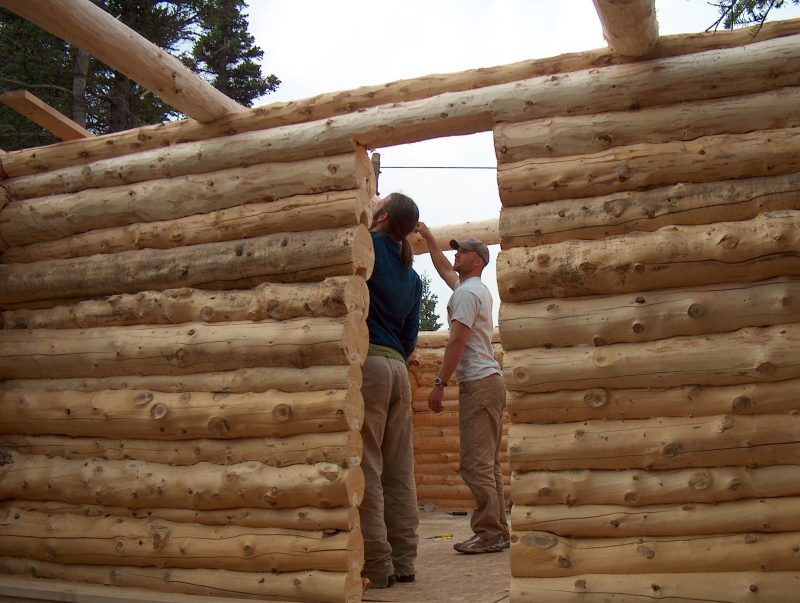 ---
Aaron & Adam measuring joist placement on the loft logs. I thought they looked pretty cute!
These guys work great as a team! It has been great to have them together again.
---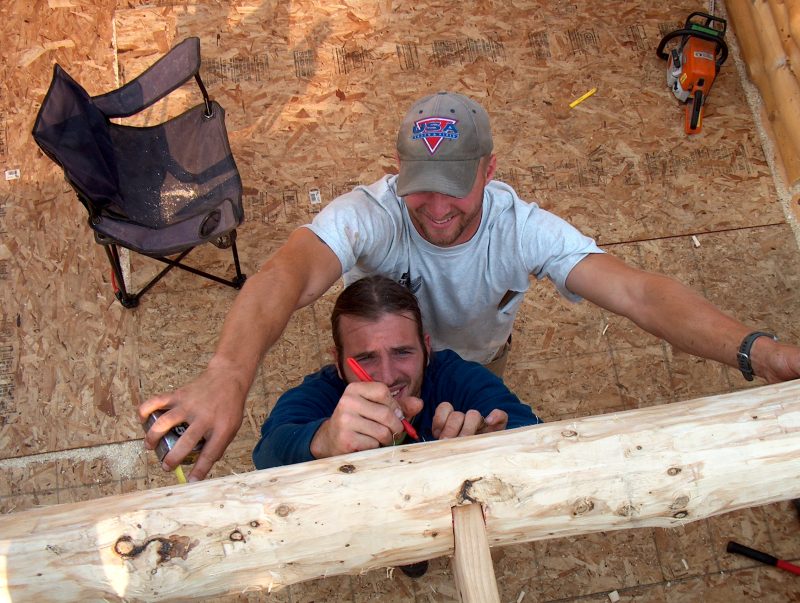 ---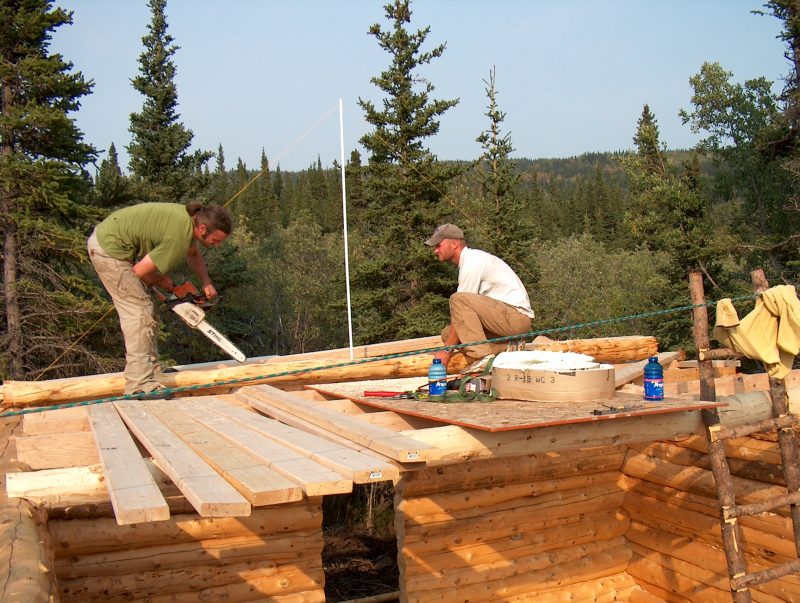 ---
---
This was super exciting! Finally getting the flooring down in the loft so we can start the gable ends.

Long work days mean we get amazing burgers for supper!
---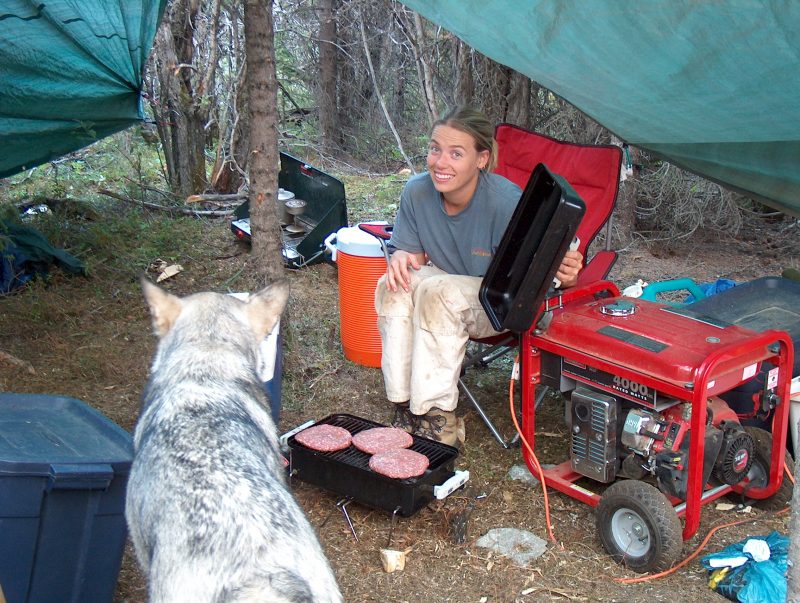 ---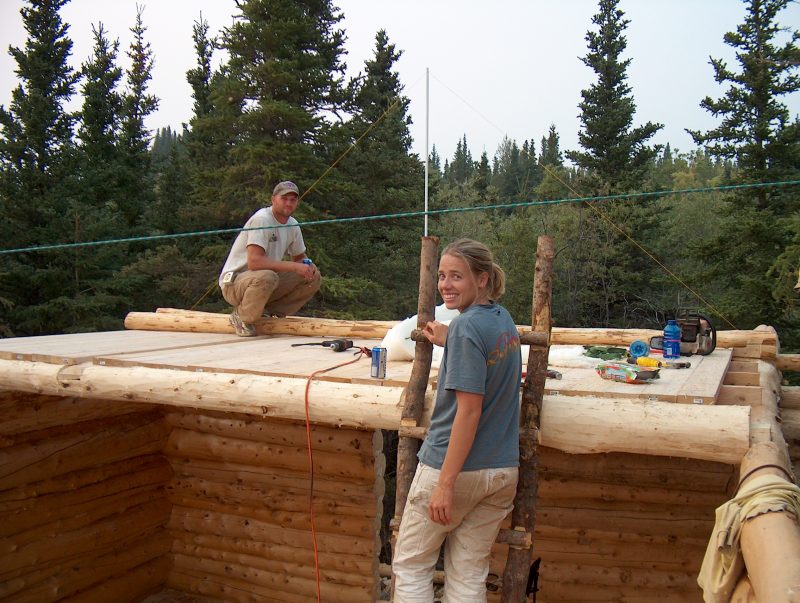 ---
---
These log gables are going to be interesting! The logs we are using are small and tapered! We are going to a bunch to make these gable ends.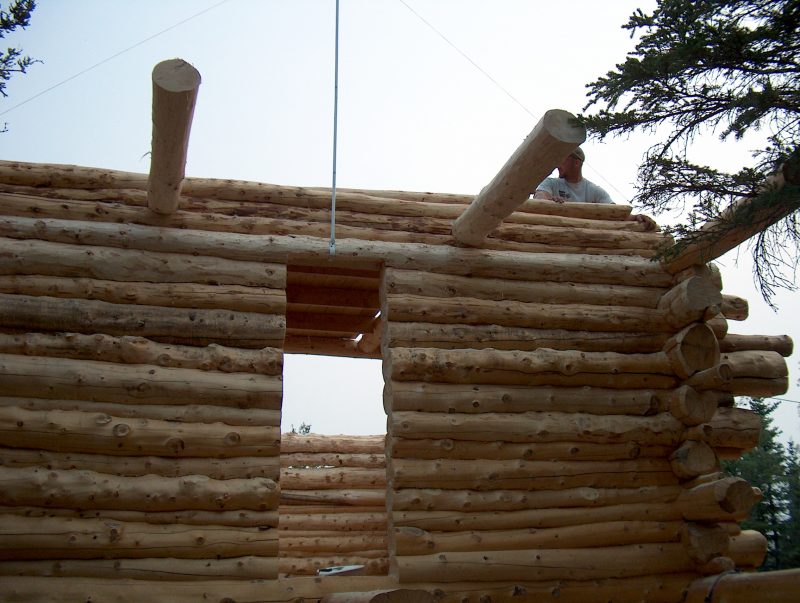 ---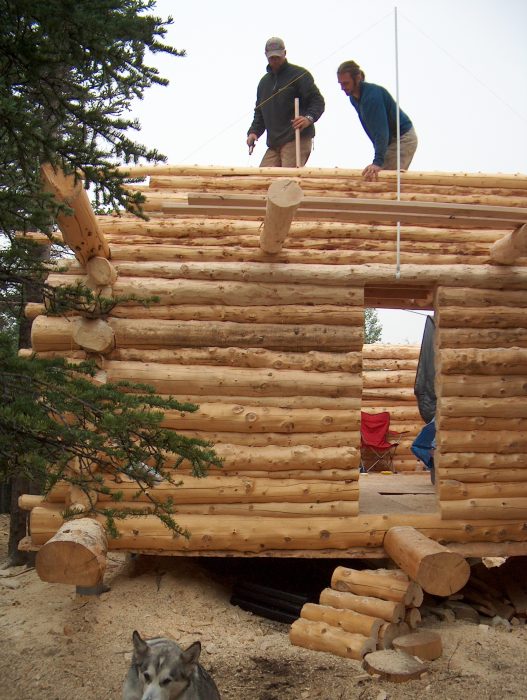 ---
We really had to use our logs wisely. We used a metal rod to figure where our ridge pole would be and that way we could figure the rough length of the gable ends.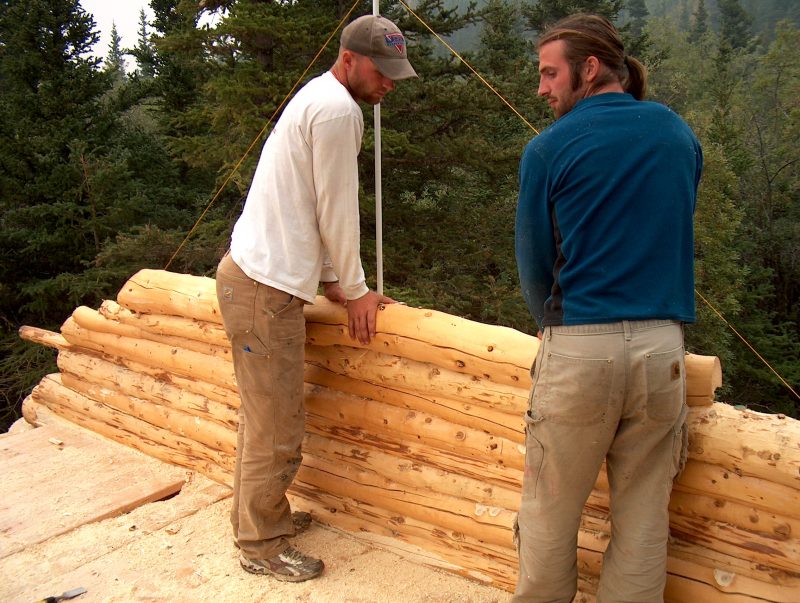 ---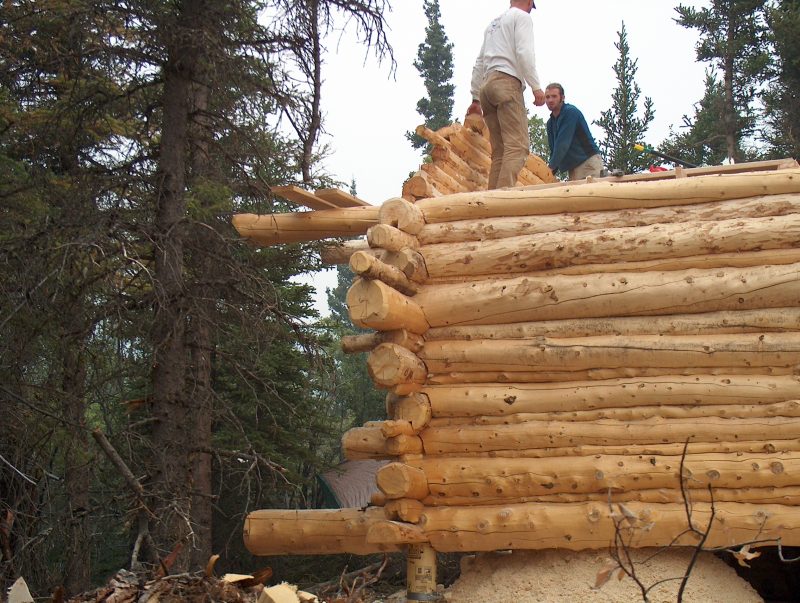 ---
Progress is slow, but some progress is better than none at all. These log walls are so beautiful I think. I love the look of the taper and round notch. I'm pretty proud of what we've accomplished so far!
Kodi, on the other hand thinks it's getting chilly and likes resting in our sleeping bags.
---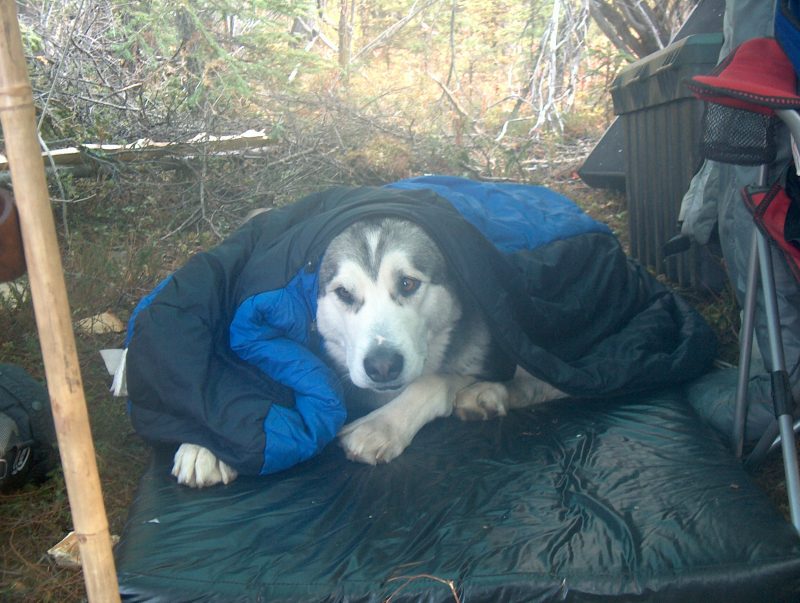 ---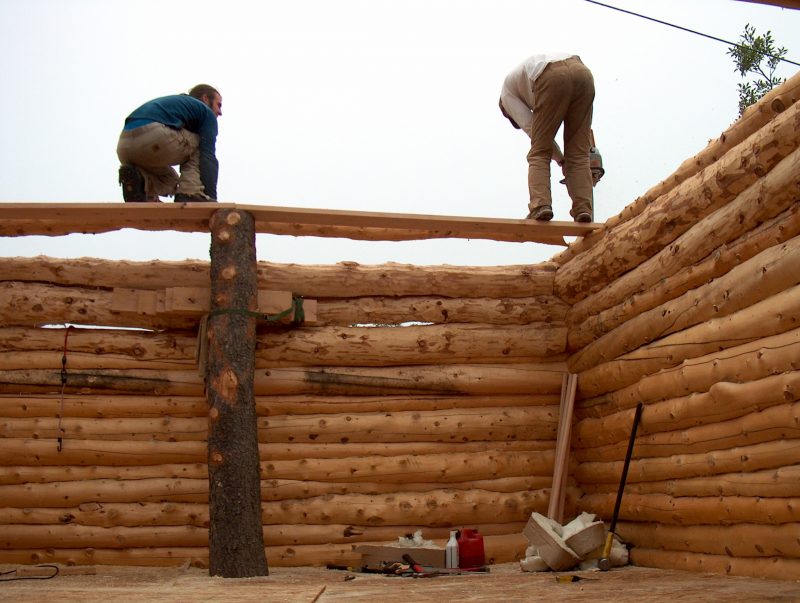 ---
Most work is done higher now which is more challenging for sure when it comes to chainsaw work. We've had a few accidents, but nothing major thankfully!
---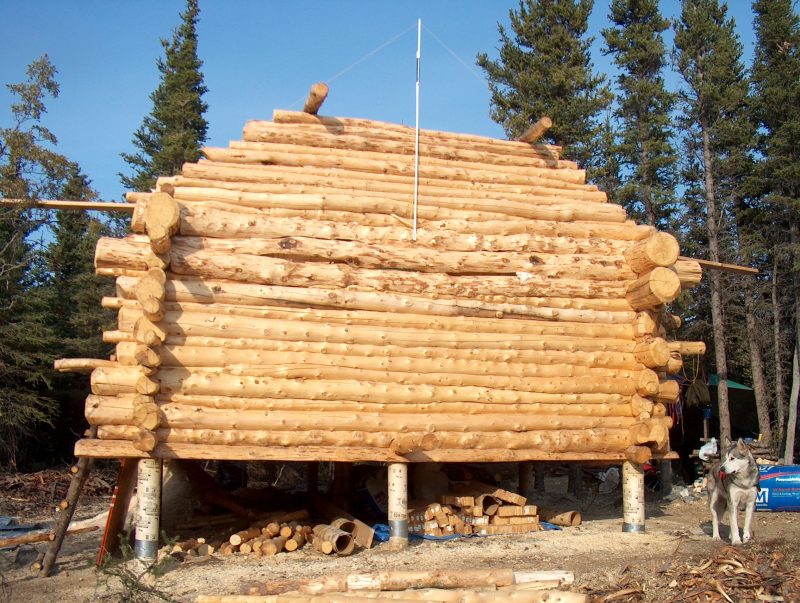 ---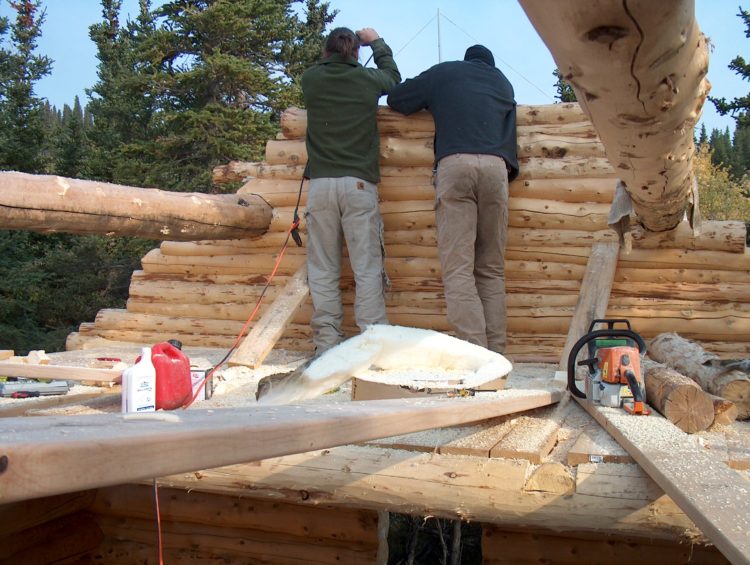 ---
Aaron & Adam working up the gables to the ridge pole. We are almost out of workable logs!
Fall is coming, and we are so ready to have our log cabin dried in before the winter weather sets in.
---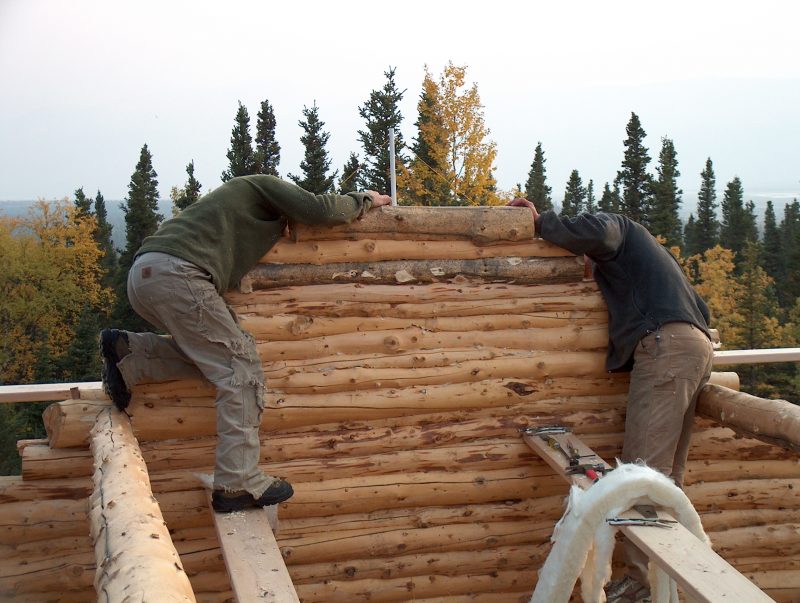 ---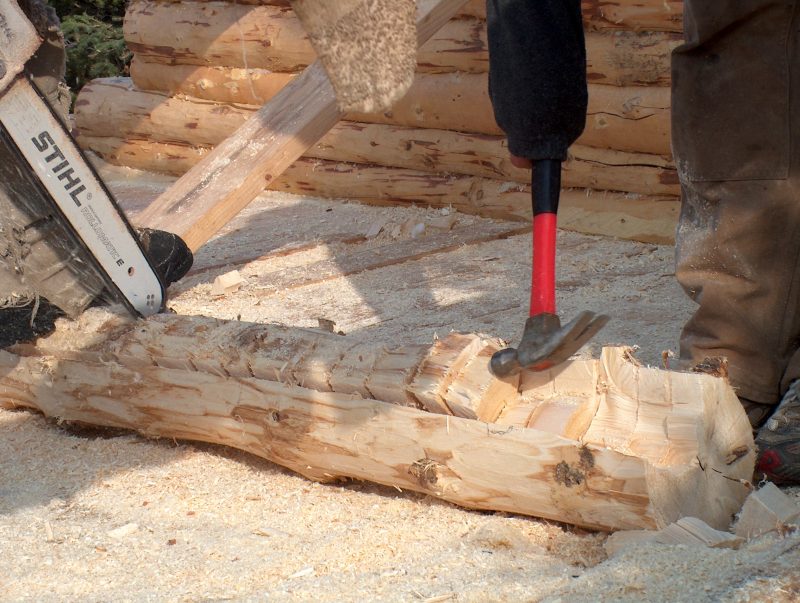 ---
Chainsawing the long v-notch and hammer the wood chunks out. These little gable logs are much faster than the wall logs!

A balancing act on a flimsy 2x8, probably not the safest technique, but we use what we have.
---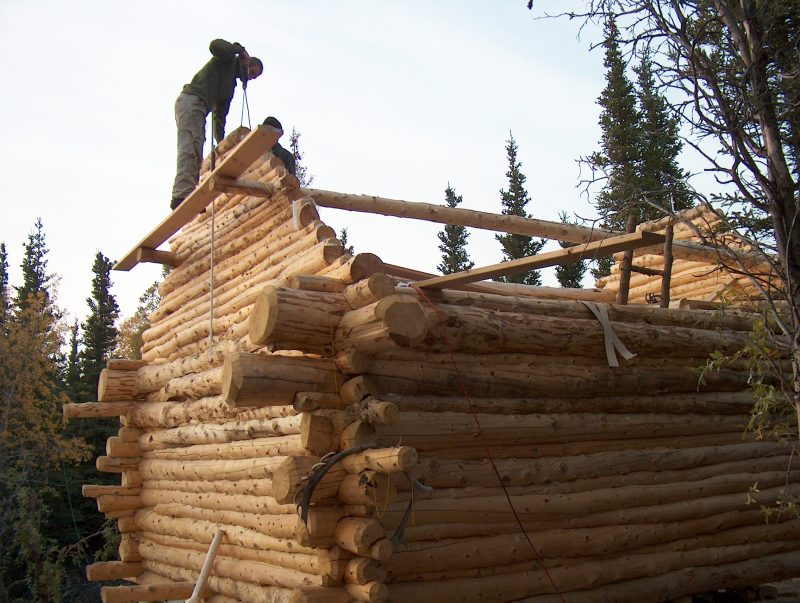 ---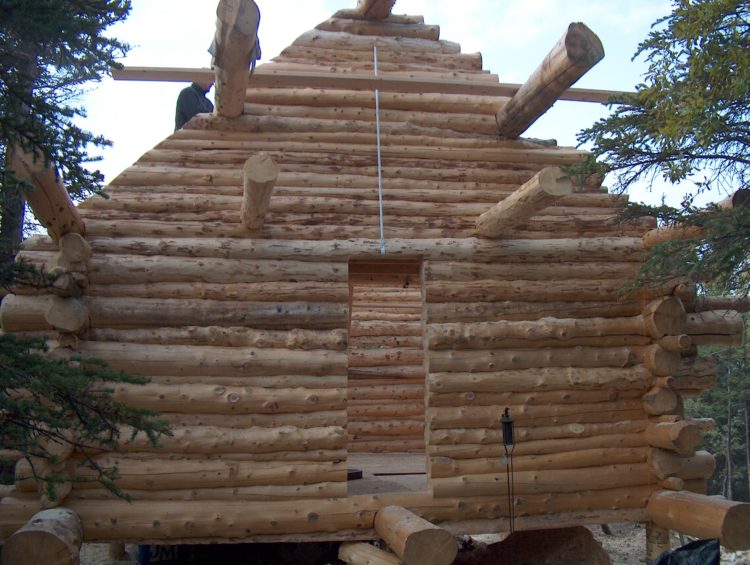 ---
Hallelujah!!! The ridgepole is up! I don't think we had many logs left to work with, as you can see by our shrinking gable logs.
---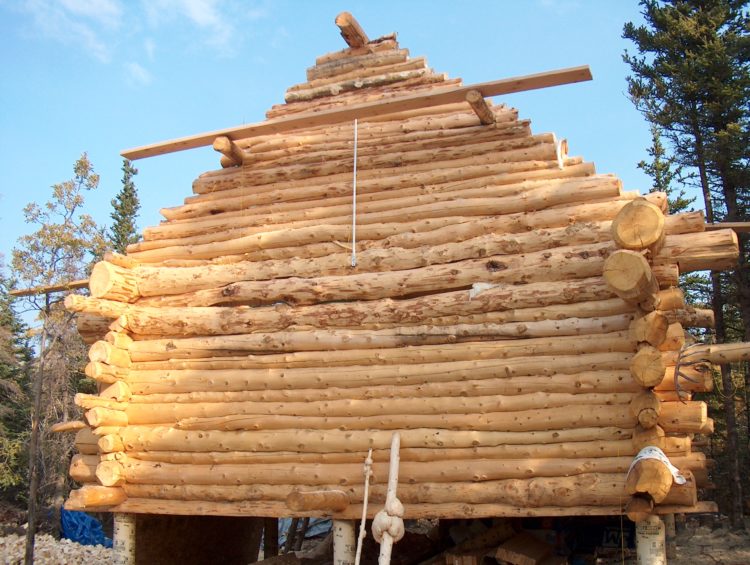 ---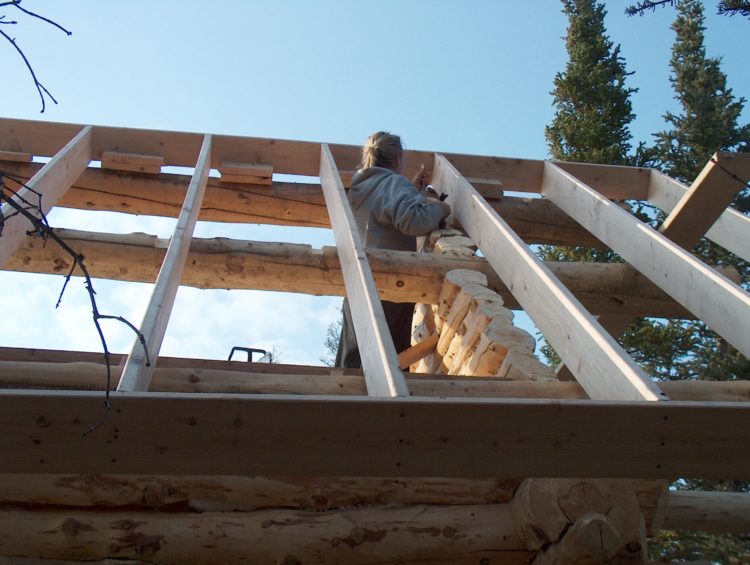 ---
We put the frame for the roof together in four pieces, it was difficult to get it square as there was no place flat to build them. Then we had to chisel the purlins, cap logs, and ridge pole down until all points touched.
---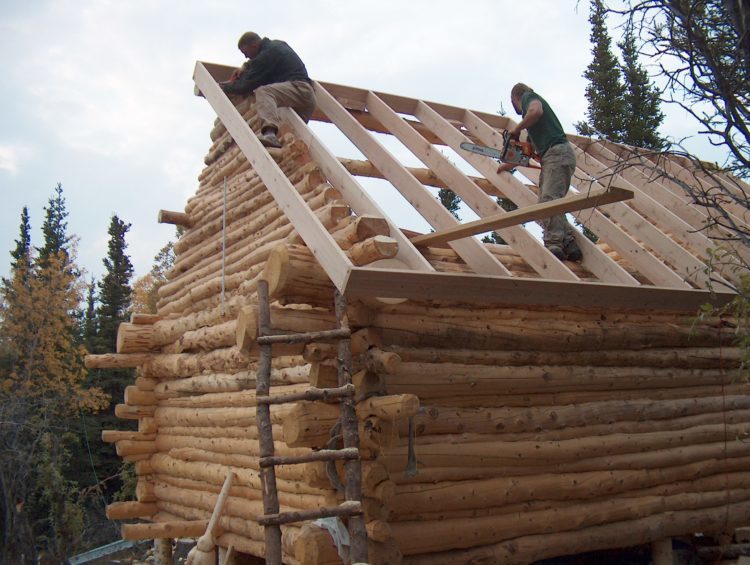 ---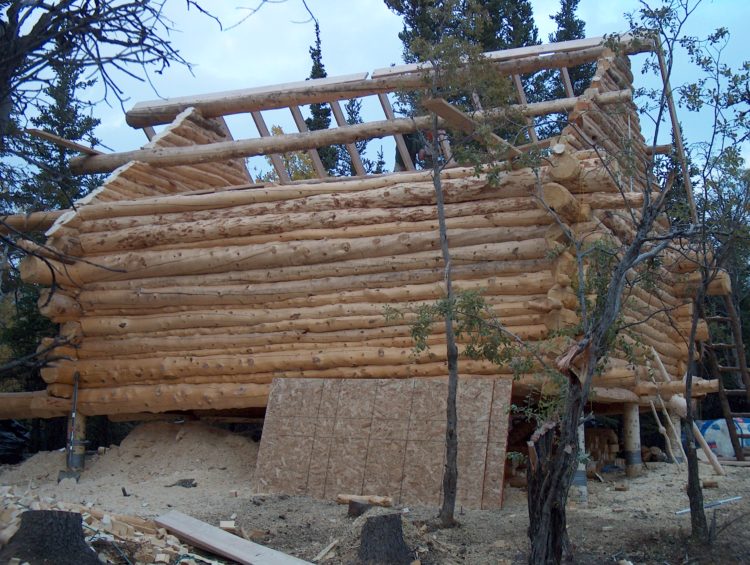 ---
We should have kept working on the other side of the roof, but dark came upon faster than we'd planned for. We weren't ready for the crumby weather the next day.
A wet (rainy and snowy) day. Temps hovered at about 30 degrees. Not a safe job, putting a roof up with wet logs and wet plywood.
---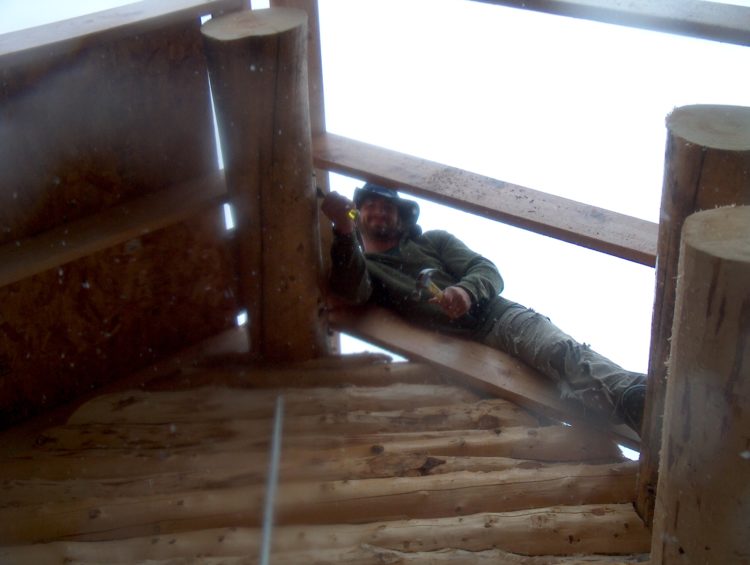 ---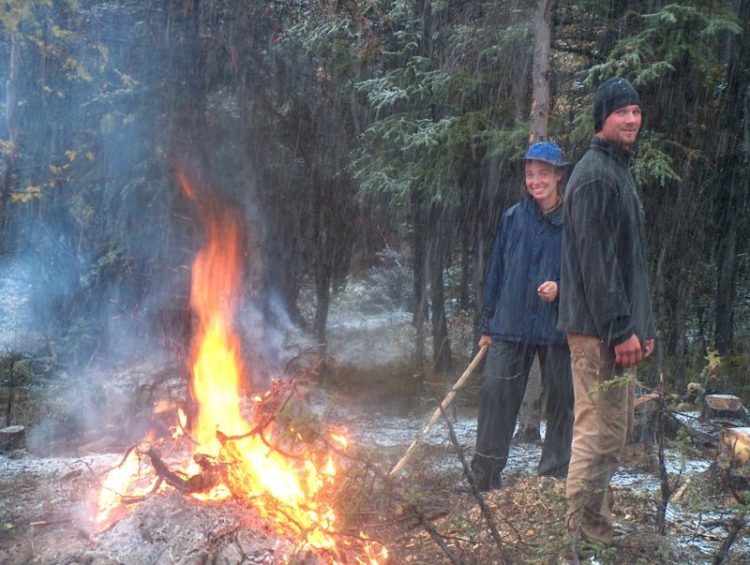 ---
Only one more roof section to go before we can be dry inside. The weather is not helping!
We have no other way to warm up other than fire. Luckily we had enough dry log peels to start a blazing fire that burnt even wet wood.
---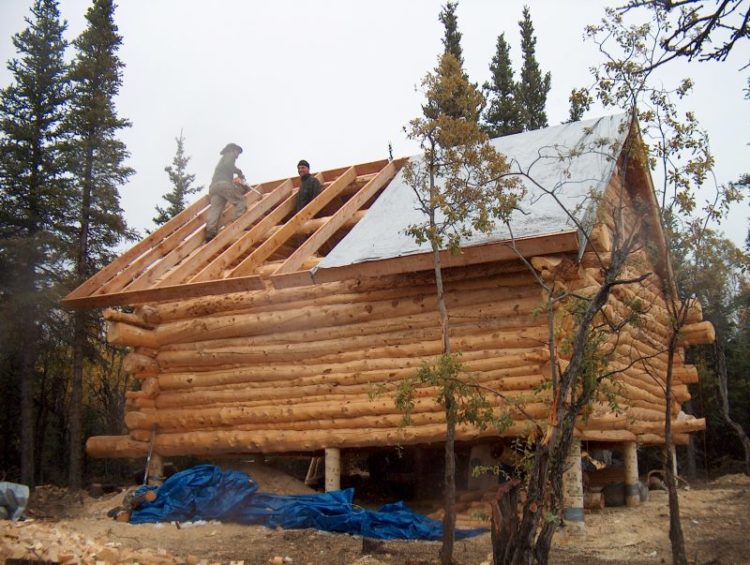 ---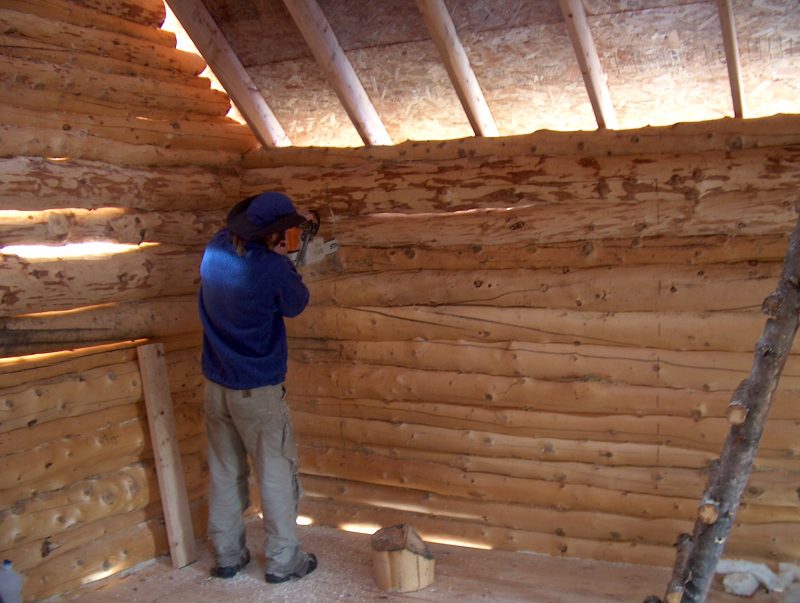 ---
It's cold, but we still want windows in our cabin. Aaron marked the lines for our windows and chainsawed out the window opening. All the wood dowel we had in the logs will keep them securely in place.
Next up is the fireplace platform. We built a form so we could poor a concrete pad and used rock we found locally as well.
---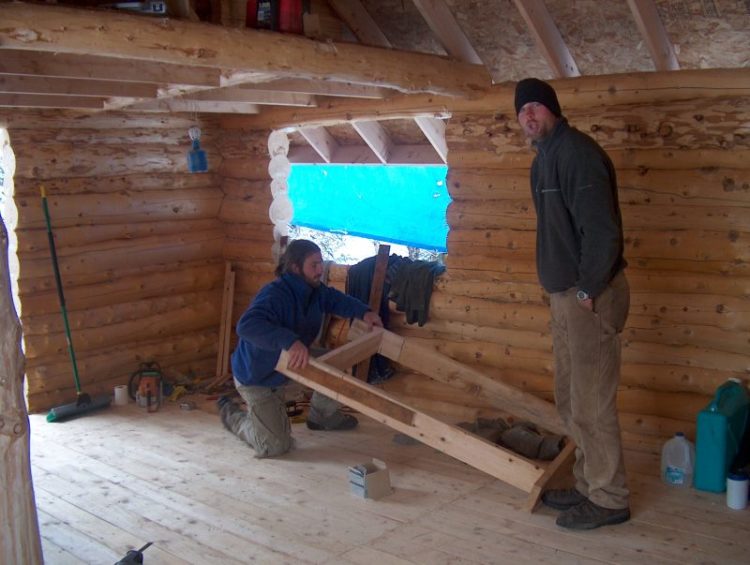 ---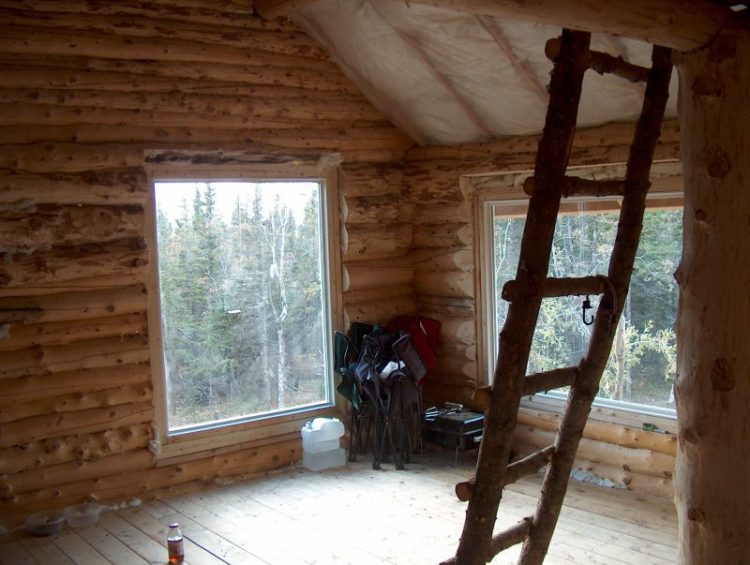 ---
Each step of this cabin build has been so special! We put in 3 windows so far and it already feels less drafty. The woodstove was a real PAIN to get into the cabin, but the boys managed to pack it in SLOWLY. It's so cozy now that we have some heat in here! Winter can still wait, but we are almost ready!
---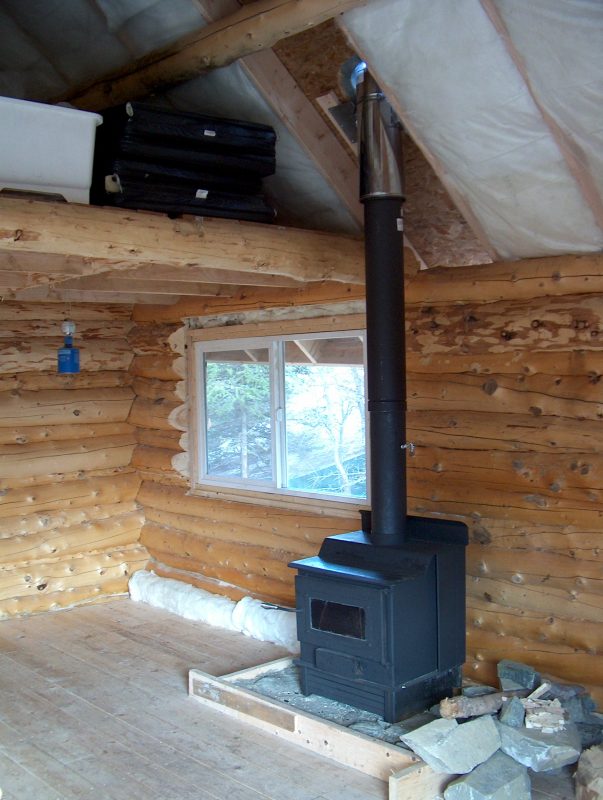 ---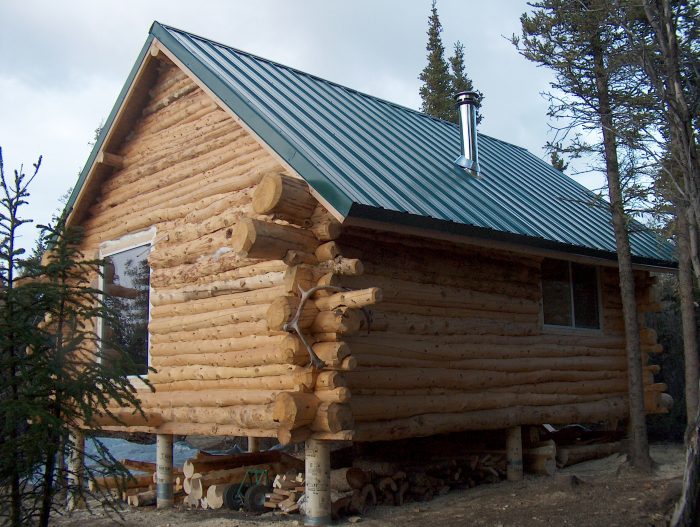 ---
Seeing this cabin we have labored to build is amazing! What a gift! This place brings such joy to my heart. We had NO idea what we were doing, but with some research, a few good books, and a lot of faith and determination we've made a little home.
---