---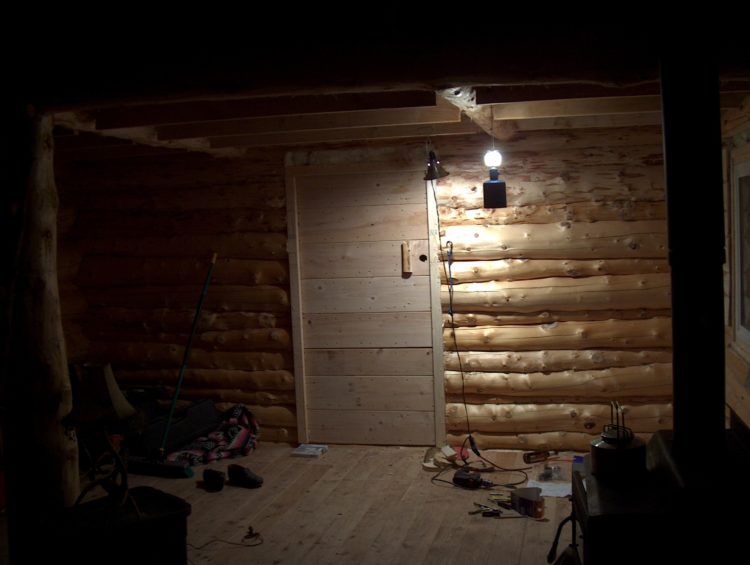 ---
We have heat, a door, and the last window is going in this week. Snow finally came the end of September 2004. We are still working hard, but at a more relaxed pace! So thankful we are closed in for winter!
---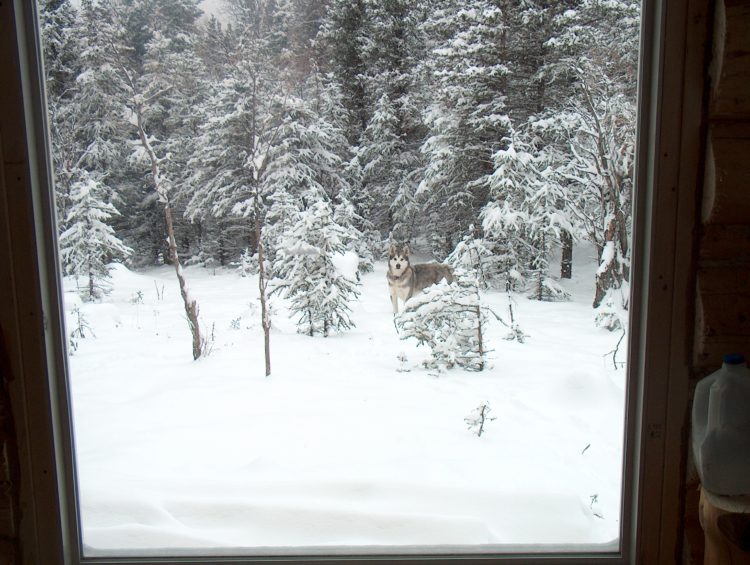 ---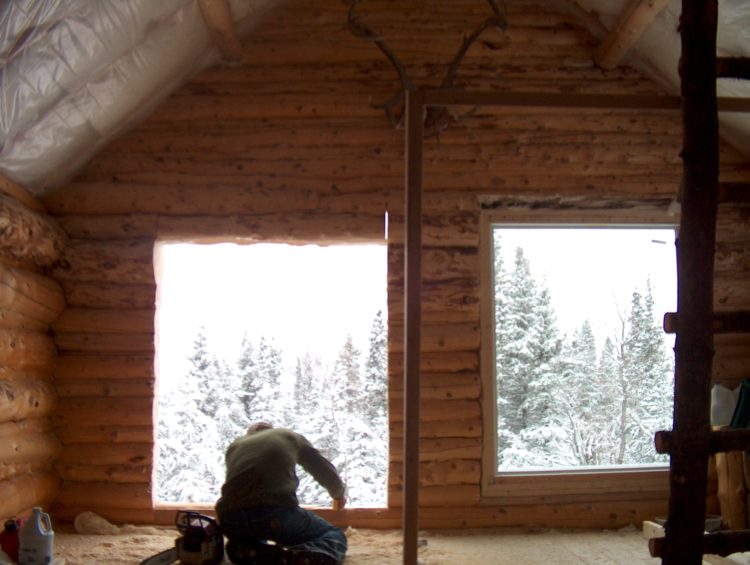 ---
Our last window to cut! We will certainly be warmer now. The logs hadn't been fit tight where we knew we were cutting out windows, so this will help with that draftiness. It's always a little scary cutting through precious log walls. I love this large picture windows we put on the front.
---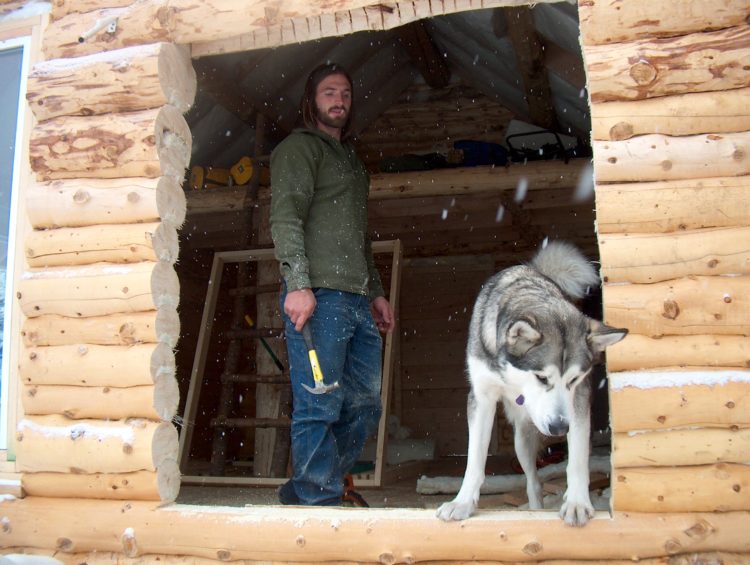 ---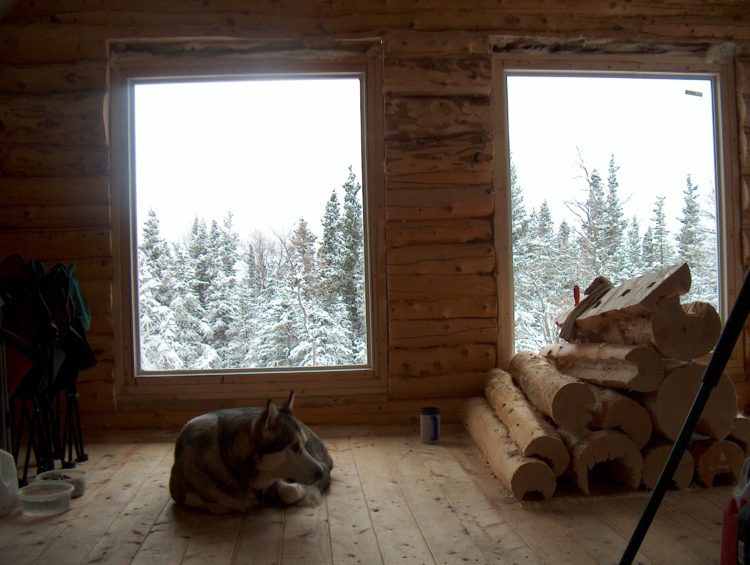 ---
Kodi approves cabin life I think. He runs free here and occasionally ventures off, but never far. He's a great guard dog.

Looking like a snug little mountain man cabin!
---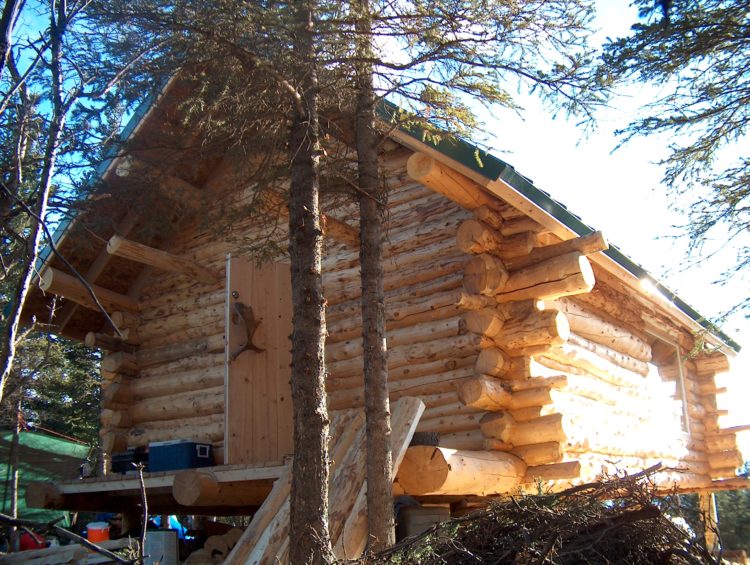 ---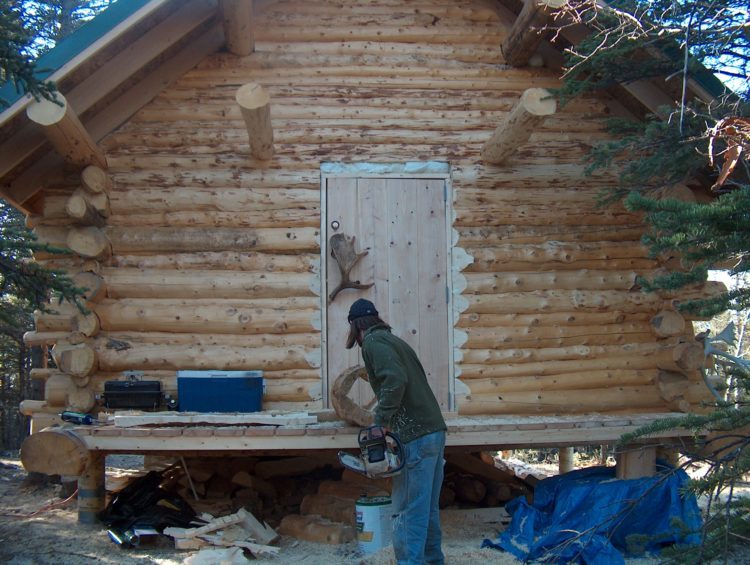 ---
Now to work on our future log toilet. This was a fun project! We used one of our log pieces and hollowed it out. Lots more work to do to make it comfortable.
---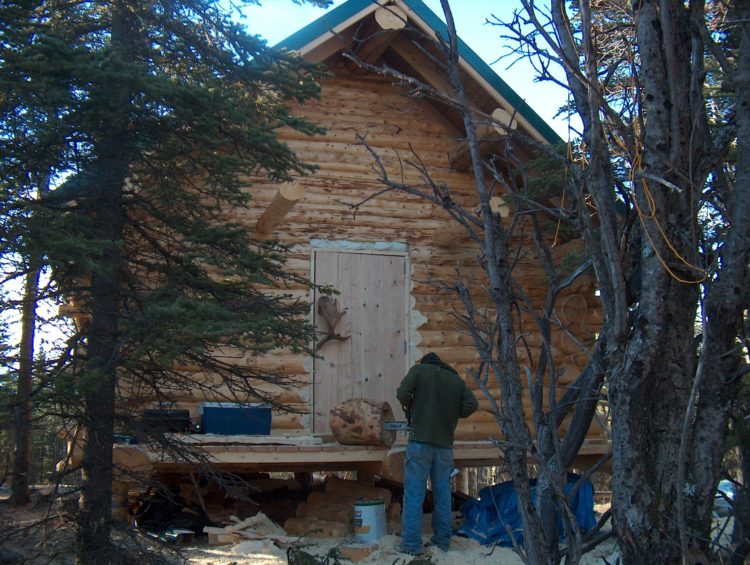 ---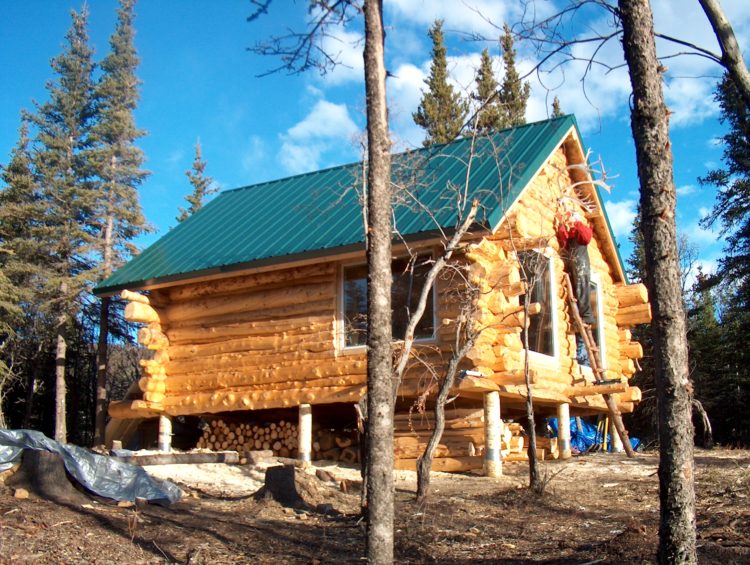 ---
Warmer weather melted the snow again! We appreciate the opportunity to get more outside work done. I took to ceiling all the log joints with caulking. The logs fit pretty tight, but there are some larger areas that we want to keep bugs out of.
---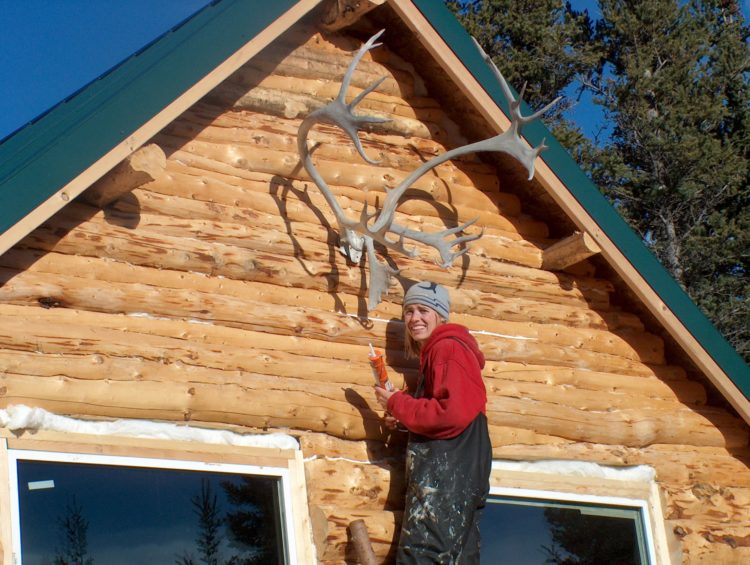 ---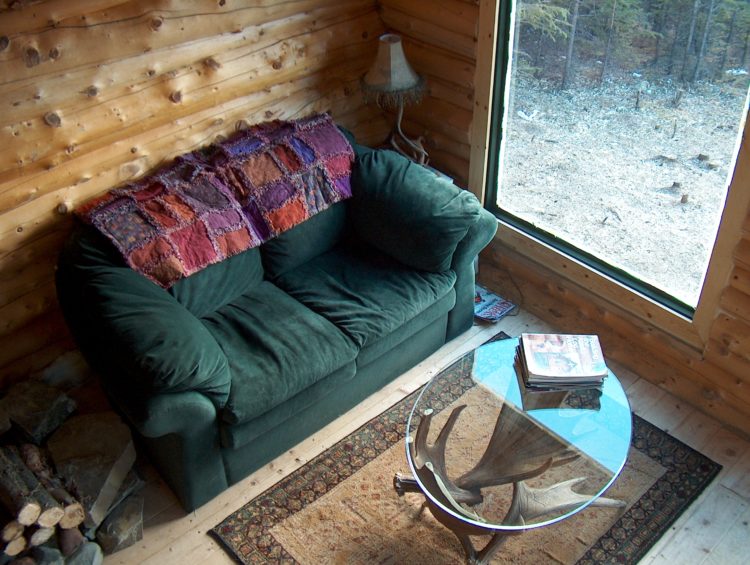 ---
It's getting so cozy! I may never leave! We hiked our sofa in and a few other furniture items. This is our home!
---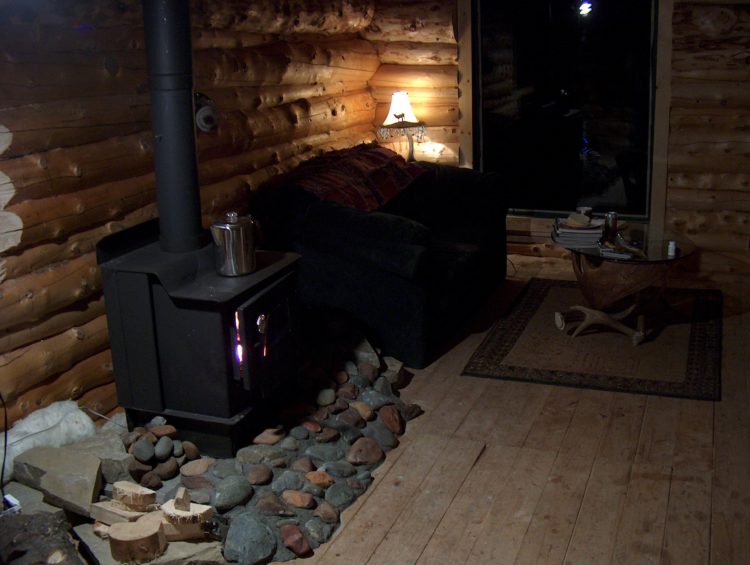 ---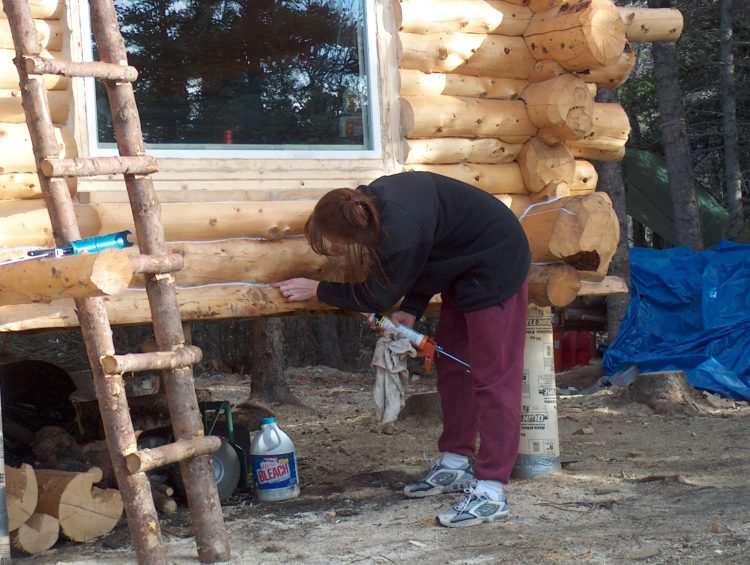 ---
OCTOBER 9, 2004
We have the dearest friends that made the trek north to visit us and then work! We put them to work caulking and doing toilet finish work. They were such great sports!
---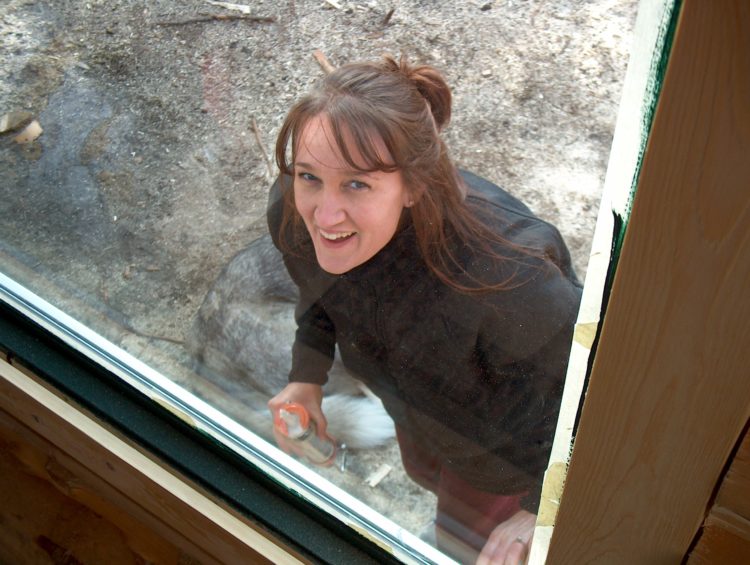 ---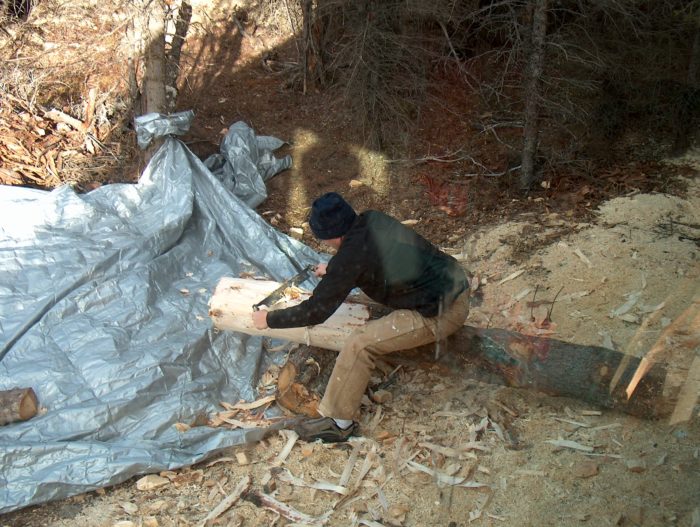 ---
Luke was serious about peeling this log for us, and then the toilet detailing went to him. The comfort is because of his work!
---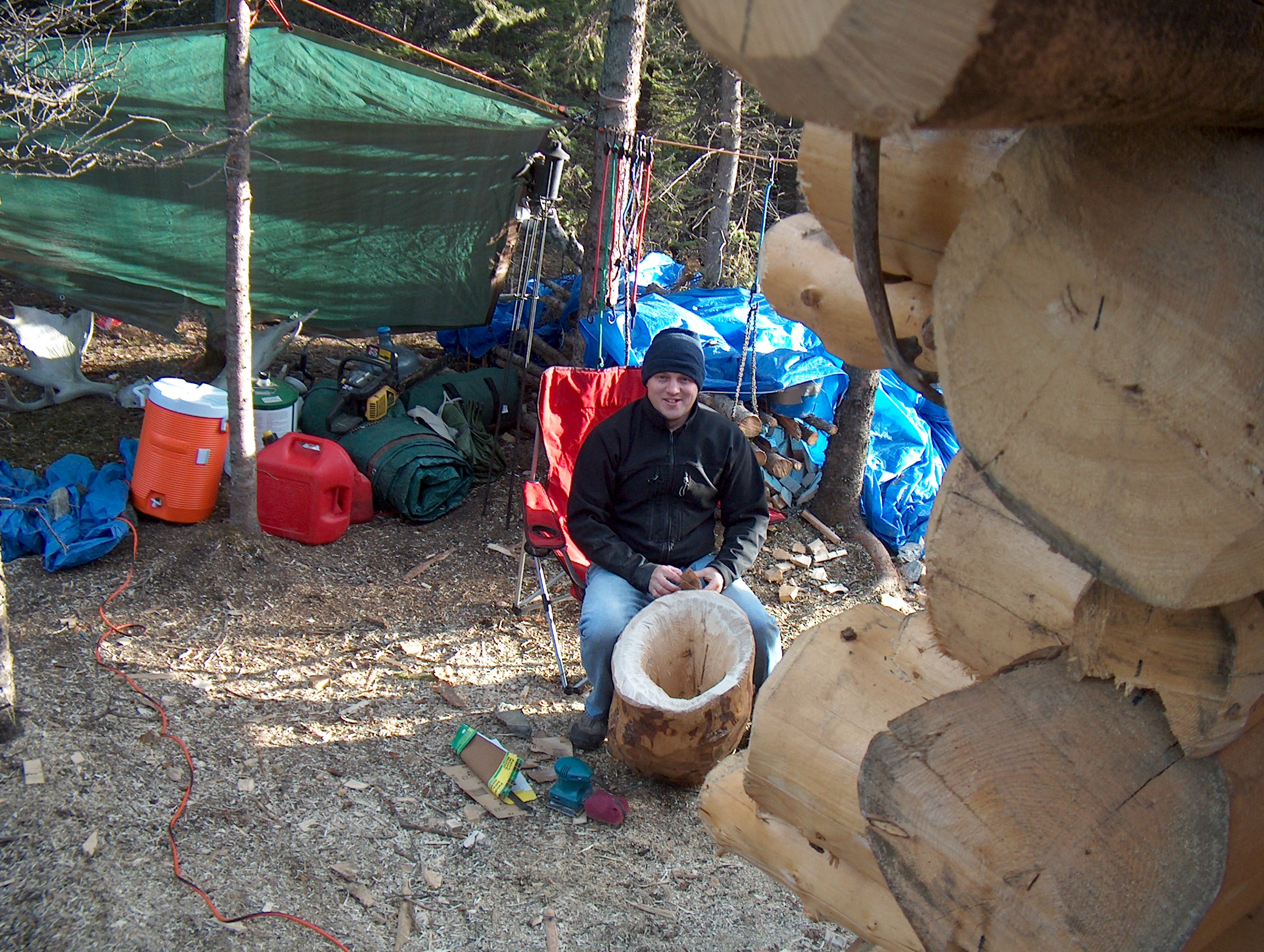 ---
---
We are making the sweetest memories here! What a wonderful place to laugh, play games, and be so far away from society!
---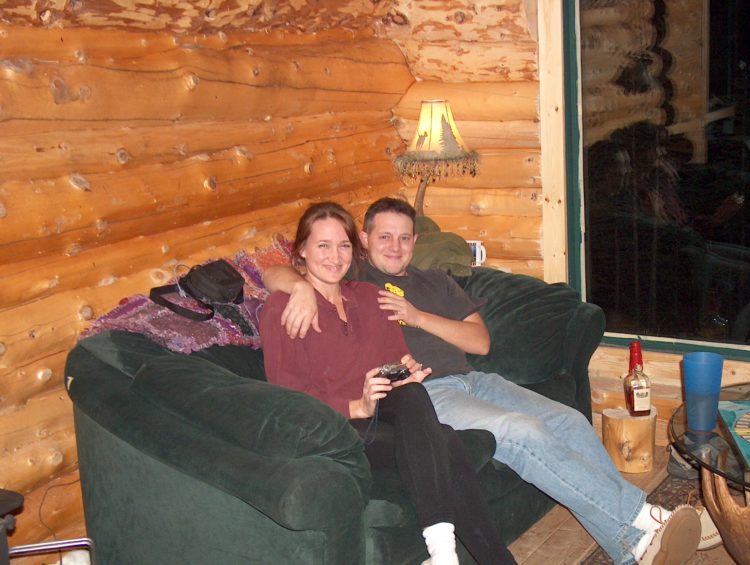 ---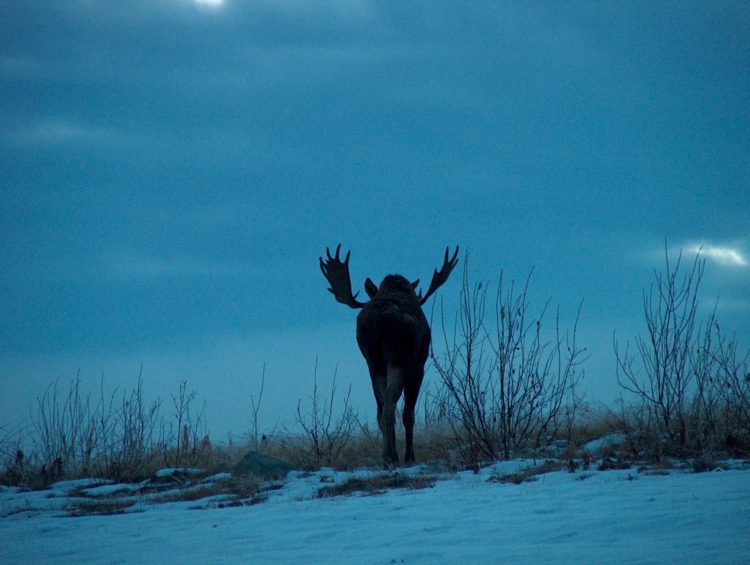 ---
A special treat on the drive home this weekend. This bull loped across the highway just the day after hunting season. Glad he survived another year! He was beautiful!
---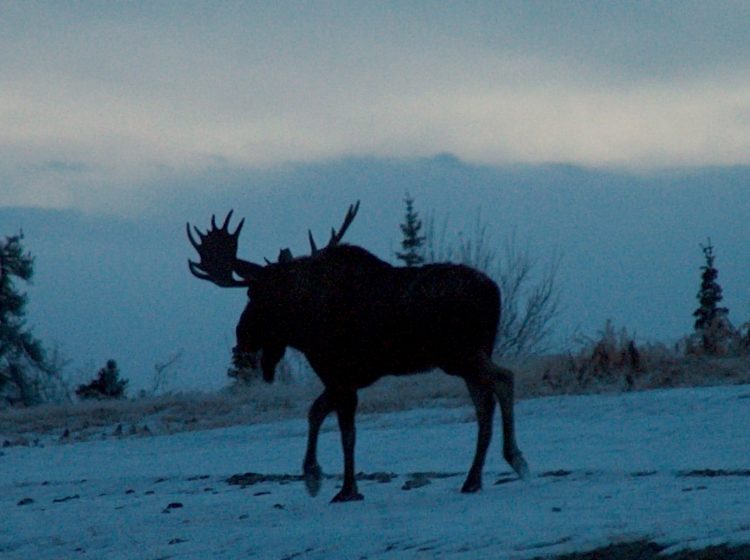 ---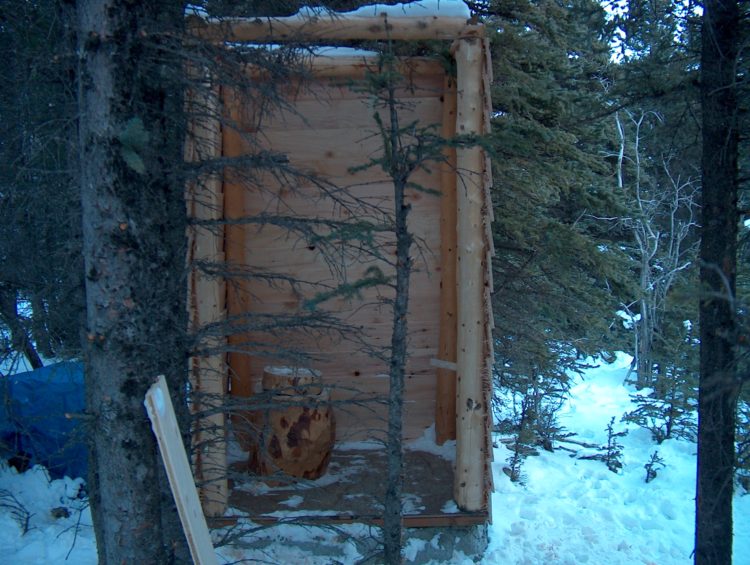 ---
NOVEMBER 6-8, 2004
We finally have walls around 3 sides of our outhouse. This makes me feel a little less exposed and maybe a little safer. I, at least, won't see what it coming.
I'm enjoying the time to work inside. We are using scrap wood to make our own staggered ceiling. It probably isn't the tightest, but it's affordable!
---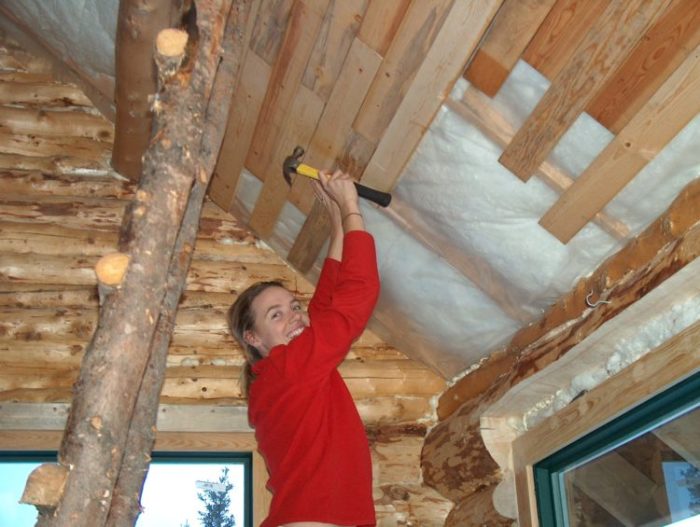 ---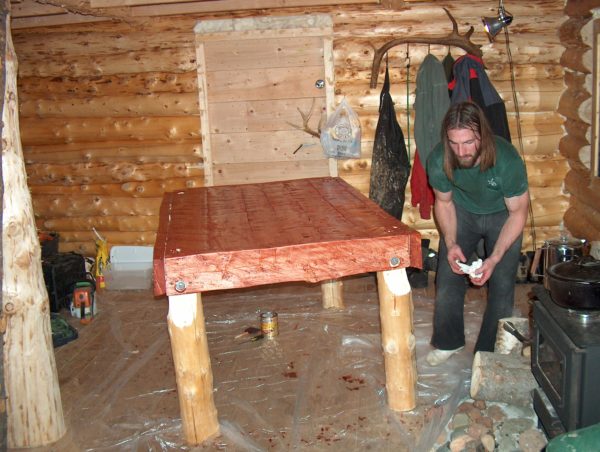 ---
Aaron has been making our furniture with the log pieces we cut out from our window holes. It's nice to find a way to use every piece of lumber we cut. Everything Aaron builds is super heavy duty, so it went with this chairs and table too.
---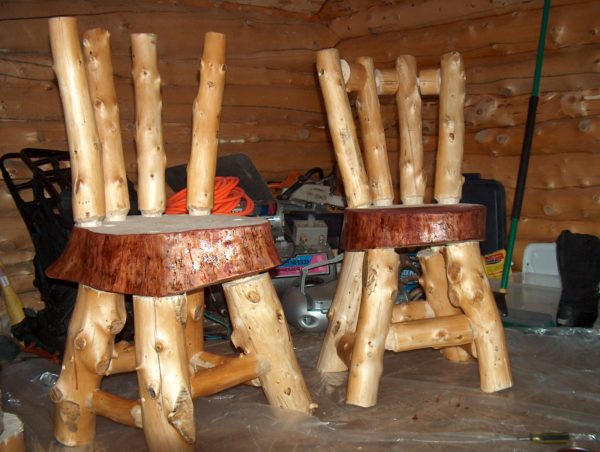 ---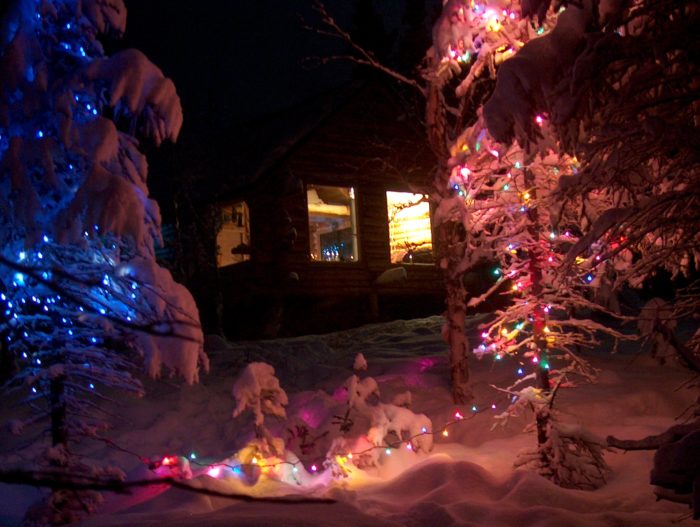 ---
Winter is dreamy here. I love this Christmas lights we strung out to light up this dark place. We are getting used to the earlier sunsets and enjoying the snow that helps make it feel lighter when the Northern Lights or the moon are out.
---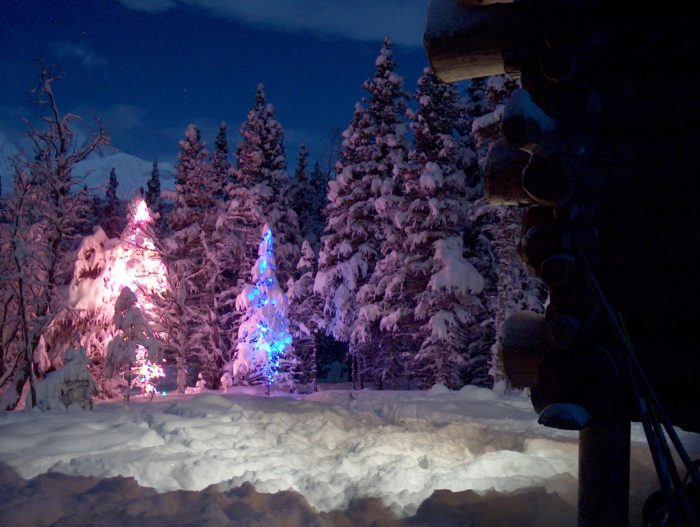 ---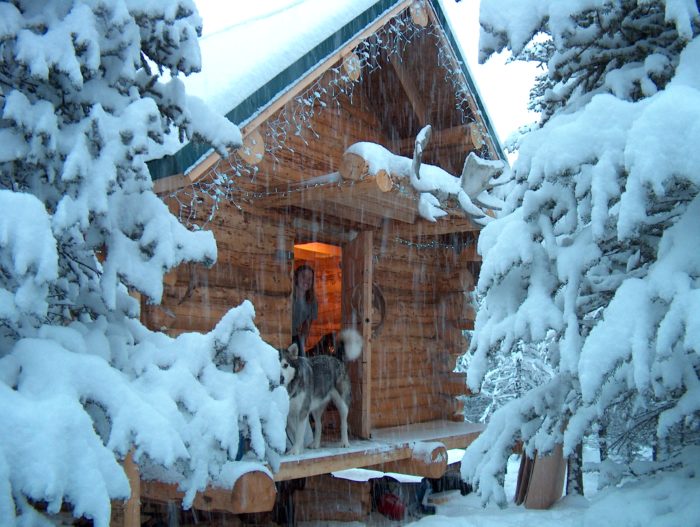 ---
Winter is magic in this dark and remote land. Our cabin is strong and secure. The winds will often blow here, and thankfully we have the best shelter!
---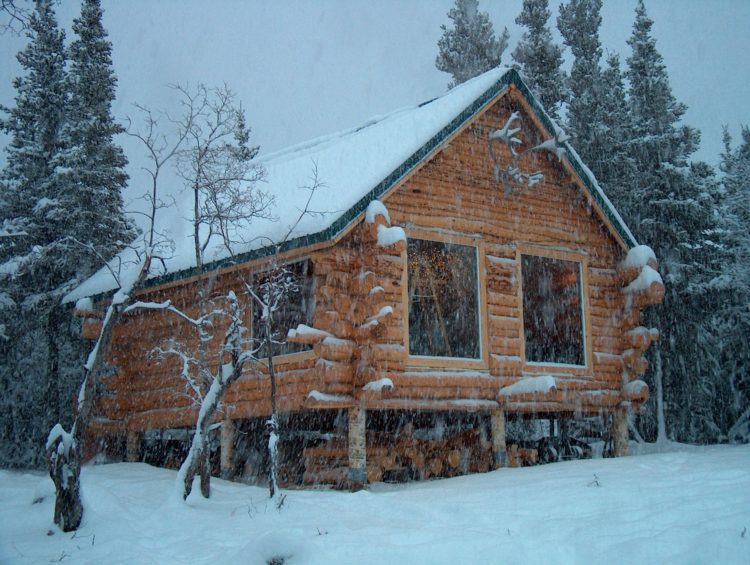 ---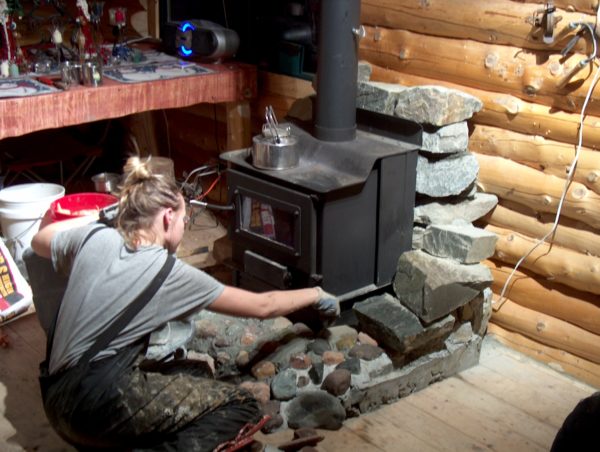 ---
Detail work...getting this fireplace surround done. It's a hefty load of rock in one place. We have lots of support under the joists here!
---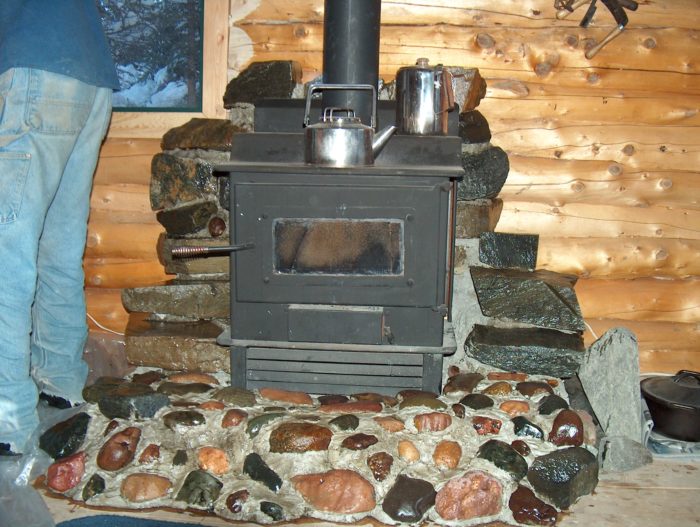 ---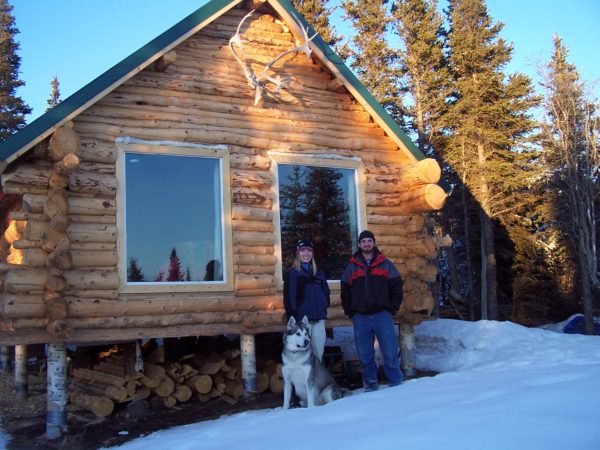 ---
MARCH 2005
It isn't looking too much like winter anymore. The light is so appreciated. We almost have 12 hours now.
---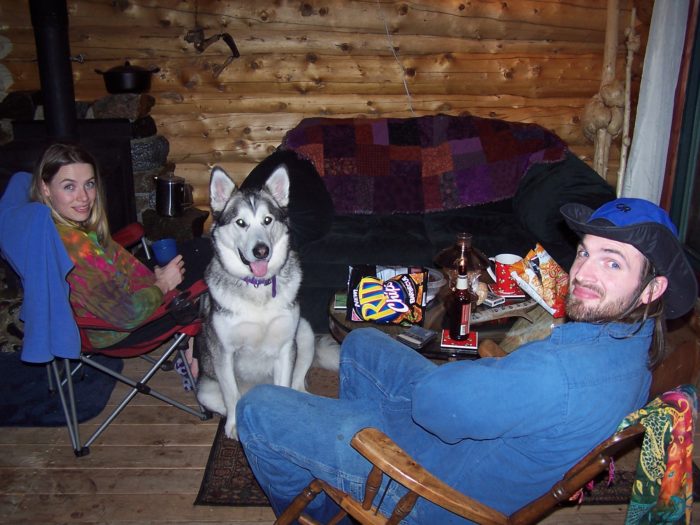 ---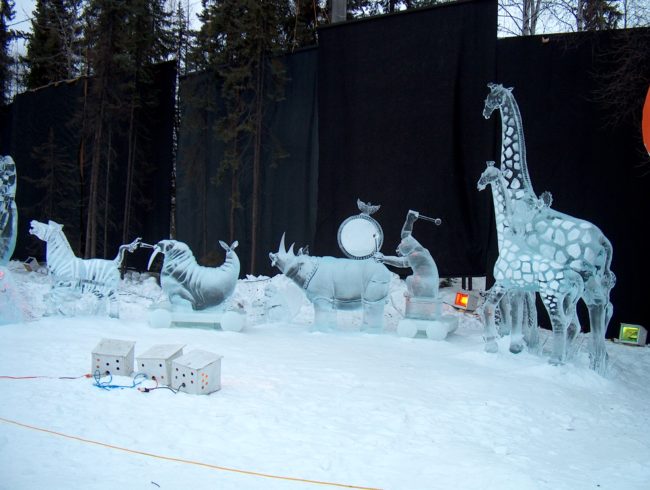 ---
World Ice Carving Championships in Fairbanks. My mom came to visit and we had a great time going to see the amazing talent there! These carvings are breath taking!
---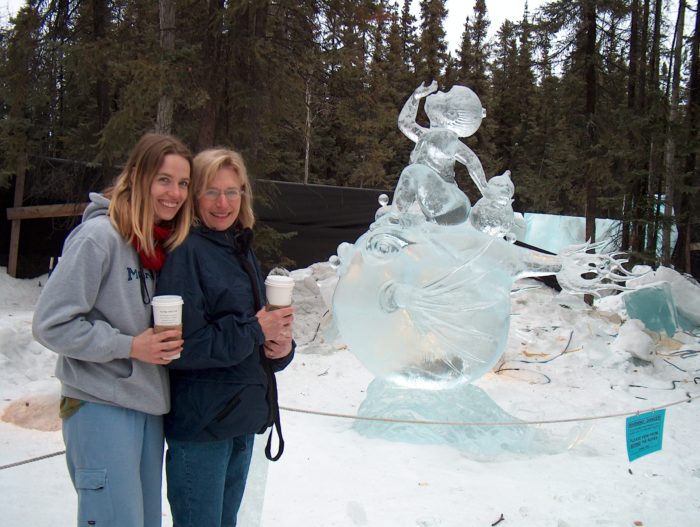 ---
---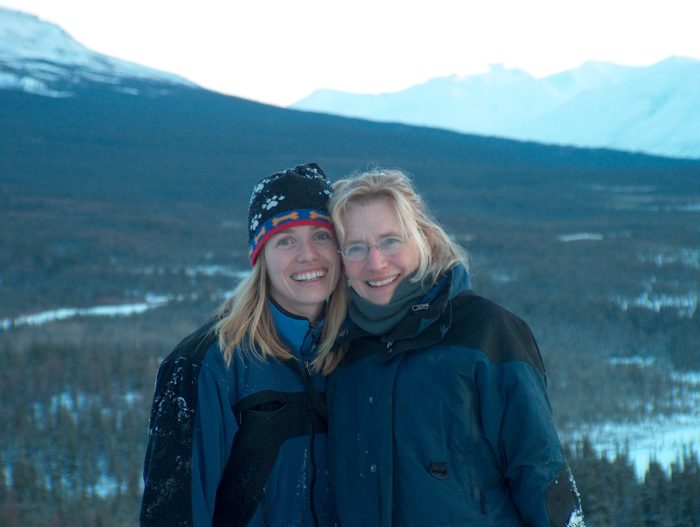 ---