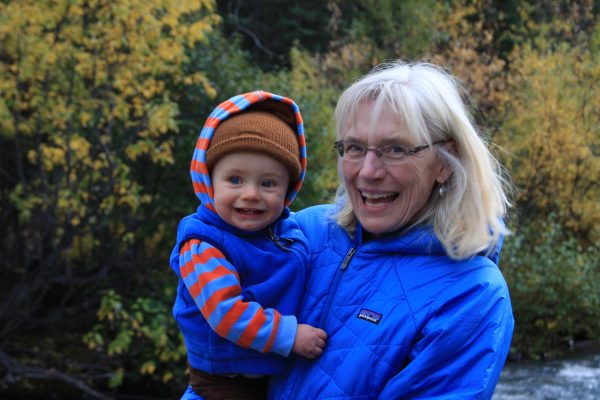 It has been a very long time...too long! We moved back to Alaska in 2008 and have busied ourselves with everything else but hunting. The biggest change and obstacle to our old style of hunting is our busy little one year old, Luke. My mom volunteered to come lend a hand with Luke while Aaron and I tried to fill my caribou tag. The weather was less than cooperative, and my mom ended up extending stay in hopes of something other than 75mph winds and rain....and that is just what we got. A few days of perfect bluebird fall weather! We embarked into new country after receiving a tip from a friend. This was our first time away from Luke since he was born in August of 2011. We only had a tiny window to hunt, but we were delighted for an opportunity to hike like we used to. We set out early in the morning, after making sure mom was lined up with all the necessary items and tricks to keep Luke happy for the day. We were day hunting, putting on as many miles as necessary but knowing that we only had until mid day to connect on an animal if we could.
We brought food and head lamps in case we found ourselves hiking out after dark. It felt great to move quickly without a worry in the world. I am so used to having Luke on my back with my attention generally focused on his needs and comfort.
Aaron and I quickly made our way higher in elevation and finally broke out above tree line. The day was gorgeous with newly fallen snow from the night before. The further we went and higher we climbed, the more I thought "there is no way I'm shooting a critter way in here", especially since we had to be out around 8pm to meet my mom. We saw four dall sheep ewes cutting fresh tracks through the snow on the way in. Once we got to a glassing knob we spotted four cow caribou in the distance. We saw highways of tracks in the snow, many many more tracks from just four caribou, but didn't see any other critters. We were honestly just having fun, creeping along looking over edges, glassing distant terrain, and enjoying each others company.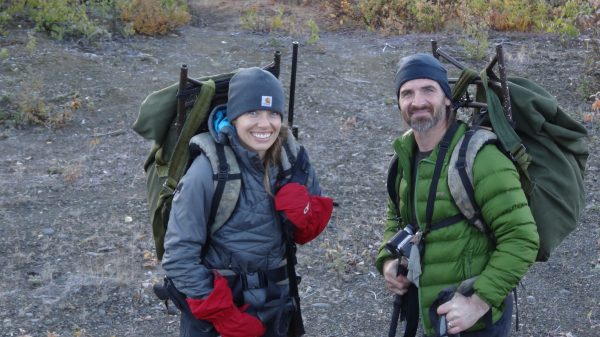 ---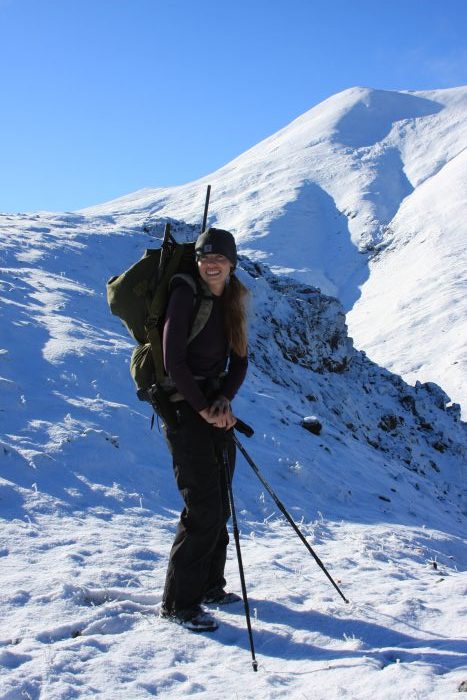 We reached a knob that we were going to sit at for a bit and make some coffee when I spotted below us a bunch of caribou. We dropped immediately and crept forward a bit. The wind was awful, it was blowing directly into the caribou. They were alert to us and seemed uneasy.
I was glassing around and noticed a wolf up from them about five hundred yards, he was circling around his nose in the air.
There were definitely three descent bulls in the group, but one stood out the most. He had a huge frame and nice tops. We backed up a bit and I looked over my shoulder and noticed another group of caribou coming across the hill behind us. This group was mostly made up of cows and a few small bulls.
We repositioned ourselves to watch the group below us. They were nervously moving along and soon vanished behind a small rise in the land. Aaron and I made our move then to get a little closer. We gathered our gear and started sneaking along, crunching in the snow...about this time we heard a helicopter nearby. We watched, as we made our sneak, the helicopter land on top of the mountain just behind us. They turned it off and two people got out.
We got to the edge of the natural blind and saw a cow. We dropped down on our knees and then to our bellies. The wind wasn't great, but definitely better than before. Something caught my attention to our left and I saw the wolf had circled around back of the group. They were very anxious and started trotting...Aaron ranged the group at 190 yards. I was on my belly moving forward in the snow trying to find the larger bull, hoping he wasn't in the middle of the group. I was elated when I saw him in back and not in too much of a hurry.
Now up until this moment, I honestly didn't think I was going to shoot anything, but now I found myself in a position I'd been in before. I once had an opportunity at a dandy bull moose and decided not to shoot it for a number of reasons (which was the right thing to do) but I still regretted it. I didn't want that regret again...so I was committed! Ha...but I didn't have a bullet in the chamber! So I lost a beautiful broadside shot at 200 yards...once I gathered myself and put a bullet in the chamber he was walking away from me directly. He turned broadside again at about 250 yards and I did it! Then I was REALLY committed! I was SO excited and pleased with myself. I gave Aaron a big hug! Yeah to have a wonderful husband to share these adventures with!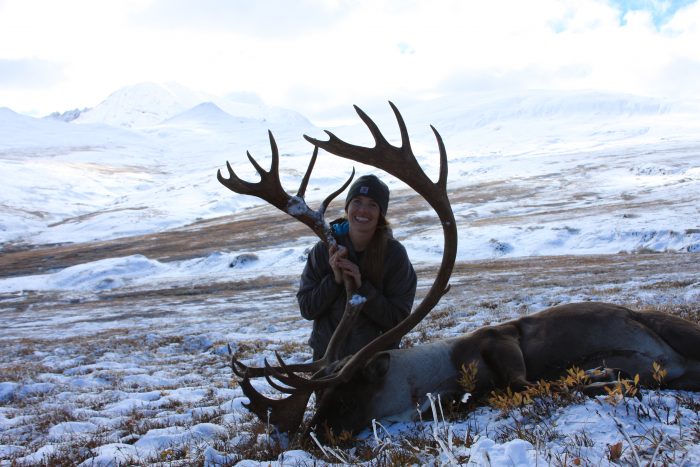 ---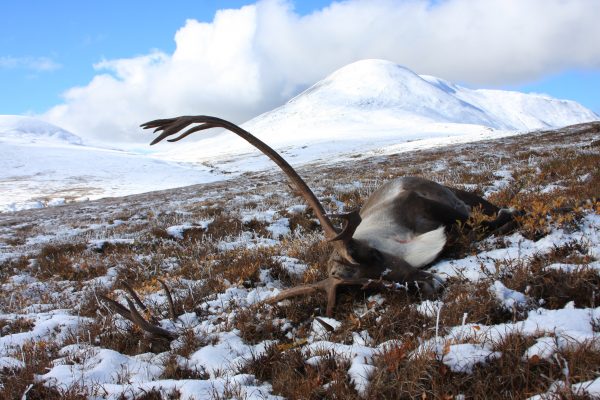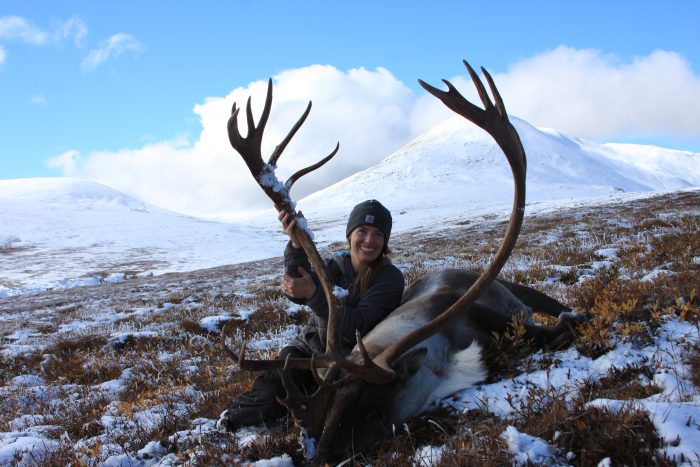 ---
I gave thanks to the Lord and the caribou for his life and the meat he would provide our family! What a beautiful animal in God's beautiful country!
It was afternoon and we had our work cut out for us so we snapped some pictures savoring the moment! He was a beautiful mature bull! The other caribou scattered and spent the rest of the day in hills far from us. I thought what a blessing they weren't on those hills when we found them or I'd never have even tried to hunt them. Everything had worked out perfectly.
Aaron and I set to work. We skinned one side of him and began taking the meat off. Once we had one side deboned, we turned him and Aaron set to work on the other side while I started ferrying meat over the hill and down a bit to make our return trip for meat a bit easier. I moved about 5o lbs at a time about a mile. I had a spring in my step and didn't mind the trips. I did two trips and then helped Aaron with the rest of the process until all we had left was a pile of bones, the guts, and some hide. We loaded up the remainder of the meat and the skull and hiked to the meat drop off spot.
I left the skull and smaller bag of meat and loaded one of the larger bags on my back and we headed out. My legs started to feel the exhaustion of the day with the lack of sufficient food and water, but my spirit soared. My legs felt like spaghetti once we finished descending the high alpine country.

I was so excited about the day, and anxious to see Luke at the same time, that my legs continued to propel me along toward the road. Aaron and I joked...we thoroughly enjoyed a day of very hard work in the field! The best end to the day was seeing the smiling face of my boy Luke, laughing and waving at me while sitting in Grandmas lap! I cannot wait for him to share in these experiences with us!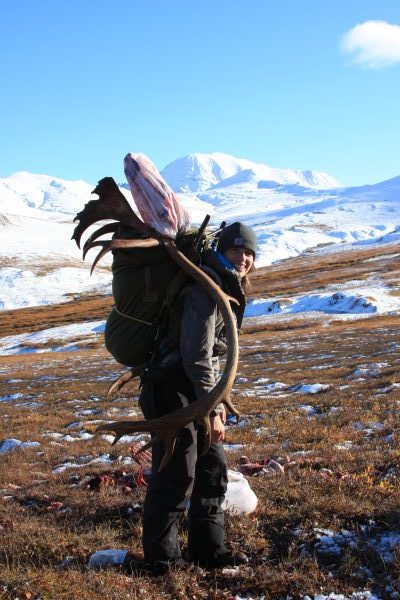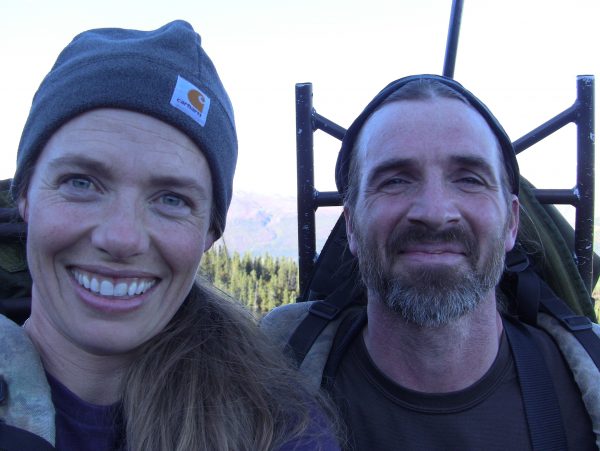 The next morning we hit the woods bright and early knowing we had about 8 miles ahead of us. The pack in was easy without weight though! I am always a bit nervous about critters getting into our meat or antlers disappearing, but everything was as we left it. I saw a little red fox about five hundred yards from the meat on the way in and thought for sure he'd must have enjoyed a snack. The wind was wicked and I was so thankful yesterday was the day it was...just perfect! We loaded up our last load and we were off... I carried the skull with a smaller bag of meat, and Aaron loaded up with the last of the meat! The climb down was uneventful. We took our time and enjoyed the day! It has been a long time since Aaron and I have been able to work hard together doing what we love to do! I'm so thankful for God's blessing on this hunt...for Grandmas, for good weather, caribou, and time spent with my hubby! I'm already itching to get back in the mountains!