Now that the foundation is started, the walls are next. Time to learn how to scribe well, and see if we can get a tight fit on these logs. Off the grid building a log cabin in Alaska.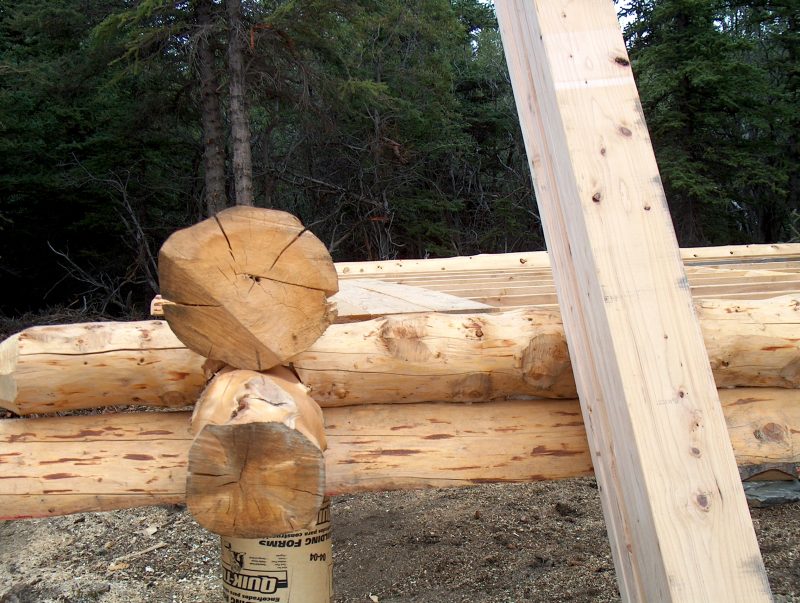 ---
---
July 25-27th.....Start of weekend, only three boards on floor and two logs each side. Half way through day, half the floor done, glued and drilled.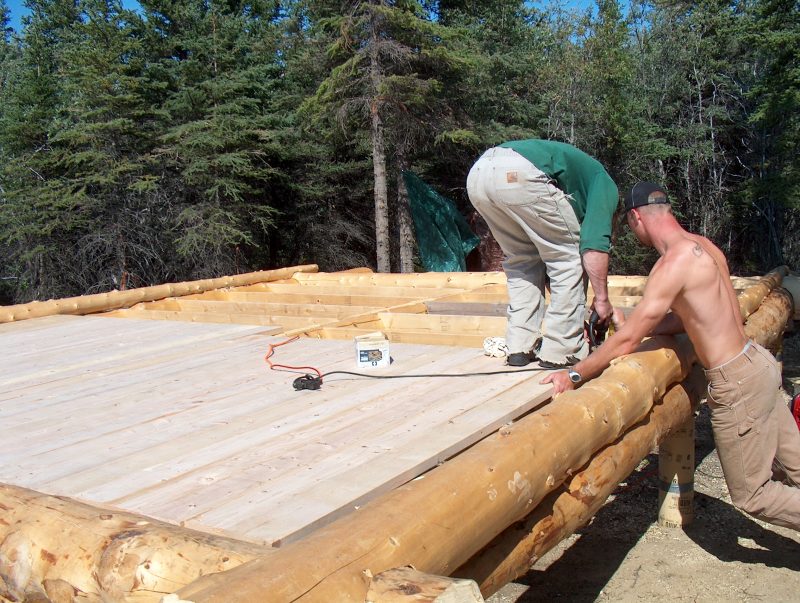 ---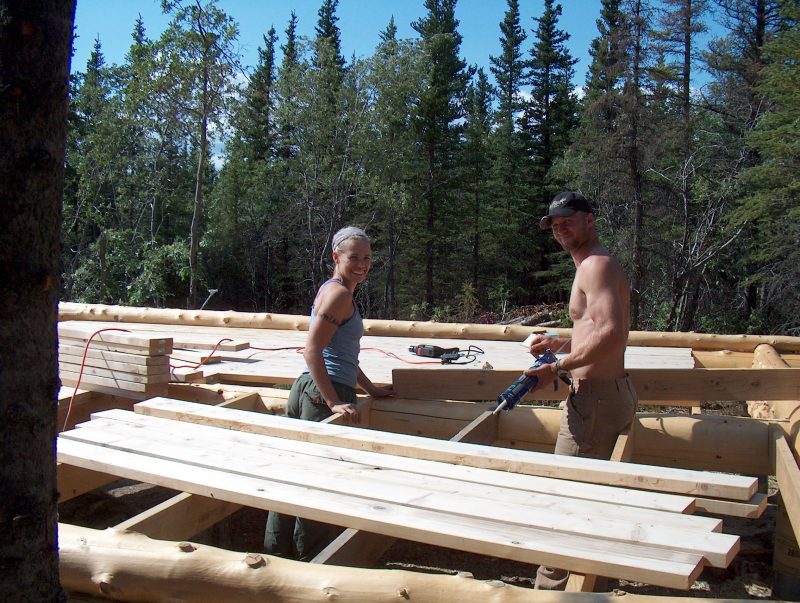 ---
---
Adam and I glued the 2X6s and wedged them in for Aaron to drill. This was a special evening! First night staying in at the cabin! Burgers on the grill for supper at 9pm.
---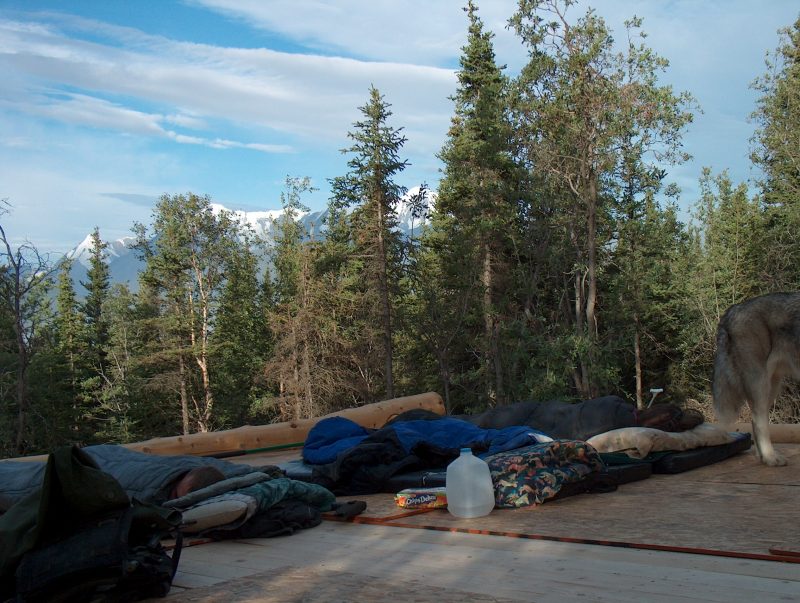 ---
---
Slept out on floor the first night. Really windy this weekend...Aaron was surprised when his sleeping bag blew off him in the middle of the night.
---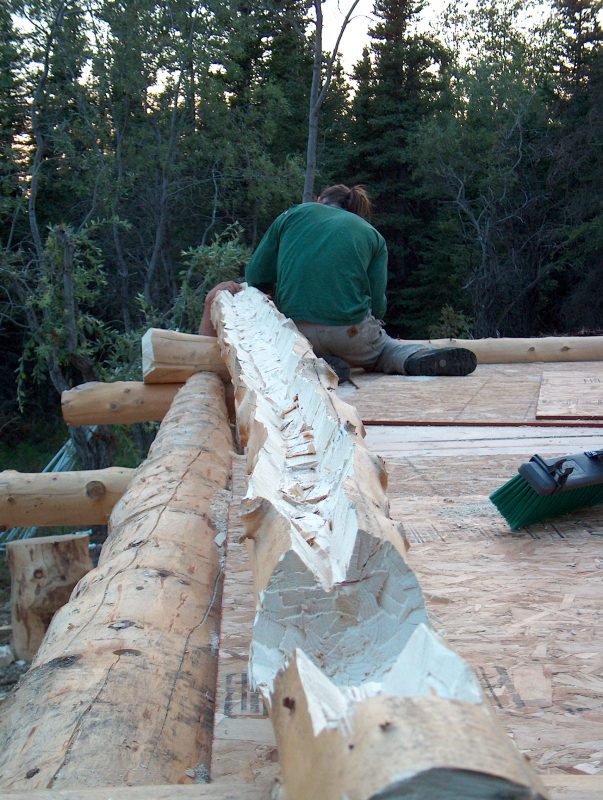 ---
One of our long notches completed. This log will fit over the log below it and the fit will tighten as the logs shrink. We placed insulation in the long notch. As you can see our logs have A LOT of taper!
---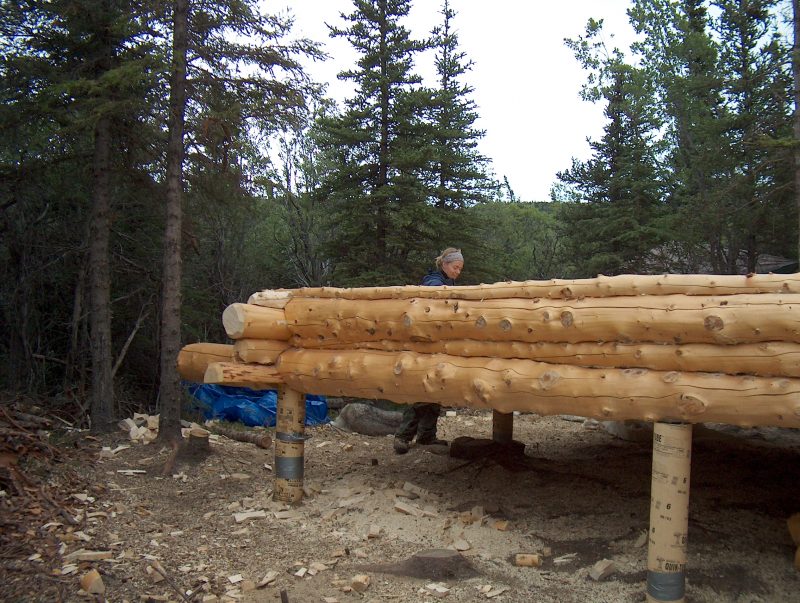 ---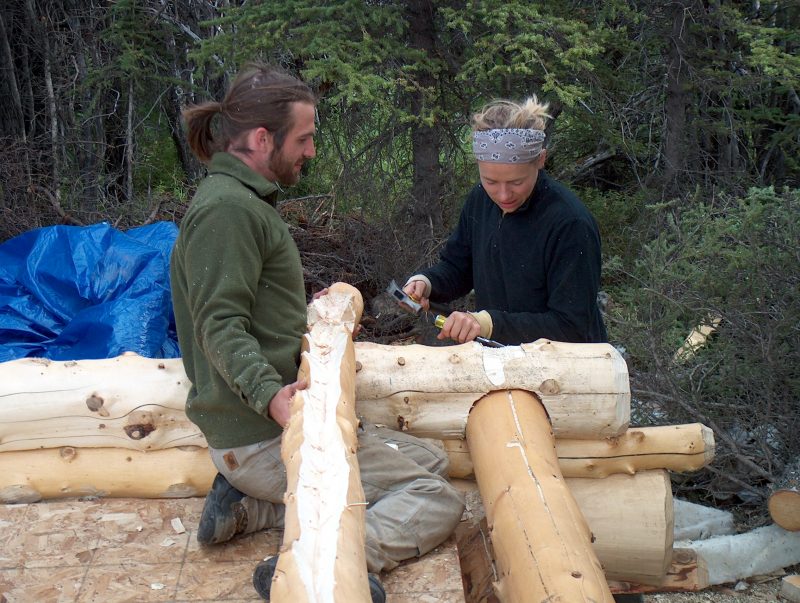 ---
We have some of the knottiest logs which makes scribing dreadfully hard, and since our logs taper immense amounts we had to get creative with our round corner notches.
---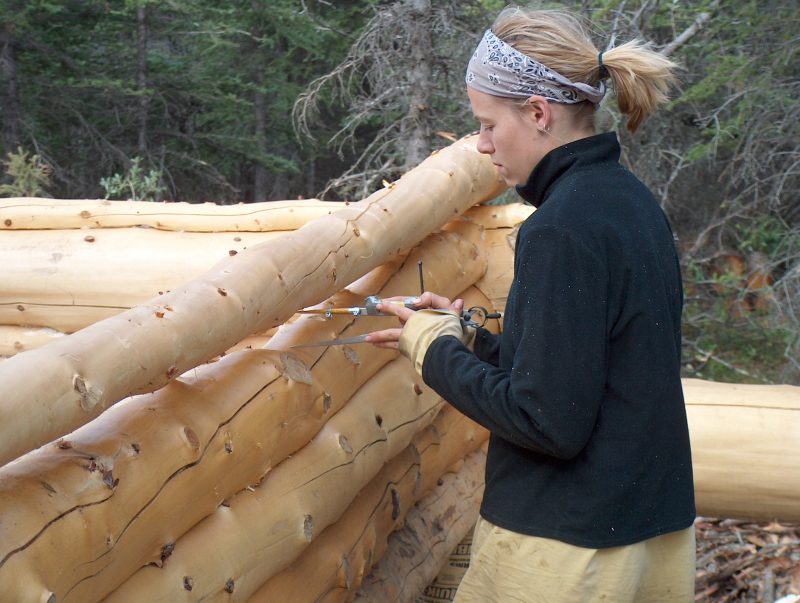 ---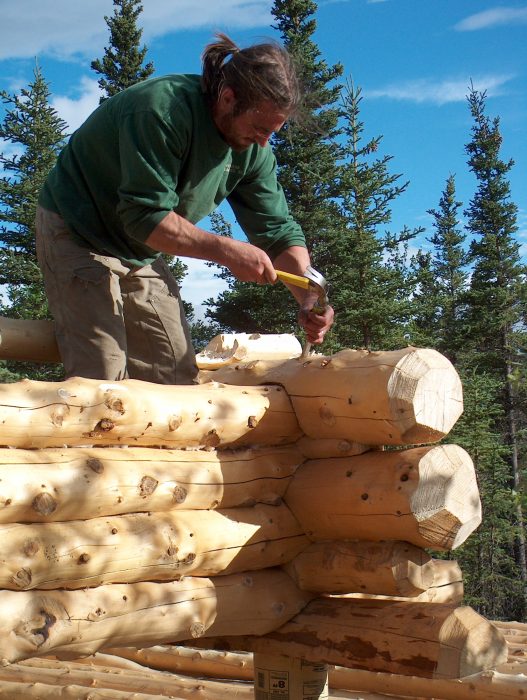 ---
Nearing the end of the weekend, almost finished 12 logs scribed and notched. Floor finished.
---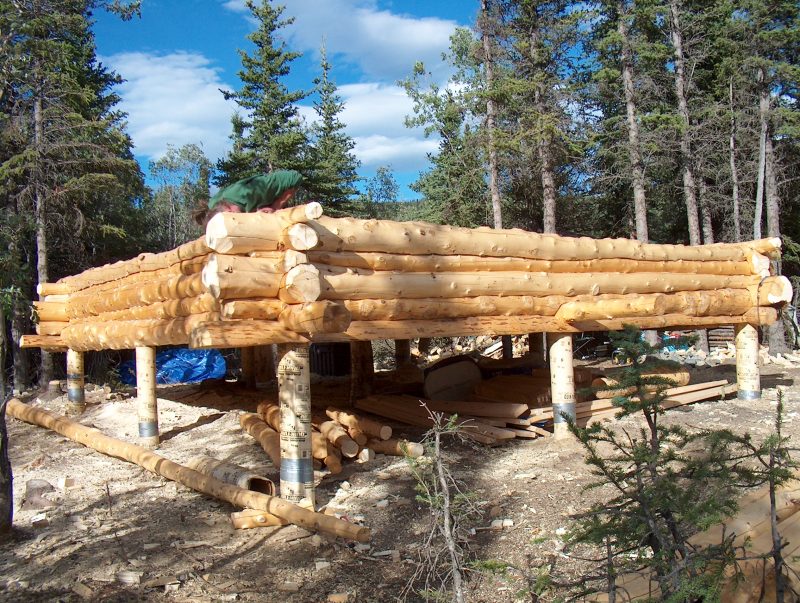 ---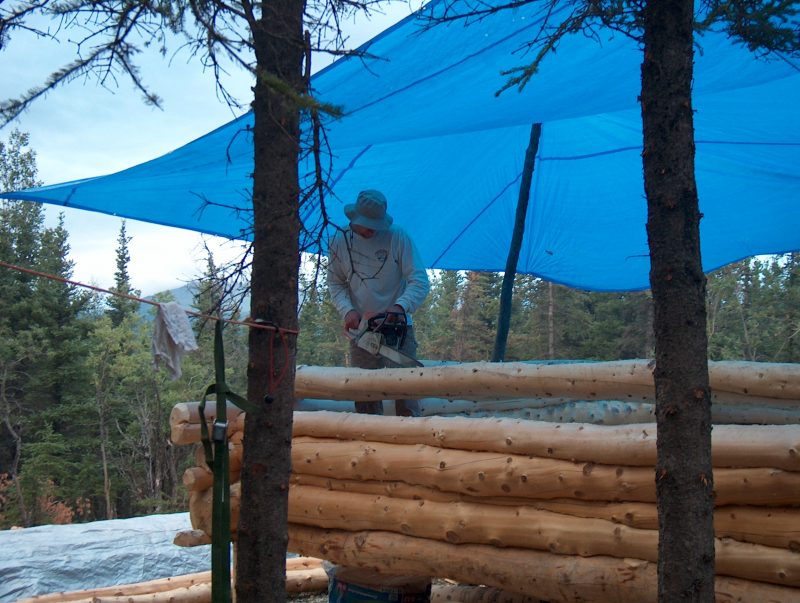 ---
Aug 1-3.....Started our weekend out rainy. Created a tarp overhang to try and keep us and the logs dry, as we found that I couldn't scribe on the wet logs.
---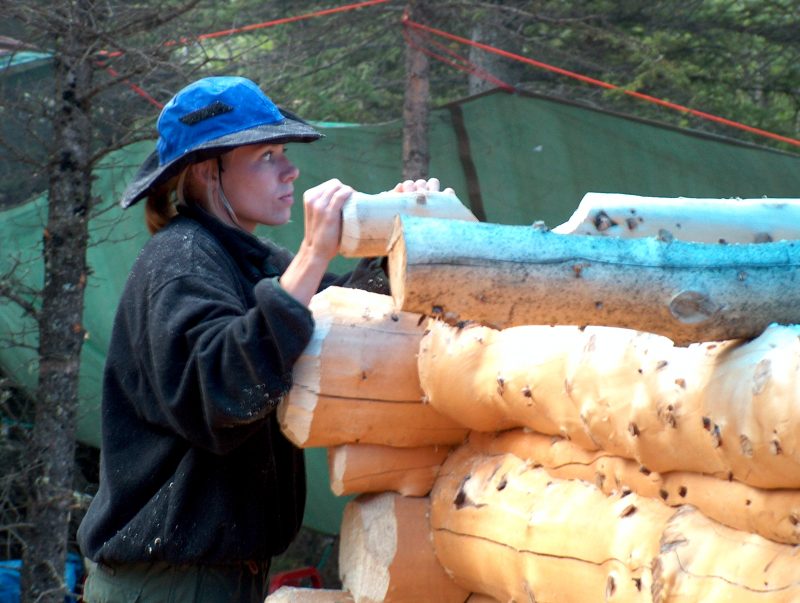 ---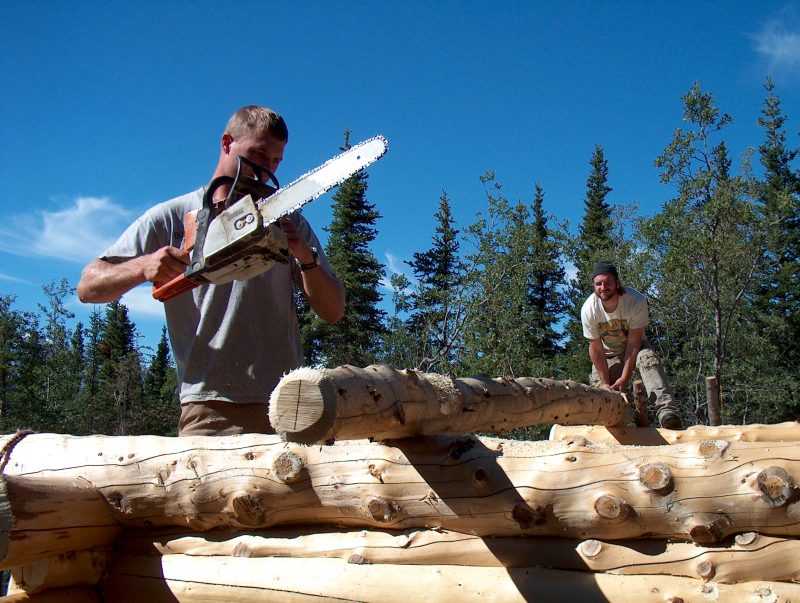 ---
Rainy weather was short lived, next morning it was clear as a whistle. Can't think of a better back drop for a cabin.
---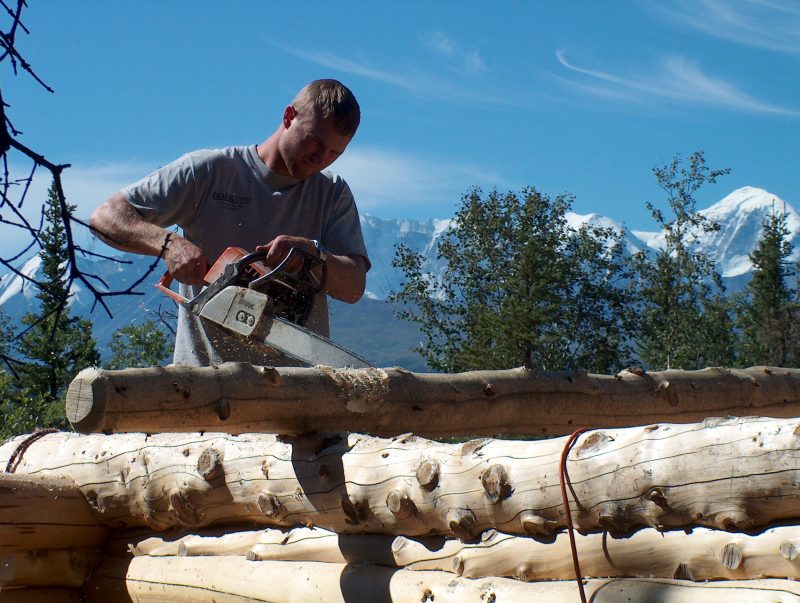 ---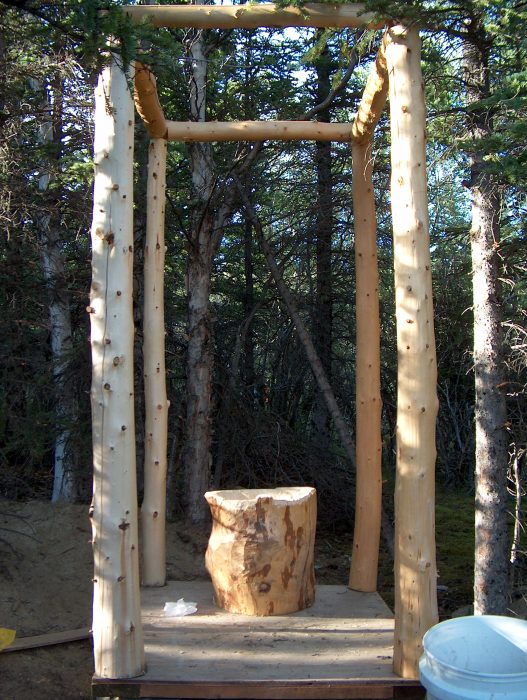 ---
The outdoor throne. No walls until this fall, but the view is great. The Toilet however needs some help. It works, but it is pretty rough and scratches the behind. Still needs some work.
---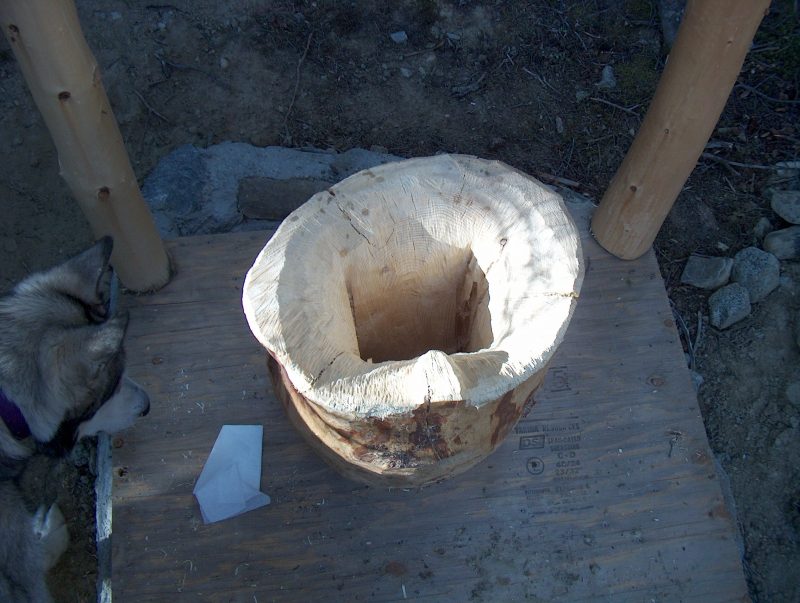 ---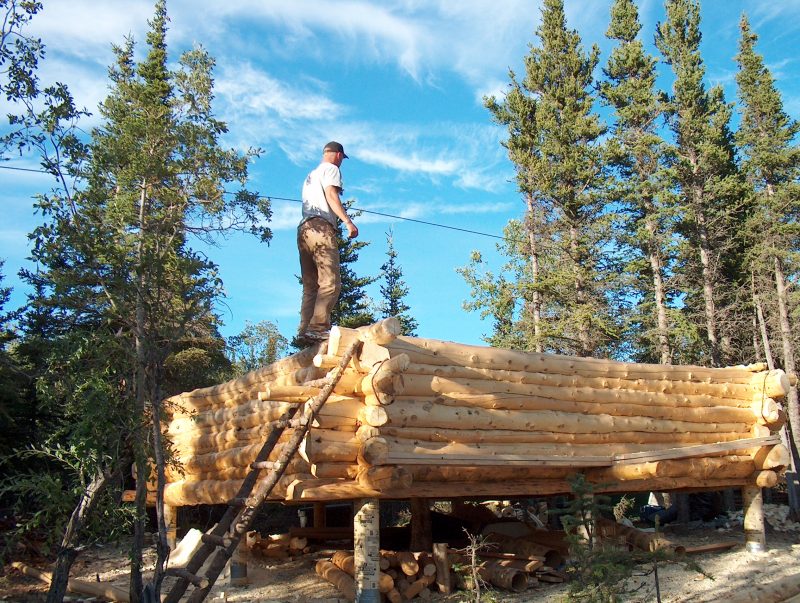 ---
Long hard days. We start around 8:30am and work until 9pm. Finished the weekend with 16 logs put on the walls.
---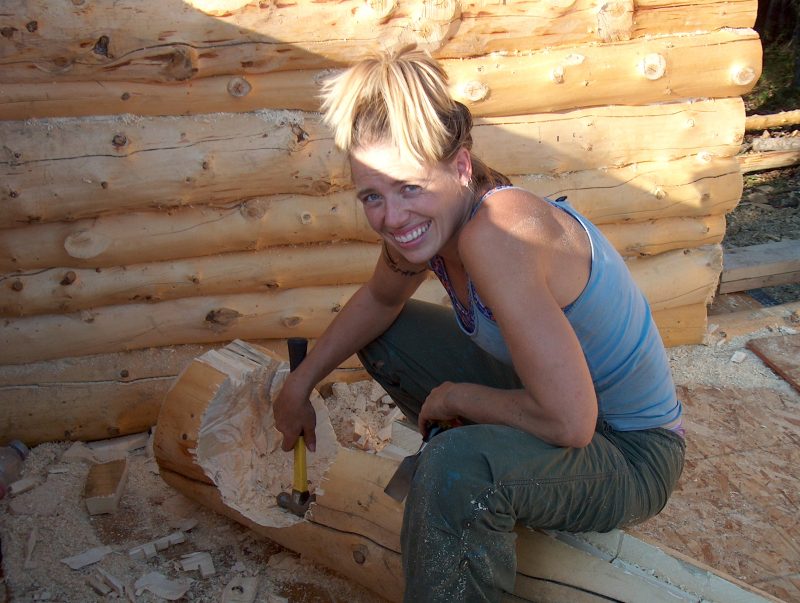 ---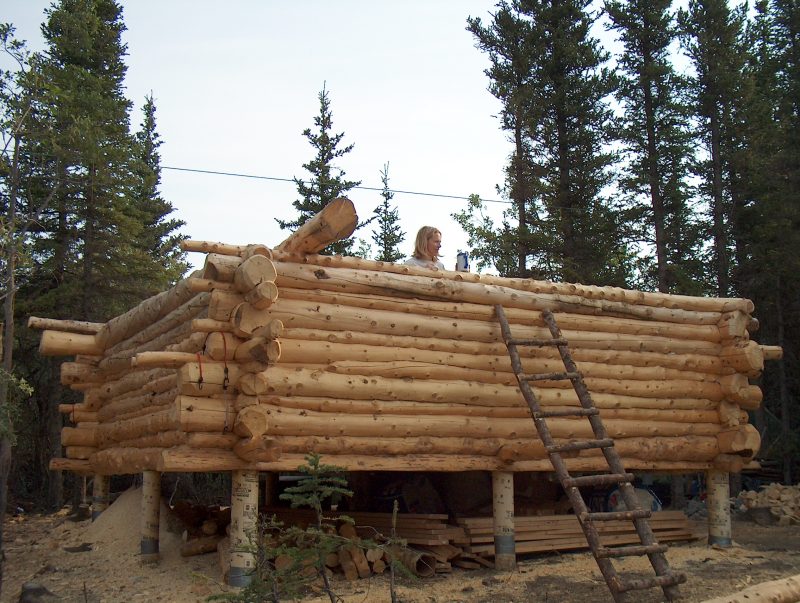 ---
August 8-10th.....Finished the weekend putting 10 new logs on the walls, and unfortunately cutting and peeling 7 more logs for the walls.
---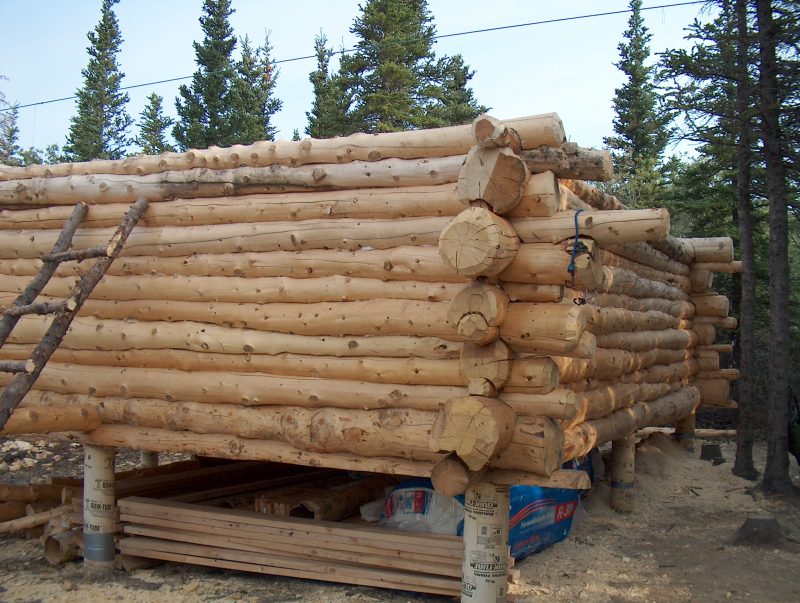 ---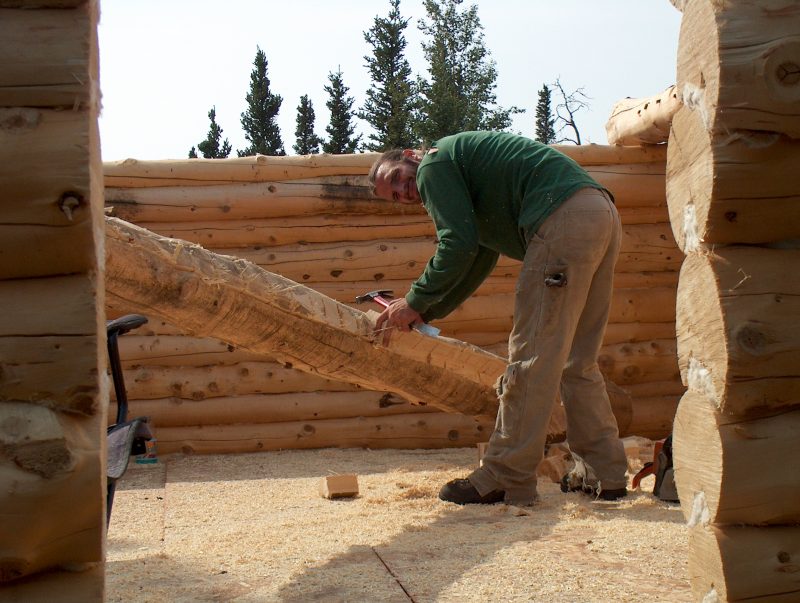 ---
Aug 15-17th....Starting the weekend with our last relatively dry log, from now on we would be working with green, freshly cut logs. Aaron chiseling the long notch. Our doorway is getting taller and taller.
---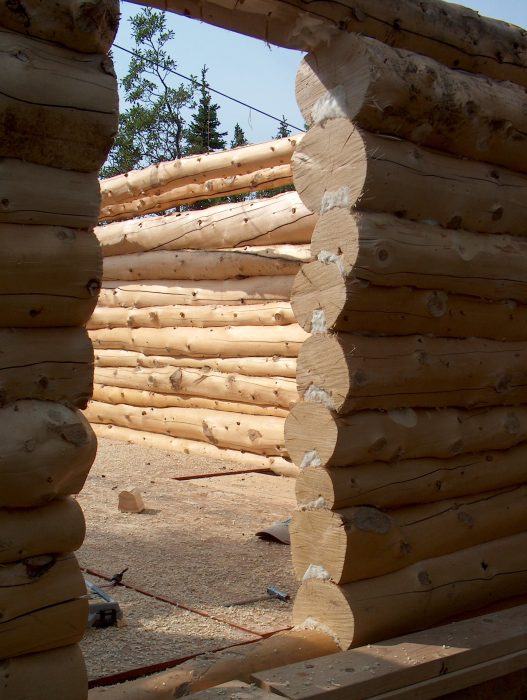 ---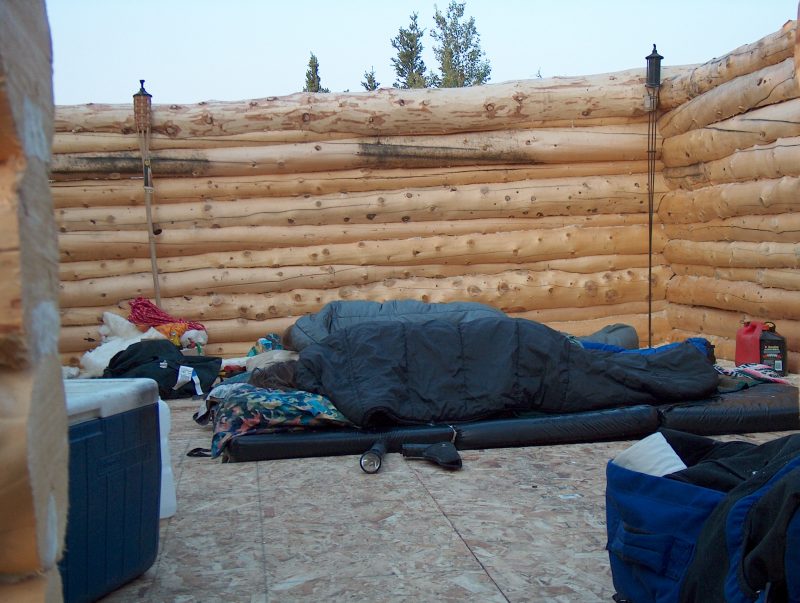 ---
The boys always sleeping in. I'm up by 7am, but they don't usually get moving until 8am. Notice the pistol next to Aaron. Somewhere in there is also a shotgun and a rifle. Bears beware! Today we had to figure out how to get a green log up the highest side. The process is lifting on back, shoulders, or whatever you've got left to lift with and hope all goes well. We even used our homemade ladder to wedge under the log when it was too high to reach!
---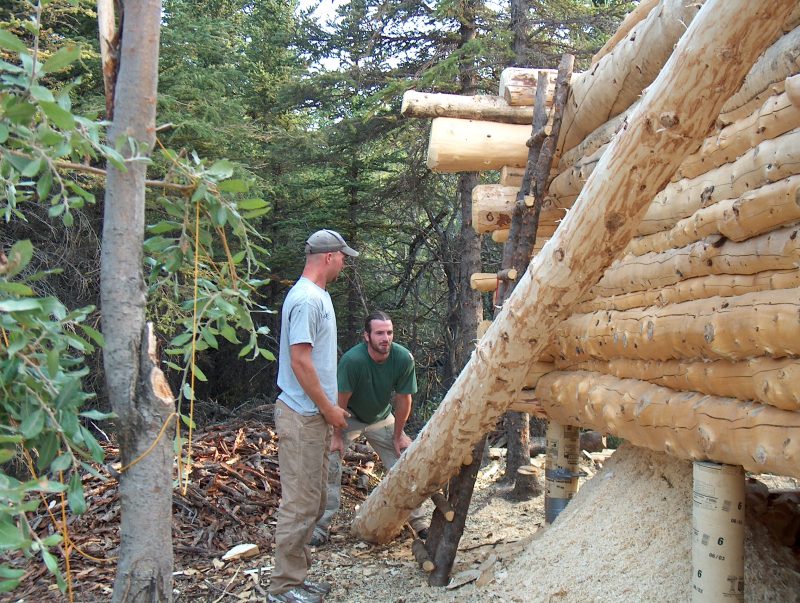 ---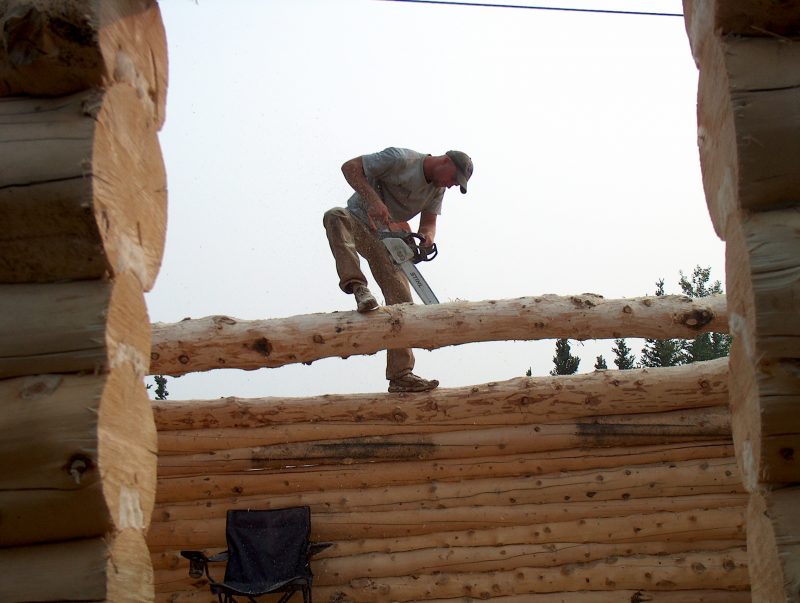 ---
Probably not the safest work environment, but thankfully we were spared any major accidents on this build. Lots of high balancing with saws and drills.
---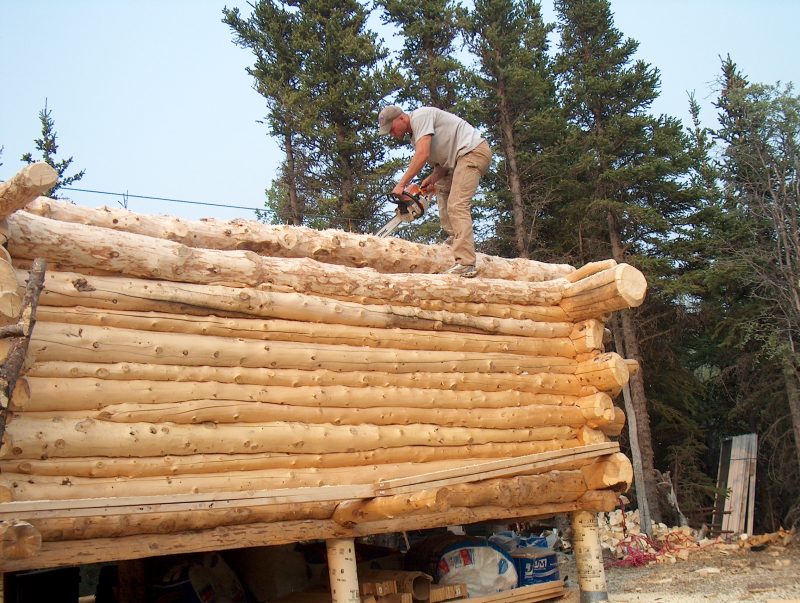 ---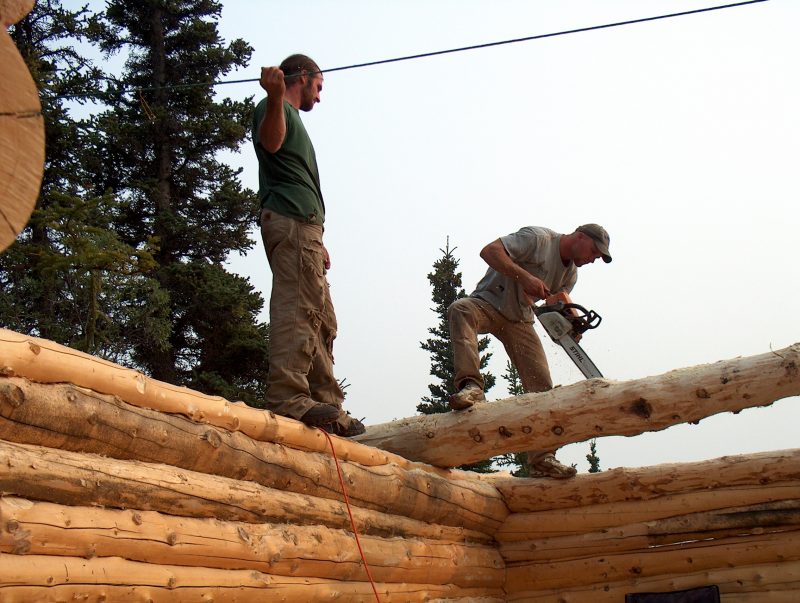 ---
The green logs we've placed last are obvious with their patchy peel job. The bark peels much harder this time of year!
---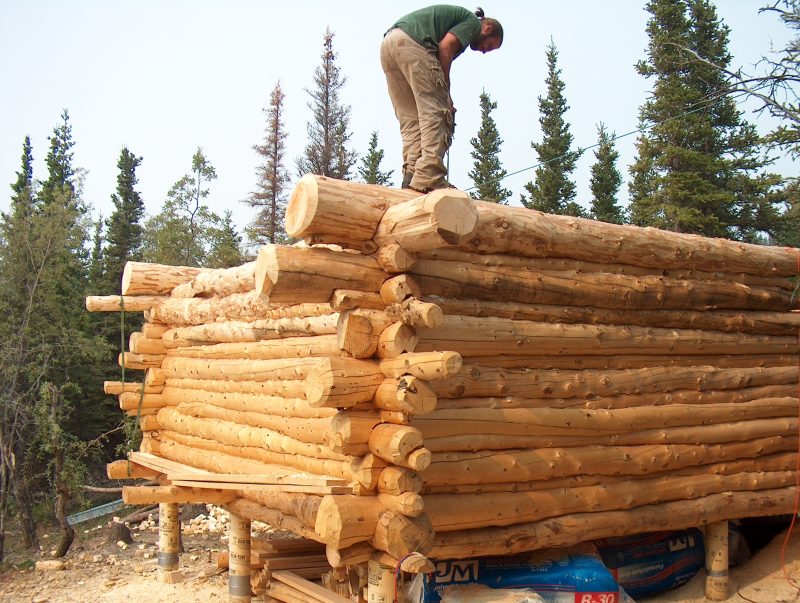 ---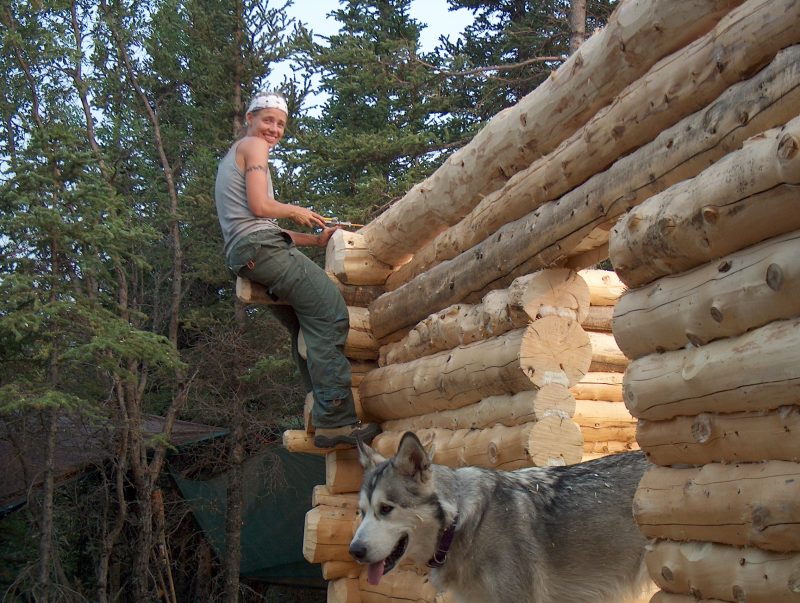 ---
The best summer days. Hard work mixed with lots of laughs!
---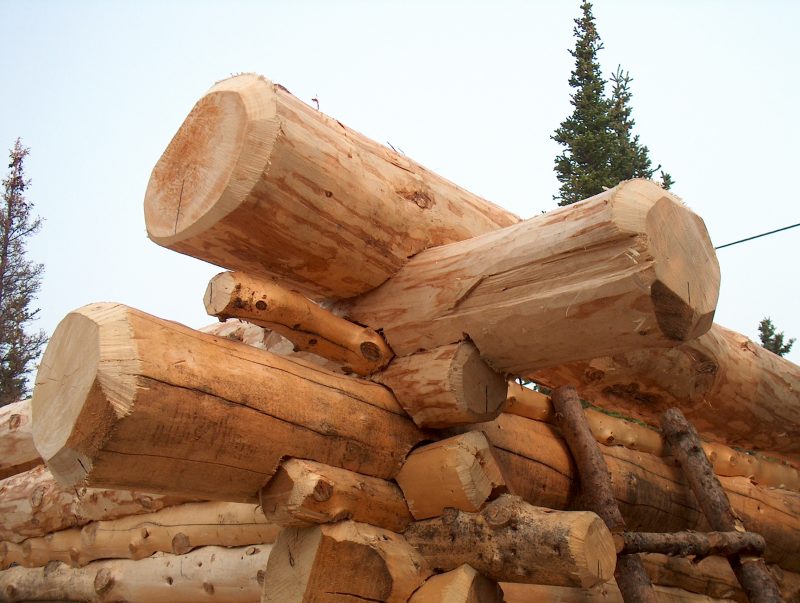 ---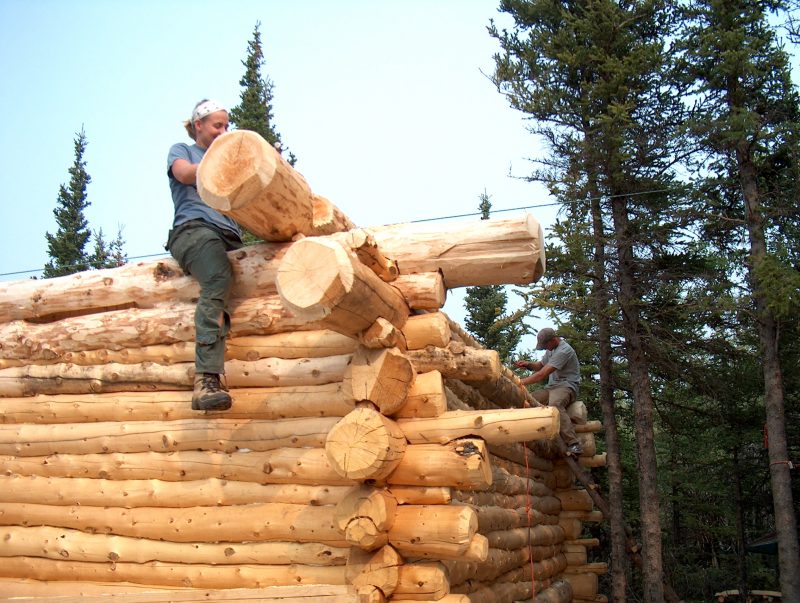 ---
Rough notch for the largest log yet- a 15 inch butt, and of course it was green and heavy. Wish I could have gotten pictures of us lifting this log up! More chiseling and fitting.
---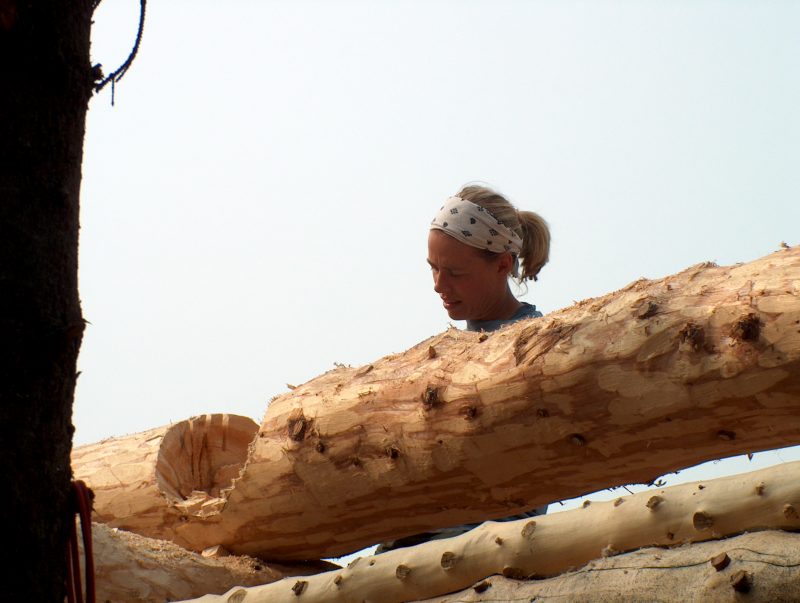 ---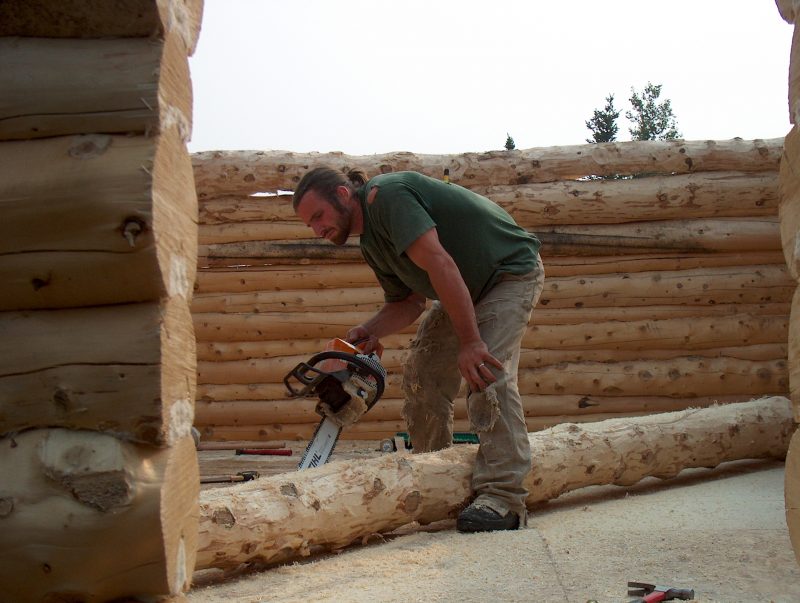 ---
Finally finished the walls! After cutting down 9 extra trees, all of which were BIG, we reached approximately 7 ft. A LONG few days of back breaking work!
---