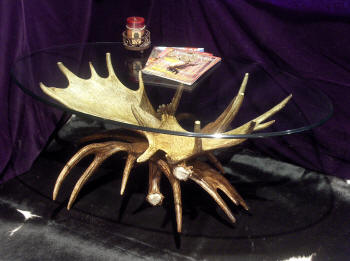 Moose Antler Coffee Table – Kenai
$1,995.00 – $2,250.00
A well displayed mix of tines and paddles is the highlight of our medium moose antler coffee table.  Not nearly as large as the Sir Kodiak, this table will fit in a den or your small living space.
Prices (shipping will vary depending upon location)
Glass shipping is included in quoted price
Description
Available with or without glass.
Top diameter is standard 28″x54″, unless otherwise specified, with a table height of approximately 19″.